Smartphone notifications, by their very purpose, are meant to remind you or alert you of something interesting or necessary.
But since they only last a couple seconds by default, it's all too easy to actually miss a notification on iOS — especially if you're doing something else on your iPhone or iPad.
Luckily, there's a built-in setting to make notifications for certain apps persistent. In other words, they'll stay there until they are tapped or swiped away. Here's how.
Why Would You Use iOS Persistent Notifications?
At first, you may wonder why you'd want to set a notification to be persistent. It sounds like it'd be a bit annoying to have to manually swipe every notification away.
But the entire point is only to make certain notifications persistent. That way, you can see what the notification is for and act upon it — even if you don't catch it within the first second or two that it's active.
Apps that other people use to get in contact with you are good options. Set your Messages or Facebook Messenger notifications to persistent mode and you'll have a chance to see what an incoming text is about.
Another idea is to set to-do, reminder or calendar apps to persistent, so you never inadvertently miss a reminder or event because you didn't look up quickly enough.
RELATED:
Of course, when you're done reading the notification, all you have to do is swipe it away. Easy enough, especially if it's only a select few apps that are set to show notifications persistently.
Also, pressing the Home button (or using the Home gesture), activating Siri, locking your device, or closing out of the app that you were using will also make persistent notifications disappear.
They'll also go away once you interact with them, which you'll have a couple more seconds to do. In more recent versions of iOS, just swipe down or 3D Touch to reply within the notification.
On the other end of the spectrum, we probably don't recommend that you use persistent notifications for social media sites, shopping platforms, or other apps that send you frivolous or frequent alerts.
But, at the end of the day, which specific apps you use persistent notifications for is up to you. It's just helpful to know that it's an option.
How to Make Notifications Persistent
Once you decide which apps you'd like to see persistent notifications from, here's how to go about actually setting it up.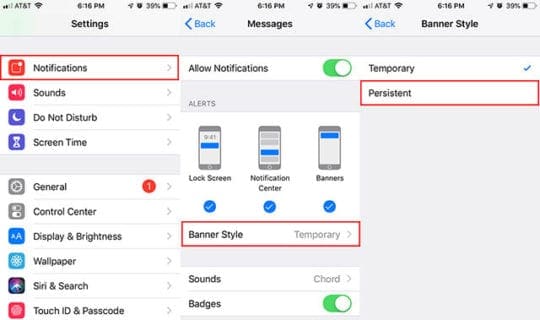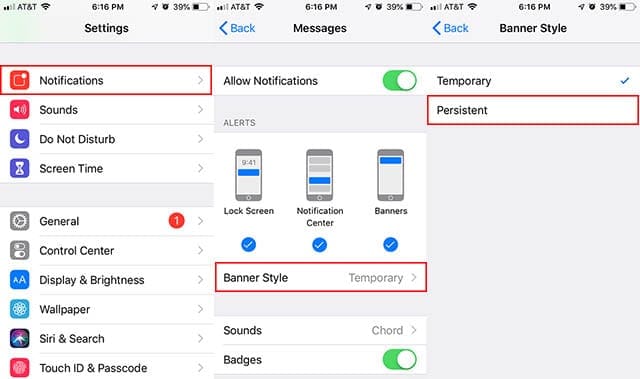 Open the Settings app.
Tap on Notifications.
Scroll down and find the app you'd like to set as persistent. Tap on the app.
Before moving forward, you'll want to make sure that Allow Notifications is toggled on.
Under the Alerts heading, tap on Banner Style.
Then, select Persistent.
(In iOS 11, it's a slightly different process. Under Show As Banners, select Persistent.)
Also, keep in mind that you'll need to have to have Banner Alerts activated for persistent notifications to work. You can use Lock Screen and Notification Center options, too — but Banners must be checked.
We hope that you found this short article helpful! Please let us know in the comments below if you have any questions.
Here is a short video that provides you with some ideas if you constantly keep missing your notifications, find no sounds or alerts with your notifications.
Mike is a freelance journalist from San Diego, California.
While he primarily covers Apple and consumer technology, he has past experience writing about public safety, local government, and education for a variety of publications.
He's worn quite a few hats in the journalism field, including writer, editor, and news designer.