Find out what to do if the Messages back button is not working on your iPhone. We've got a couple of easy fixes.
Many users have experienced a bug with the Messages app on their iPhone where the back button stops working after sending a text. It affects any iPhones or versions of iOS & iPadOS and has driven lots of users up the wall!
The back button in Messages is the little blue arrow at the top left of the screen. After tapping it, you should go back to the main page on Messages that lists all your conversations.
If your back button is not working, here are a couple of things you can do to fix it.
Related Posts:
Update Your Software
As per usual, a software update should be your first port of call. 
This is a known bug in iOS & iPadOS and we have every reason to believe Apple is working to fix it. In fact, they might have fixed it in the latest update already. There's only one way to find out:
How to Update Software on your iPhone:
Go to Settings > General > Software Update
Install any new updates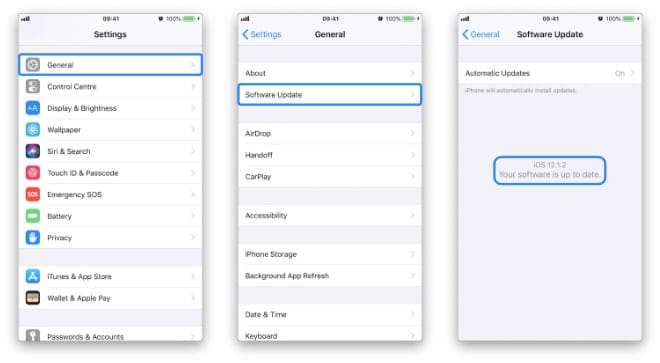 Check your Zoom!
If you need or like to zoom your display, it's often this zoom function that's placing your back button out of sight. So let's take a look at your device's zoom setting and determine if it's the culprit on this one.
Open Settings > Accessibility
Tap Zoom 
Toggle Zoom off

Play around with your iPad's zoom options to get the right fit for you!

 If Follow Focus is also enabled, toggle it off too
Turn Off Accessibility Text Settings
The cause of this annoying back button bug is down to Accessibility text settings.
Check your settings to see if your iPhone text is enlarged or in bold. Turn those features off as we show you below and see if it fixed the problem for you.
How to Turn Off Bold and Larger Text:
Go to Settings > Accessibility (for older iOS, Settings > General > Accessibility)
Tap Display & Text Size and toggle off Bold Text (or for older iOS, turn off Bold Text)
Tap Larger Text and turn Larger Accessibility Sizes off
Drag the slider to the small text sizes at the left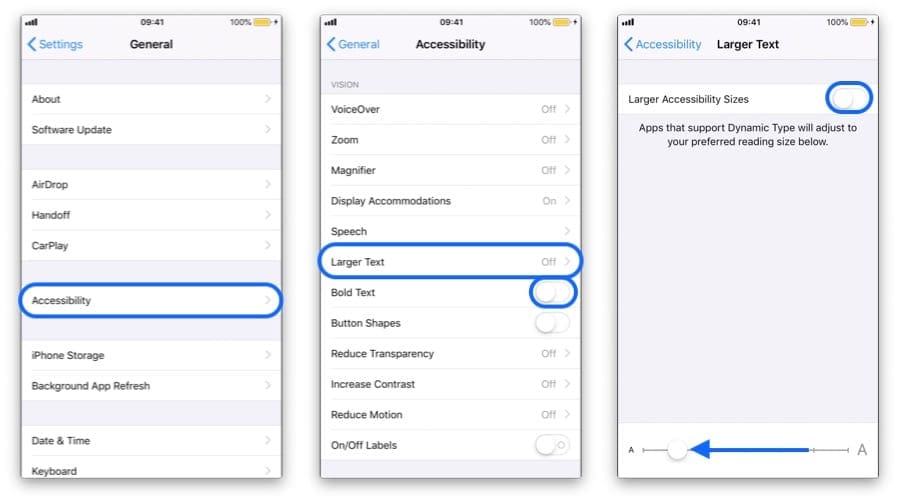 Go back to Messages to see if it fixed your issue. If it did, try making the text bigger one notch at a time, to find the point at which the Messages back button stops working. If it stops, go one text size smaller and keep it at that.
Slide to Go Back
Some sight-impaired users need a larger text in order to use their iPhone well. If that applies to you, or you simply don't want to have smaller text, there is a workaround you could use instead.
After sending a text in the Messages app, slide your finger from left-to-right across the center of the iPhone display. This acts the same as tapping the back button. If it doesn't work, make sure that you start sliding from the very left edge of your screen.
That should have you texting and switching between conversations with ease. Tell us below if those tips worked for you or if you need any other help.