We all cringe at the thought that tech companies could be accessing and using our confidential and private data without us even knowing it. Well, times have changes and tech giants have become more transparent about the data they collect from users and to what purpose.
Nevertheless, when your Mac alerts you about Microsoft wanting to use confidential information stored in your keychain, you do become suspicious. And so did I when I first got the alert. But then I decided to dig a little deeper into this mysterious alert. This guide pretty much sums up all my findings.
Mac Says Microsoft Wants to Use Confidential Keychain Information
Check Your Office for Mac Location
When you're repeatedly prompted for keychain access, Office for Mac is usually the culprit. If you keep on getting these alerts repeatedly, check your Office location. Most likely, Office has been moved to a new location. Its default location is the /Applications folder but maybe you (or another user) accidentally moved the Office installation folder to a different location. If this is the case, click Always Allow when prompted.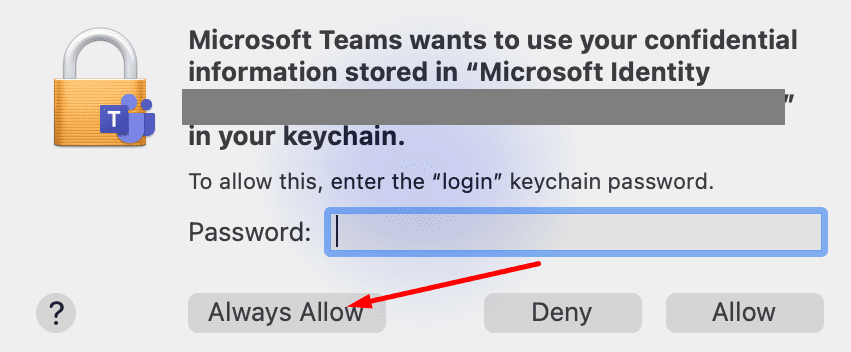 Keep in mind that you may get these alerts up to three times per app. Hit Always Allow every time the dialog window pops up. Your Office apps should start successfully now.
Some users had to first boot their computers into Safe Mode in order to allow Office to access keychain information. So, restart your Mac in Safe mode and launch each Office application. Then, when the dialog window pops up, click "Always allow". Restart your Mac and the alerts should be history now.
If the prompts persist, log out of your Office account and restart your Mac. Sign back in and check the results. If you're still getting those alerts, move on to the next step.
Lock Keychain Permissions for Office
Restoring your keychain permissions for Office for Mac can help you resolve this issue.
Exit all your Office apps (Teams, Outlook, Word, Excel, PowerPoint, and OneNote).
Navigate to Applications and select Utilities.
Launch the Keychain Access app.
Then click the Login keychain entry (left pane).
Navigate to the File menu, and click Lock Keychain "login".
Launch any Office app you want.
Your Mac should prompt you for permission to access the keychain.
Enter your password and sign in to your Office account.
Then exit the app and launch it again. The prompts should be gone now.
Empty the Kind Box
A number of users said they solved the issue by emptying the Kind box in Keychain Access. Deleting anything related to Microsoft should stop the annoying messages.
Close all your Office apps.
Open Keychain Access.
Go to Login and select all the MicrosoftOffice items.
Then locate the Kind box and remove everything from that section.
Save the changes. Launch your Office apps and check if the issue persists.
Clear the App Cache
Clearing all those temporary files stored in the app cache folder may help you solve this issue. The cache might be interfering with your current Office session.
Quit Microsoft Teams.
Navigate to "~/Library/Application Support/Microsoft
Select the Office app that's causing the alerts.
Delete all the files from that folder and restart the app.
Additionally, if you have not yet upgraded to the latest macOS version on your computer, consider updating your system.
Change Your Keychain Password
Resetting your keychain password may help you stop the annoying alerts.
Launch the Keychain Access app.
Select login from the list of keychains (left pane).
Hit the Edit menu and select Change Password for Keychain 'login.'
Enter the current password and then type in the new password in the New Password field. Enter the same password in the Verify field.
Hit OK, exit Keychain Access, and launch one of your Office apps to check the results.
Create a New User Account
Creating a new user account just to be able to use your Office apps is not that convenient. However, that was the only solution that worked for some users.
Go to System Preferences, and select Users & Groups.
Hit the Add button and select the type of account you'd like to create.
Enter the details, set a password for the new user profile, and hit the Create User button.
Launch your Office apps and check if the alerts are gone.
Conclusion
If Office for Mac repeatedly requests keychain access, restore the keychain permissions, and clear the app cache. If the alerts persist, restart your Mac in Safe Mode and hit the "Always allow" option when prompted for keychain access. Creating a new user account is another potential solution to this problem. We're really curious to learn which method worked for you. Share your feedback in the comments below.