The Favorites tab in the Phone app is the ideal spot for, well, your favorite contacts. These are the people that you call most often. Having them handy so you can ring them up with a tap is terrific. But what happens when that list of Favorites starts to grow? It becomes harder to find the Favorite you want to call.
You can rearrange the Favorites on your iPhone any way that you like. But probably the easiest, especially if you have a lot of Favorites, is by name. So here, we'll show you how to put your Favorites in alphabetical order on iPhone.
Related:
Sort iPhone Favorites alphabetically
Open the Phone app on your device and then follow these steps to alphabetize your Favorites.
Select the Favorites tab at the bottom of the Phone app.
Tap Edit at the top of the screen.
Tap and hold the right side (three lines) for one of your favorites, drag them up or down in the list per their name, and release.
Continue to do this for each contact in your Favorites, putting them in alphabetical order.
Tap Done when you finish.
Add or remove Favorites
You'll notice when you tap that Edit option on the Favorites screen that each contact has a minus sign to the left. You can remove a contact from your Favorites by tapping that minus sign and then tapping Delete. This will simply remove the person from your Favorites, it will not delete the contact from your device.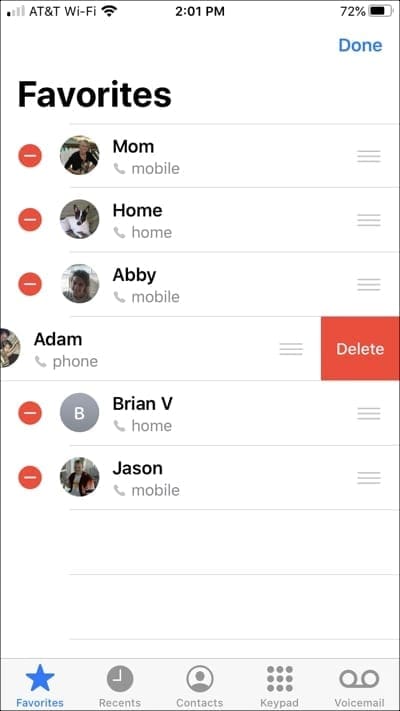 As a refresher, you can also add more people to your Favorites list easily. Before or after you tap Edit on the top right, a plus sign will display on the top left. Tap it, pick a contact, and select the contact detail to add.
If you open the Contacts app you can add a contact to your Favorites from there as well. Select the contact, scroll down below Notes on their card, and tap Add to Favorites.
Find your Favorites fast
Whether you 20 or just a handful of contacts in your Favorites list, rearranging them to be in alphabetical order will keep them nice and neat.
Now that you know how to put your Favorites in alphabetical order on iPhone, are you going to do it? If not, how will you arrange them? Let us know in the comments below or message us on Facebook or Twitter!
Sandy worked for many years in the IT industry as a project manager, department manager, and PMO Lead. She then decided to follow her dream and now writes about technology full-time. Sandy holds a Bachelors of Science in Information Technology.
She loves technology– specifically – terrific games and apps for iOS, software that makes your life easier, and productivity tools that you can use every day, in both work and home environments.
Her articles have regularly been featured at MakeUseOf, iDownloadBlog and many other leading tech publications.