Whether you're looking at the best monitors for iPad Pro or the best monitors for a Mac, many of the same "stipulations" apply. You'll want to make sure that you can take full advantage of what the iPad has to offer when connected to an external display. And with Stage Manager on iPadOs 16, things are getting turned up a notch.
Related Reading
Provided that you have an M1-powered iPad model, you can finally ditch the black bars and stop worrying about only being able to screen mirror. Instead, Stage Manager makes it so you can have a total of four apps on an external display at the same time, along with four more apps being shown on your iPad. You can even switch between different spaces or groups, depending on what it is that you're doing. Today, we're taking a look at some of the best monitors for iPad Pro, if you're in the market for a new one or just want to spice up your home office setup.
Best Monitors for iPad Pro
Apple Studio Display
The most obvious solution for those looking at the best monitors for iPad Pro is the Apple Studio Display. This is only the second monitor that Apple has released in the last few years, following in the footsteps of the Pro Display XDR. You'll enjoy plenty of features such as a 27-inch screen with an incredible 5K resolution.
There are also built-in speakers and a 1080p webcam found in the top bezel. We haven't put this to the test yet with an iPad Pro ourselves, but we expect the experience is as seamless as if you were using a Mac. Two downsides to be aware of are the 60Hz refresh rate, along with the extremely steep price tag.
LG Ultrafine 5K
If you want to save a couple of hundred bucks but still want a 5K monitor for your iPad Pro, then the LG Ultrafine 5K is the way to go. This monitor has been on the market for a few years at this point, and while there haven't been any design changes, LG has still swapped out the panel a couple of times.
Like the Studio Display, the Ultrafine 5K comes in at 27-inches, along with sporting built-in speakers. You won't find an elegant or industrial-like design, as LG opted to stick with a combination of plastic, metal, and glass. But it still gives you a high-resolution display to pair with the iPad Pro.
Dell UltraSharp U2723QE 4K
When it comes to the best monitors for iPad Pro outside of the 5K solutions, Dell is next up on the list. The company continue to make incredible and beautiful-looking 4K displays, such as the UltraSharp 4K. Along with the 4K 27-inch screen, the UltraSharp 4K offers a 2,000:1 contrast ratio and an incredible 178-degree viewing angle.
But if there's another reason why you might want to consider this monitor, especially if you have multiple computing devices. This monitor from Dell sports a built-in KVM, meaning you can connect two computers at the same time, and switch between them with ease. Just connect your various peripherals, connect your two computers, and hit the button to go from using an iPad Pro to your Mac with ease.
Samsung M8 Series 4K UHD Smart Monitor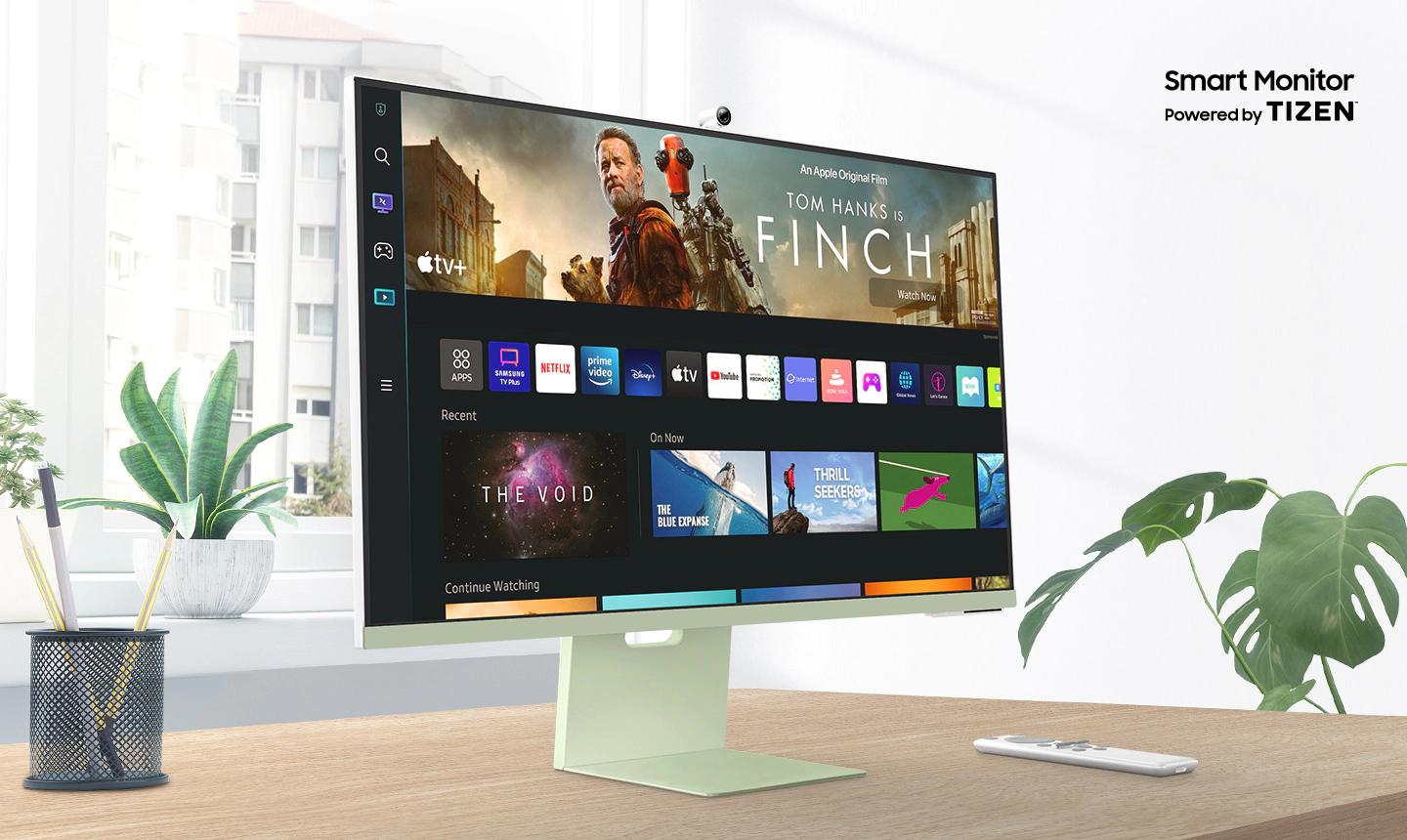 The Samsung M8 is Samsung's latest monitor to hit the market, and it's pretty darn impressive. Not only is it a 4K display, but it also doubles as a smart monitor. This means that you can actually download apps to it, such as Netflix, Apple TV+, HBO Max, and others. Samsung even goes so far as to include a remote, allowing you to switch between input devices or to stream something without fiddling around with controls on the back of the monitor itself.
In addition to being a smart 4K monitor, the Samsung M8 also supports Apple AirPlay, while also including a "slim-fit" webcam that attaches to the top. It's easy to see where the inspiration for this monitor came from after you take just one look at it. But that doesn't stop it from being an incredible monitor for your desk setup.
BenQ PD3220U 4K IPS HDR Monitor
There are a few different "flavors" of the BenQ PD3220U, but the one we like the most is the 32-inch 4K option. Instead of relying on USB-C like its 27-inch counterpart, the PD3220U features Thunderbolt 3 support. And while the 2021 MacBook Pro models and iPad Pro models make use of Thunderbolt 4, it is backward-compatible with Thunderbolt 3.
The monitor itself uses a 4K IPS panel, covering 95% of the DCI-P3 and Display P3 color spectrum. It also reaches up to 300 nits of peak brightness, and you can grab two of these to daisy-chain them together. And like the Dell UltraSharp on this list, there's a built-in KVM switch so you can switch between multiple computers without manually plugging or unplugging cables.
LG Ultrafine UHD IPS Monitor
Not everyone looking for the best monitors for iPad Pro want a 5K or even a 4K resolution. So we would be remiss if we didn't include something a bit more "cost-effective", bringing us to LG's Ultrafine UHD IPS Monitor. This 27-inch monitor sports a 3840 x 2160 resolution and features a height, pivot, and tilt-adjustable stand. It's also compatible with VESA mounts if you want to save some space on your desk.
Other features of this LG Ultrafine Monitor include 60W Power Delivery using USB-C, as opposed to using Thunderbolt. While it's not enough power to keep your MacBook Pro charged up, it's more than enough if you want to connect your iPad Pro. And for those who are worried about color accuracy, you can rest easy knowing that this covers 99% of the SRGB Color Gamut. LG also offers the same monitor paired with an "Ergo Stand" if you know that you won't be using the regular stand.
Finding the right monitor
Finding the right monitor really comes down to personal preference. If you don't have an actual budget, we would just recommend grabbing the Studio Display from Apple. It can be a bit difficult to find at the moment due to production limitations, but it is guaranteed to work the best with practically all of your Apple products. Between the industrial design and the 5K screen, Apple is really flexing its muscles to show others how to make a high-end monitor that's worthy of being used.
But the 5K resolution might be lost on some and doesn't offer enough of an upgrade over using a 4K or even a UHD monitor. You'll also notice that we didn't include any ultrawide monitors on this list, as the compatibility with Stage Manager has been a bit iffy for some. And instead of getting caught up with limitations and a frustrating experience, we recommend just "playing it safe", unless you plan on also using one of these monitors with your existing Mac or Windows setup.
Andrew is a freelance writer based on the East Coast of the US.
He has written for a variety of sites over the years, including iMore, Android Central, Phandroid, and a few others. Now, he spends his days working for an HVAC company, while moonlighting as a freelance writer at night.