Recently updated your iOS or iPadOS and now see an option to Sign in with Apple using your Apple ID whenever you open a new app or website? Wondering what the heck this option is and how you should respond to it? If so, you are not alone. Quite a few of our readers see these prompts and aren't exactly sure what to do about them–if to trust them or not.
While you might be skeptical about Sign in with Apple at first, it's actually a pretty awesome feature that helps protect your privacy and keep unwanted solicitations at bay. What we love about this new feature is that you no longer need to manually input your information each time you set up a new app or website account!
And let's face it, many of us…in fact most of us, use the same user name and password over and over again–because we need to remember it! So for people that don't like to be password managers, Sign in with Apple is a really good option to keep all your web and app accounts safer.
Related articles
What is Sign in with Apple?
macOS Catalina, watchOS 6, tvOS 13, and iOS 13 and iPadOS introduce this option. In a nutshell, Sign in with Apple lets people use their Apple ID to sign in to third-party (non-Apple) apps and websites.
When you choose to use your Apple ID, you no longer need to create another username and passwords–so there is a lot less to remember. All you need to do is tap the button Sign in with Apple, verify using your device's password, Face ID, or  Touch ID, and you are good to go with that app or site, no new user ID and password required!
For folks that use sign in with Facebook or sign in with Google, it's basically the same process except Apple uses your Apple ID instead.  But with Apple, your personal information isn't shared, sold, or otherwise used without your knowledge and permission.
You don't even have to provide that app or site your actual email address when using Sign in with Apple.
Instead, Apple gives you the option to share your real Apple ID email via Share my Email or create a proxy email address using the Hide My Email feature. Hide my email generates a random email address and provides it to the app or website.
Apps and sites can still communicate with you using that proxy email.
Apple forwards any email messages sent to that proxy to your real email address without ever sharing your actual email with that app or site.
How to use Sign in with Apple
On a supported website or app, look for the Sign in with Apple badge
Tap on this button
Authenticate with Face ID, Touch ID, or your device passcode
On the confirmation screen, verify your name and Apple ID's email address and choose if you want to Share my email or Hide my email 
If you select Hide my email, Apple creates a proxy email account for that app or site and email received at that proxy address is forwarded to your "real" email address that's associated with your Apple ID
Tap Continue to sign in to the app or site with your Apple ID as the user account
You only need to follow this set-up process once. The next time you open the app or visit the site, you see a prompt asking if you want to sign in with your Apple ID like before.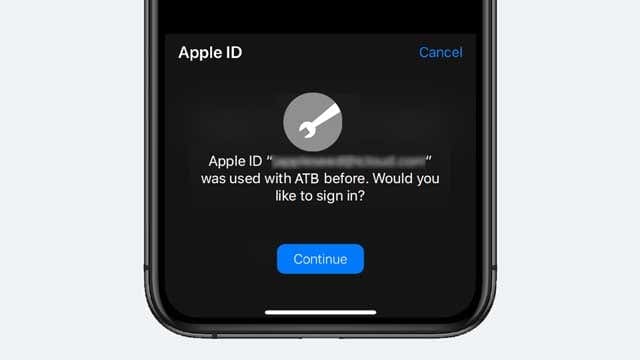 What's the advantage of using Sign in with Apple?
Outside of not having to remember a bunch of different usernames and passwords, by using your Apple ID, you are keeping your information within the Apple ecosystem–and not providing information to third parties to use, share, and exploit.
Sign with Apple works seamlessly across all of Apple devices
And with iCloud, the information is shared between devices so you only have to sign up once on a single device signed in with the same Apple ID. That includes all devices in Apple's portfolio, including iPhone, iPad and iPod touch, Mac, Apple TV, and Apple Watch.
Share your email or not!
Another awesome advantage of Sign in with Apple is that you get to choose whether or not you share your actual email address with apps and sites.
If you choose not to share your real email address, Apple creates a proxy email address for you to use and forwards that email to your real email address. And you can even disable this Apple-created email address at any time so you won't get any mail from that address.
Each time you choose not to share your real email address, Apple generates a different proxy email address that's unique to each site or app.
Hide my email works both ways!
When you choose the option to Hide My Email, Apple creates a proxy email address that relays both ways, meaning you can receive email and reply to messages using that proxy account.
Once Apple's private email relay service delivers your proxy's email message(s) to your Apple ID email's Inbox, they are removed from Apple's servers. Apple does NOT store these emails–they just route them back and forth.
The only email address that is ever shared with Hide My Email is that proxy email address–even when replying. That's because all the communication is routed through Apple's private relay service.
What about apps and websites that I already have accounts with?
Since Sign In with Apple uses iCloud Keychain if you already have an account for that app or website, your devices show an alert message and ask if you want to log in with those credentials.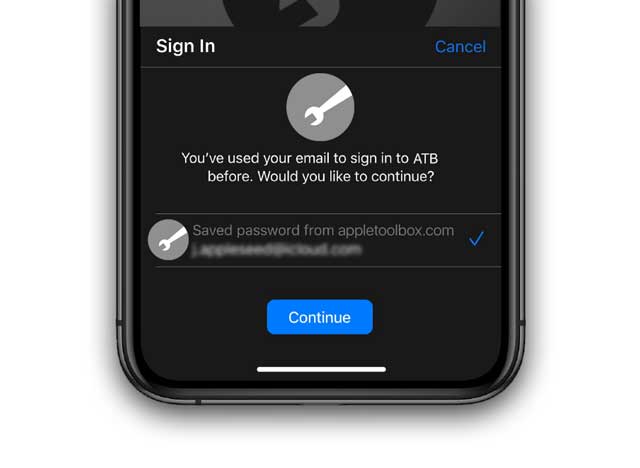 Then choose if you want to continue using your current app or site credentials or change and sign in with Apple instead.
Do I have to use Sign in with Apple?
Absolutely not!
You can continue using your previous app and website usernames and passwords or creating new accounts within the app or site.
And if you prefer to sign in with your Facebook, Google, or Twitter account, you can continue using that as well.
How to stop using Sign in with Apple on an app
If you signed up to use your Apple ID with an app, but decide you'd rather set-up an account yourself or don't want to continue using your Apple ID for that app, it's easy to change from the security page in your Apple ID settings.
Hate remembering passwords and user IDs? Try Sign in with Apple
One of the biggest reasons we love using Sign In with Apple is that we no longer need to remember new usernames and passwords. So tapping on all those forgot your password buttons is hopefully a thing of the past!
And with the built-in protections of your Apple ID, like two-factor authentication, using an app or a website is likely a lot more secure than it's ever been.
I admittedly hate entering and remembering passwords and user IDs for all the different apps and sites I sign up with. And though I've always liked the idea of logging in with Facebook or Google, I've never trusted that they aren't exploiting my personal data. So I've steered clear of using my Facebook or Google credentials on other apps or sites.
But my experience with Apple is a lot more positive. That's mainly due to their continued commitments to their users' privacy and the belief that our personal data and information is a human right. We see Sign in with Apple as one more step to keeping that data private and secure.
For most of her professional life, Amanda Elizabeth (Liz for short) trained all sorts of folks on how to use media as a tool to tell their own unique stories. She knows a thing or two about teaching others and creating how-to guides!
Her clients include Edutopia, Scribe Video Center, Third Path Institute, Bracket, The Philadelphia Museum of Art, and the Big Picture Alliance.
Elizabeth received her Master of Fine Arts degree in media making from Temple University, where she also taught undergrads as an adjunct faculty member in their department of Film and Media Arts.