New year, new you. One of the most common New Years Resolutions is to be healthier. Whether it's working out or focusing on your mental health, you don't have to worry about trying to do everything by yourself. The iPhone is an incredible tool that can help achieve your goals, and we've rounded up the best health and fitness apps for iPhone.
Related Reading
Best Health and Fitness Apps for iPhone
Fitbod
One of the biggest pain points for those who want to work out is the rising costs of gym memberships. But you can put those concerns behind you thanks to apps like Fitbod, which can create custom workouts that don't require access to weights or a gym. The app is pretty easy to use, as you can create a workout plan tailored to the goals that you're trying to reach. Plus, Fitbod is free to use, but there is an in-app subscription if you want to unlock everything.
Dark Noise
Dark Noise is one of our favorite apps, and it's not exactly designed with the gym or working out in mind. Instead, it's an app that is meant to help you focus better, which is great for your mental health. Whether you need some background sounds to sit down and get some work done, or to help you fall asleep easier, Dark Noise has you covered. You can even go so far as to mix different sounds together, right from the app.
Streaks Workout
Streaks is one of our favorite habit-tracking apps, so it makes sense for Streaks Workout to make the list for best health and fitness apps for iPhone. Streaks Workout applies the same principles as its namesake, but instead of trying to reach goals throughout the day, you build streaks during your workout. By reaching those goals, Streaks Workout helps you build a habit of working out and building your strength and fitness.
MyFitnessPal
Trying to keep a log of all of the food and drinks that you consume over the course of a day can feel exhausting. Thanks to apps like MyFitnessPal, the process has never been easier. This is consistent atop the App Store charts amongst the best health and fitness apps for iPhone. You can just search for foods and meals before logging them, or you can even scan a barcode to get precise information without needing to manually enter it. The app even offers the ability to create "expert-guided plans", and can connect with more than 50 different apps and devices, including Apple Health.
Strava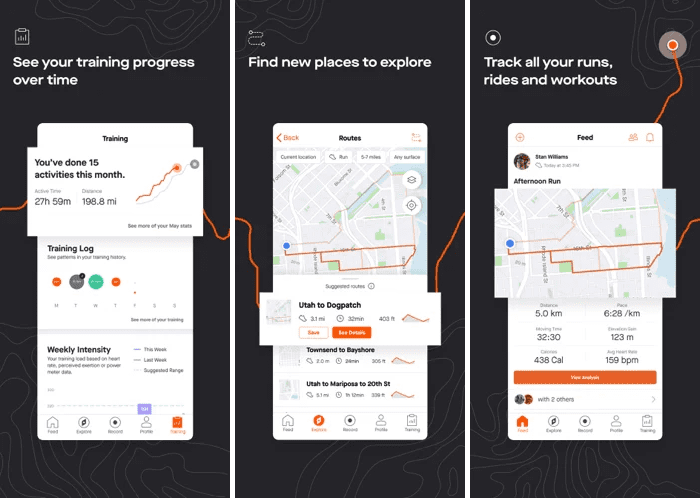 Truth be told, there are a lot of running and walking apps on the App Store. But Strava continues to be one of the best options out there, as you'll be able to track so much more than just a run or walk. With Strava, you can track more than eight different workout types. Then, you are able to export the data into the Health app so you can keep track of things like your heart rate and other biometrics from the workout. But the best part is that you don't need an Apple Watch to take full advantage of Strava, as you can also use other fitness trackers and smartwatches.
Fitbit
Speaking of fitness trackers and smartwatches, not everyone is a fan of what the Apple Watch has to offer. Fitbit is arguably a much larger platform, and its wearables work with either iOS or Android. With the Fitbit app, you can track everything from your workouts to the food that you are consuming every day. There's also an excellent community aspect of the app that makes it easy to compete against friends, or the Fitbit community as a whole. Fitbit is free to download, but there is the option for a subscription if you want to unlock all of the features.
Lose It!
Lose It! has been available on the App Store for years, as the app launched all the way back in 2008. Since then, the app has transformed into one of the best apps to help you keep track of what you're eating along with tracking your weight loss. It's as simple as it gets when it comes to calorie counting, but the app is also pretty robust in the results that it can provide.
Brain.fm
Brain.fm is one of the newest apps to grace my iPhone home screen, as it has turned into an invaluable tool in early 2022. With Brain.fm, you can select from one of four different "mental states", each offering different music designed to help accomplish what you need. All you need to do is select the Mental State, choose the duration, and hit play. Once the session is completed, the music will stop, allowing you to take a break and start it over again with a different set of music.
Affirmations
Physical health and fitness is only one piece of the puzzle that is your body. Another piece is mental health, and there's something to be said about getting a little encouragement throughout the day. Affirmations aims to provide those words of encouragement, as you can load the app to see a message or put the app on your Home Screen. Affirmations even makes it possible to send scheduled notifications throughout the day.
Day One
Keeping with the trend of mental health, there's something to be said about journaling. Keeping track of what makes you happy, will go a long way when it comes to ending the day on a high note. Or you can just use the app as a traditional journal, sharing (privately) everything that happened each day. You can attach pictures and videos to the entries, allowing you to look back on the past and enjoy the reminders and memories.
Sleep Cycle
It's one thing to do all of the right things throughout the day to keep yourself as healthy as possible. But if you aren't sleeping well, it can ruin the entire process of improving your health. There are quite a few different sleep tracking apps on the App Store, and Apple even integrated this functionality into the Apple Watch. But if you want a separate app to handle all of your sleep tracking, then Sleep Cycle is our pick. The app will wake progressively wake you up, instead of just having harsh alarms go off at specific times.
WaterMinder
While our bodies are mostly made of water, that doesn't mean that you don't need to replenish what's being used. The problem arises when you are too busy to take a step back and remember to drink some water throughout the day. WaterMinder takes care of that for you, reminding you to drink some water in an effort to reach your daily recommended intake goals. There are widgets that can show your progress, and the developers have even integrated support for Siri Shortcuts.
Andrew Myrick is a freelance writer based on the East Coast of the US. He enjoys everything to do with technology, including tablets, smartphones, and everything in between. Perhaps his favorite past-time is having a never-ending supply of different keyboards and gaming handhelds that end up collecting more dust than the consoles that are being emulated.