iOS 15 has been in the hands of developers for much of the 2021 summer, but those who didn't jump on the beta train are just now getting to use and experience iOS 15. Although it may seem like more of a "tame" update compared to years past, there are actually quite a few new features and updates that even Apple didn't announce. Today, we're going to take a look at some of the best iOS 15 tips and tricks for you to make the most out of your iPhone.
Related Reading
Customize Your Home Screen Pages
Last year, Apple introduced widgets and the App Library with iOS 14 and the iPhone 12. This was a step in the right direction as Apple is finally giving users a little bit of control over customization with their iPhones, other than just changing wallpapers. But you can also now customize your Home Screen pages with iOS 15.
Previously, iOS 14 allowed you to hide Home Screens that you didn't want to appear, but they are still visible unless you go through and manually remove every app on the page. In iOS 15, Apple makes it possible for you to delete a Home Screen page entirely.
Long press on an empty space on the Home Screen.
Tap the highlighted row of dots above the Dock at the bottom.
Tap the checkmark beneath the Home Screen page you want to delete.
In the top left corner of the page preview, tap the "-" icon to delete the page.
Tap Remove to confirm.
Focus Modes
Focus Mode is essentially Do Not Disturb mode on steroids. With Do Not Disturb, it's an all-or-nothing approach for your app notifications and messages from your contacts. This is fine for the most part, but it doesn't help if you want to receive notifications from specific apps throughout the day.
Swipe down from the top right corner to open Control Center.
Long-press on the Focus button in Control Center.
Select the Focus Mode you wish to use.
You can even go so far as to automate Focus Moes, having them turn on based on a specific time or location. Plus, you have the ability to customize which contacts and apps can notify you, along with setting specific Home Screens to appear.
Scan Everything With Live Text
When looking at an image through the viewfinder of your camera, or in the photo itself, your iPhone will not be able to provide different pieces of information. A picture of a restaurant sign can be highlighted and extracted, then you can search for more information about that restaurant. Names and phone numbers can be extracted from a picture of a business card, so you can just call the person right from the picture.
Bring Back The Old Safari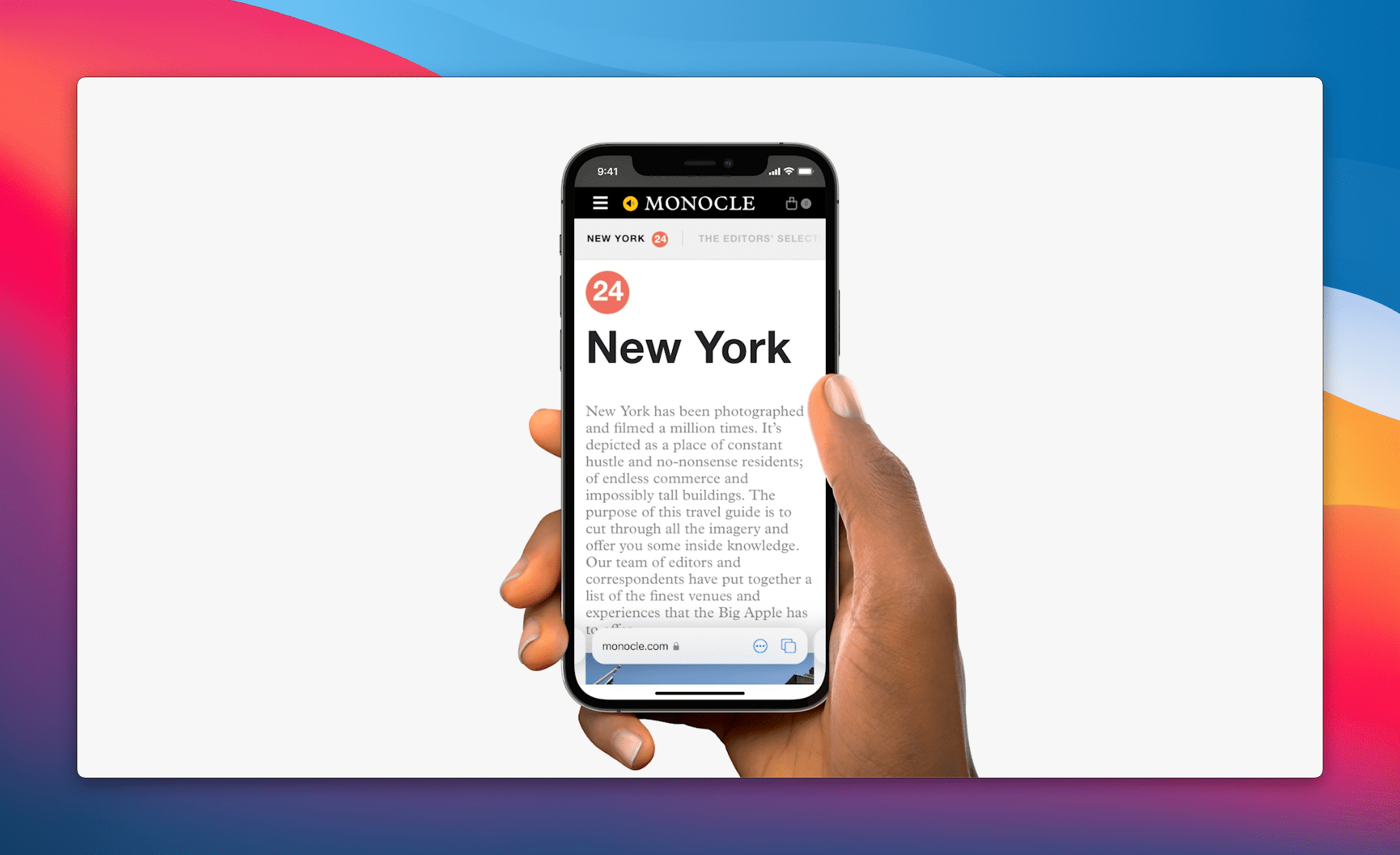 During the iOS 15 and iPadOS 15 beta cycle, Safari was arguably the most talked-about feature. This is because Apple made a rather radical decision to completely overhaul the app, as it attempted to "re-invent" the wheel. The tab bar, by default, is now at the bottom, but you can switch things back to the old Safari style if you prefer.
Open the Settings app on your iPhone.
Scroll down and tap on Safari.
Under the Tabs section, tap Single Tab.
Exit the Settings app.
Use Custom Background Images With Safari
Customization and Apple usually aren't two phrases that go hand-in-hand. But it would appear that Apple is starting to loosen up a bit more, at least with Safari. Now, you can change use custom background images for the Safari New Tab page. There are a few pre-populated options to choose from, but you can also use your own custom image if you want something different.
Open the Safari app on your iPhone or iPad.
Open a new and empty Safari page.

Tap the two-square icon in the bottom right corner.
Then, tap the + icon.

Scroll all the way to the bottom of the page.
Tap the Edit button.
Tap the toggle next to Background Image.
Select one of the pre-populated pictures, or tap the + box to add your own.
Create Tab Groups In Safari
With the release of iOS 15 and iPadOS 15, Apple has introduced Tab Groups for Safari. This is a (relatively) quick and easy way to group some tabs together, in order to access them later or whenever you need to.
Open the Safari app on your iPhone or iPad.
Tap the Open Tabs (two stacked squares) button in the bottom right corner.
Tap or long-press the Tabs option in the middle of the bottom toolbar.
Select one of the following options:

New Empty Tab Group
New Tab Group from X Tabs. 

Type the name that you want to use to identify the Tab Group.
Tap Save in the dialog box.
Drag-and-drop
Multi-taskers everywhere, rejoiced when Apple announced that you can finally drag and drop files between applications. This feature has been requested for years, and it has finally arrived. And thanks to the multi-touch display on your iPhone, you aren't limited to only being able to use this on the iPad. In the example, we'll walk you through how to drop a picture or video into the Photos app.
Locate the photo or video that you want to add to Photos.
Touch and hold the image.
After the pop-up context menu appears, drag the image upwards.
Without lifting your finger, swipe up to go to the Home Screen.
Again, without lifting your finger on the image, open the Photos app.
Drop the image into the Photos app.
This can also be used if you have multiple images or files that need to be moved around, so you aren't limited to just using one at a time.
Use Spotlight From (Almost) Anywhere
Even before the addition of the App Library, Spotlight has been the fastest way to quickly search for an app or to locate a specific file. However, until iOS 15, you could not use Spotlight when your iPhone was on the Lock Screen. Now, you can wake your phone, swipe down to reveal Spotlight, enter your query, and go. And don't worry, your iPhone will only actually unlock if it recognizes your Face ID or passcode.
Deal With Notifications Later
Notification Summary is another method built into iOS 15 and iPadOS 15 to help everyone manage notifications. Notification Summary is also used to bundle all of those app and message notifications together so you can deal with them later at a set time.
Open the Settings app on your iPhone or iPad.
Tap Notifications.
At the top of the page, select Scheduled Summary.
Tap the toggle to the On position.
Tap the Continue button at the bottom.
Follow the on-screen steps to select which apps are included in your Summary.
Set a schedule for when the Notification Summary will appear in Notification Center.

From here, you can create multiple summaries to appear at different times of the day.

Tap the Turn on Notification Summary button.
Smart Lists in Reminders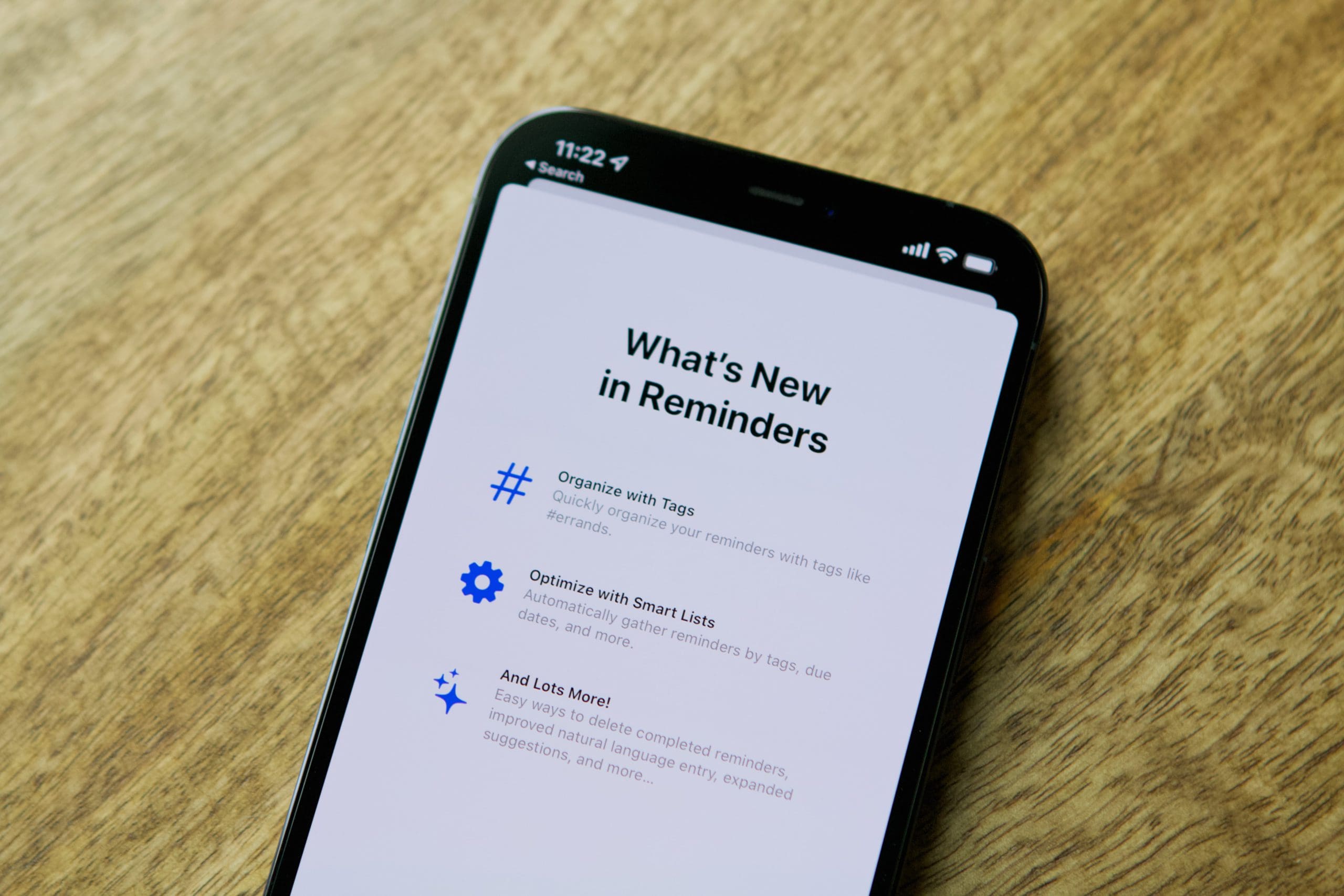 Smart Lists are a new feature in iOS 15, iPadOS 15, and macOS Monterey. Essentially, you can create a Smart List based on a number of filters. These filters range from date and time to a specific location or priority. Smart Lists can even be used with the addition of Tags, so any time you mention something specific, it can be grouped into the same Smart List.
Open the Reminders app.
Tap Add List in the bottom right corner.
Set the name for your list.
Change the lists' icon and color, if you want.
Tap Make into Smart List.
Go through and select the filters for reminders that will appear in the Smart List.

Date
Time
Location
Flag
Priority
Tags

Tap Done in the top right corner.
Tap Done again to create the Smart List.
Find Notes Easier With Tags
Tags will allow you to more easily organize and find your notes. Just create and add relevant tags to your notes to start the process. When you add a tag to a note in iOS 15 or iPadOS 15, that note will then be searchable by that tag. This is a feature we've seen from pretty much every great note-taking application, so it's definitely a welcome addition to the stock Notes app on iPhone and iPad.
Open the Notes app.
Open a blank note, or select an already-created note.
From within the note, use the hashtag (#) symbol with a defining title like #apple or #recipes.
Now, you will be able to view any notes using that specific tag, without being inundated with a bunch of other notes.
Drown Everything Out With Background Sounds
Background Sounds, is designed to help keep you focused on the task at hand but it has not been available. Since the announcement, Background Sounds are now available in iOS 15, despite not being available early-0n in the beta program, allowing you to play one of six different sounds in the background.
Open the Settings app on your iPhone running iOS 15.
Scroll down and tap Accessibility.
Scroll down and select Audio/Visual.
Tap Background Sounds.
At the top of the page, tap the toggle next to Background Sounds.
To change the noise, tap Sound.
Select one of the following and tap Back in the top left corner:

Balanced Noise
Bright Noise
Dark Noise
Ocean
Rain
Stream

Adjust the volume using the slider bar.
Toggle whether you want to Use When Media is Playing.
If so, adjust the levels of the background sounds.
Be Notified When It's Going To Rain
Back in 2020, Apple acquired the ultra-popular Dark Sky app in an effort to revamp its own stock Weather application. While some changes were introduced with iOS 14, even more new changes and features have arrived in iOS 15. Now, you can view animated backgrounds based on the weather around you, along with receiving real-time precipitation alerts.
Open the Weather app on your iPhone.
Tap the icon in the bottom right corner.
Tap the ellipses icon in the top right corner.
Select Notifications from the drop-down menu.
Tap Continue to allow notifications.
Tap Allow to confirm.
Click the toggle next to the location(s) that you want to have notifications for.
Tap Done in the top right corner.
Now, you will be notified whenever it's about to start raining. With how reliable and accurate Dark Sky has been, you'll usually receive a notification just minutes before it actually starts to rain.
Change Text Size in Specific Apps
Before iOS 15, the only option you had for changing the text size was to do so across the entire operating system. This is fine in some cases, but some applications don't need to have smaller text sizing, or it can be customized from within the app. Thanks to iOS 15, you can now change and set the text size based on the app you are using.
Open the Settings app.
Select Control Center from the list.
Scroll down and tap the "+" icon next to Text Size.
This adds the ability to adjust your Text Size using the Control Center shortcut. Now, you can just swipe down from the top right corner to reveal Control Center, Tap the Font icon, and swipe up and down to adjust the text size. But if you want to do this for a specific app, make sure you tap the "App Only" option at the bottom.
Hide Your Email Address
While Sign in with Apple is a useful feature for creating accounts, there's a new option for those who are iCloud+ subscribers. Hide My Email creates a randomly generated email address that is used in conjunction with the Sign in With Apple functionality. You will be prompted to select this option when signing up for an account and can access created emails in the Settings app.
Open the Settings app on your iPhone.
Tap your name at the top of the page to open iCloud settings.
Tap iCloud.
Select Hide My Email from the list.
From here, you can either create a new address or view the addresses that have already been created. When accessing the already-created addresses, Apple provides more information including when it was created and whether you want the email to forward to your iCloud email.
What Are Your Favorite iOS 15 Tips?
We know this is far from the "end-all-be-all" list of iOS 15 tips and tricks. However, these are just some of the favorites that we've really been able to spend a lot of time with so far. We'll keep working to compile a much more robust list in the near future. But in the meantime, let us know some of your favorite iOS 15 tips and tricks!
Andrew Myrick is a freelance writer based on the East Coast of the US. He enjoys everything to do with technology, including tablets, smartphones, and everything in between. Perhaps his favorite past-time is having a never-ending supply of different keyboards and gaming handhelds that end up collecting more dust than the consoles that are being emulated.