Several users have reported that a error message that prevent users from buying/downloading/updating apps. The error message is: Account Not In This Store. Your account is not valid for use in the … Store. You must switch to … Store before purchasing. For example, account not in this store. Your account is not valid for use in the German store. You must switch to the the US store before purchasing.
Quick Tips 
Make sure you do not have any restrictions on your device
Try turning WiFi on your device off and back on again (add a restart in-between if it doesn't work at first)
Check that your billing address on your Apple ID is set to your current country of residence address
Sign out of your Apple ID on the iTunes & App Store and then sign back in
Update your country of residence for your Apple ID
Related Posts
Toggle WiFi
Several readers let us know that simply toggling WiFi off, waiting 20-30 seconds, and then toggling WiFi back on fix this issue. If that didn't work, try adding a restart or force restart in between the toggling off and on and see if that does the trick. 
Check Any Restrictions
First, check that you don't have any restrictions enabled by going to Settings > General > Restrictions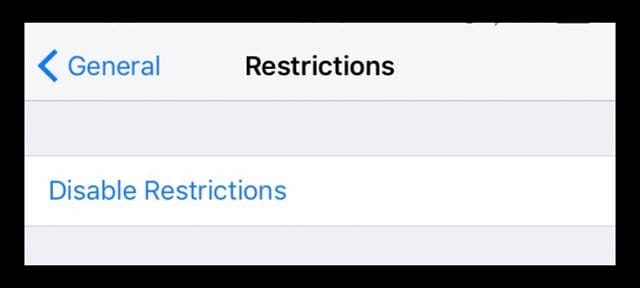 Sign Out and In to fix this account issue
Tap Settings > Apple ID Profile > iTunes & App Stores
You see your Apple ID; tap it and a pop up shows up
Tap Sign Out
Enter your Apple ID and password to sign back in
Tap home button and try downloading your app again 
Try changing your iTunes and App Store country
When you change your Apple ID (App Store or iTunes Store) country of residence, you must spend any current balance you have before you change to a new country setting. Store balances DO NOT transfer.
Update Country or Region on your iDevice
Tap Settings > iTunes & App Stores > Apple ID > View Apple ID
Tap Country/Region
Choose Change Country/Region
Select the region where you are located
Review the Terms and Conditions and Apple Privacy Policy and select Agree
Provide Credit Card info if requested
Update your payment details to reflect your current country of residence and billing address
Your Apple ID country or region updates for all of your Apple services on all of your Apple products that use the same Apple ID
Update Settings in iTunes or Via Apple ID Website
Open iTunes on your Mac or Windows PC and sign in to your Apple ID Account Information page and select Account > View My Account at the top of the iTunes window 

Enter Your Apple ID and Passcode if requested
On the Account Information page, look to the right of Country/Region and choose Change Country or Region 
From the Select a country or region menu, choose your new country or region
Click Change
On the Welcome to the iTunes Store page, tap Continue
Review the Terms and Conditions and Apple Privacy Policy and select I have read and agree to these terms and conditions
Click Agree
Enter your new payment information. You have to enter a valid payment method for your new country or region–you can change your payment method to None later, once your account confirms
Enter your billing address
Click Continue
When you change your billing address from your Apple ID account page or through the iTunes Store or App Store, it updates your billing address for all of the Apple services with which you use the same Apple ID

Or go to your Apple ID Account on the website and tap Account > Edit

From the Country/Region menu, select your new country or region
When asked, click "Continue to update."
Enter your new payment information. You have to enter a valid payment method for your new country or region. You can change your payment method to None later, once your account confirms
Click Save
When you change your billing address from your Apple ID account page or through the iTunes Store or App Store, it updates your billing address for all of the Apple services with which you use the same Apple ID
Seeing your country cannot be changed at this time. Learn more? 
If your country or region is grayed out and not allowing you to make any changes, it's likely that your account still has a credit on it. Spend that remaining balance and it should work.
If you belong to a family sharing group, you must exit the group before changing your country and region.
Before you change your country or region
Your store credit is associated with the individual country's or regions's store, so spend any remaining credit before changing your country
Download all your past purchases to your device(s)
Cancel any subscriptions, including Apple Music! These must be subscribed to again in the new country's store
Back up your iPhone, iPad, or iPod touch to iTunes (your iCloud account is tied to your country, so it's safer to trust iTunes for this backup)
If you're a part of a Family Sharing group, you might not be able to change your country or region until you leave that Family Sharing group
When you change iTunes and Apple Store countries or regions, you should download all your past purchases before you change your country or region. You may be able to redownload them after you make the change, depending on the new store's availability and local laws, but it's not guarenteed.
Only One iTunes/App Store Allowed
At this time, you cannot purchase any media (music, apps, and so forth) from an iTunes or App Store different from the store where you list your residence on your Apple ID account. Your billing address (and your credit card) detemine which country's Apple Store you are able to makes purchases from.
When you visit another country, even if for an extended visit, Apple does not allow you to purchse apps from any other iTunes or App stores other than your resident country's store.