Just updated your iOS but get a message on the App or iTunes Store App saying "an unknown error has occurred?" Several users have reported that they receive the alert message App Store: "An unknown error has occurred" when they try to connect to the App Store on their iOS devices, iPad, iPad mini, iPhone or iPod touch.
Related Articles
Check Apple System Status
Sometimes the problem isn't you or your device, it's Apple!
Before you spend a lot of time troubleshooting, let's check that Apple isn't experiencing any Server issues. To do so, go to the site Apple Support System Status.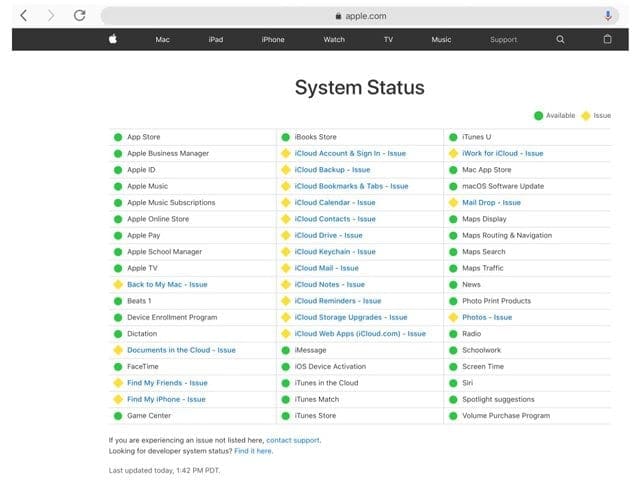 Look for anything in yellow–if you see yield-like symbol, read through the details. In particular, look for any reported problems with the App Store, Apple ID, iCloud, and iTunes.
If there are problems, wait a few hours and check again.
Changed Your Apple ID or Password Recently?
If you recently changed your Apple ID or password, you might have to sign out and sign back in. To sign in on your iOS device, go to Settings > Apple ID Profile > iTunes & App Store. Tap your Apple ID, sign out, then tap Sign In to log in again. 
Also, go to Settings > General > Date & Time and choose Set Automatically. 
Verify Payment Details
Sometimes you get this error when you don't have a payment method established for your account.
Go to Settings > Apple ID Profile > Payment & Shipping and see if there is an established payment method. If not, add one in.
You can later set this payment method to None via the following instruction.
Toggle WiFi Off and ON
Try turning off your WiFi, waiting 20-30 seconds, and turning it back on.
Check Your Apple ID(s)
Although we can sign into a different Apple ID for the App Store than our main Apple ID that we use for iCloud, iMessage, and so forth, using multiple Apple IDs on a device or Mac often causes problems.
So check if your device (or Mac) uses more than one Apple ID. If so, consolidate and use a single Apple ID for all services. In particular, make sure the Apple ID used for the App Store is the same as the Apple ID you use for iCloud.
If you need access to apps and purchases associated with a different Apple ID, consider signing both IDs up in a Family Sharing account.
Try Logging Into Your iCloud or Apple ID Via the Web Site
Can you sign into your Apple ID account via a web browser on a computer or your device? 
It's a good way to check your account and if you can sign in using your current (and known to you) Apple ID and password.
If you can sign in to your account via the web portal, then the problem is on your device.
Try signing out of the iTunes & App Store in your settings and signing back in
Settings > iTunes & App Store
Tap on your Apple ID and sign out
Restart your device
Sign back into iTunes & App Store

Signing out of iTunes and App Store removes any saved offline songs if you are an Apple Music member
Reset Your Apple ID or Password
If you cannot sign in to your account, the problem is either your Apple ID or more likely, your password. In that case, go to Apple's iforgot site and try resetting the password (or Apple ID) via that site. 
Reset All Device Settings
If nothing helps thus far, try resetting all your settings just in case something's getting in the way. Go to Settings and tap General > Reset > Reset All Settings 
This resets to default everything in Settings, including notifications, alerts, brightness, and clock settings like wake up alarms. Performing this action does not impact any of your personal device data, including photos, texts, documents, and other files.
Resetting all settings also reverts all your personalized and customized features like wallpapers and accessibility settings back to factory defaults. So you need to reconfigure these settings once your iPhone or iDevice restarts.
Reader Tips 


For folks seeing this on a Mac, try the following: Safe Boot your Mac by holding the Shift key while booting then go to the App store and try downloading and installing updates while in Safe Mode. The reboot and see if the App Store now works!
Obsessed with tech since the early arrival of A/UX on Apple, Sudz (SK) is responsible for the original editorial direction of AppleToolBox. He is based out of Los Angeles, CA.
Sudz specializes in covering all things macOS, having reviewed dozens of OS X and macOS developments over the years.
In a former life, Sudz worked helping Fortune 100 companies with their technology and business transformation aspirations.