Recently, my Dad says that iCloud isn't working for him.  He signs into iCloud and then a few minutes later, a pop-up appears asking him to sign into iCloud again.
My Dad isn't alone.  Many iPhone, iPad and Mac users are annoyed with constant iCloud sign in requests. It's unfortunately a well-known problem, aptly named the iCloud login loop bug.
You may experience this iCloud login loop bug after an update. You are asked to enter your iCloud password and the popup message goes away.  But only temporarily, after a short time (usually after a reboot) that iCloud popup reappears asking for the password AGAIN.
I walked my Dad through the steps listed below, and it worked!  So I thought I'd share the fixes for this iCloud login loop bug that worked for him, just in case you too have this iCloud issue.
If you are prompted repeatedly to sign in to iCloud on your Mac, iPad or iPhone, here is how to fix it.
So let's get to it!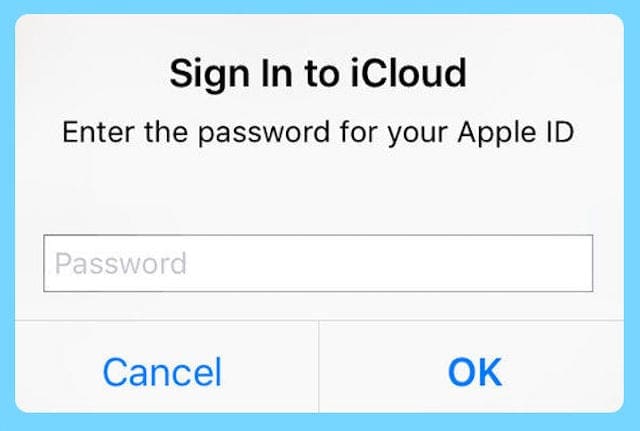 First, Let's Check that iCloud is Working
Check that Apple's iCloud is working correctly and that this iCloud login loop bug isn't a system or server problem on their side. Visit apple's system status on your iPhone, iPad, or Mac and check that all services are green.
You'll see if there is problem with iCloud at Apple's end.  If so, wait a couple of hours to see if Apple fixes the problem.
Next, Check Your WiFi Connection
The iCloud login loop bug is often caused by a faulty Wi-Fi connection.  So the easiest way to fix this is to power down your iPhone, iPad, or Mac, wait a few minutes, and then power your device back up.
 How-To Turn Your iPhone Off and On
Hold down the Sleep/Wake button until Slide To Power Off appears
Slide the power icon to the right
Wait around 30 seconds for the screen to go completely black
Press the Sleep/Wake button to switch the phone back on
You may need to enter in your iCloud ID and Password.
If none of the steps above helped you, we have some additional fixes for you for iDevices and Macs that are experiencing the iCloud login loop bug.
How-To Fix iPhone, iPod Touch, and iPad iCloud login loop bug
You see this message: Sign In to iCloud. Enter the Apple ID password for "your@appleid"
So let's clear up iCloud so we get it working again and eliminate these annoying pop-ups!
Tap Settings
Tap iCloud
Tap Sign Out,

A message saying: Sign Out of iCloud
Tap Sign Out
A second message popups stating "Delete Account"
Tap "Delete From My iPad" or "Delete From My iPhone"

Enter your password
Tap "Turn Off"
It will take a few seconds to sign out
Now let's restart your iPhone or iPad
Hold down the Power and Home button until you see the Apple logo
Tap Settings
Tap iCloud
Enter your Apple ID and password to sign back into iCloud
This should fix the iCloud login loop bug for you.
How-To Fix macOS and Mac OS X iCloud login loop bug
If your Mac keeps asking for your iCloud password, here is how to resolve:
First, Stop iCloud Syncing
Go to System Preferences
Select iCloud
Uncheck all the boxes
Don't sign out of iCloud just yet.  We'll need to sign out in a couple of other places before we turn off iCloud completely.
Next, Disconnect iCloud from Applications
Open Facetime
Go to Facetime>Preferences
Select Settings
Click Sign Out
You'll need to perform these same steps of signing out for Messages, Reminders, Calendar, iTunes, the App Store, Find My Mac, Back to My Mac, and Mail.
Now, Sign Out of iCloud
Go to System Preferences
Select iCloud
Select Sign Out  
Close System Preferences
Restart Computer
Go to System Preferences
Select iCloud
Sign into iCloud with Apple ID and password
Select which services you want to sync with iCloud
Wrap Up
It's no fun when you are stuck in an iCloud login loop bug!  Hopefully one of the steps above resolved your problem.  If not, you may need to Backup and Restore your iPhone, iPad, or other iDevice.  Check our articles on how-to backup and restore.
For mac computers, you may have a corrupted user account.  See our article on how to fix corrupt user accounts.
Let us know in the comments if you have any additional fixes for this iCloud login loop bug.
Related: An extra level of backup for your iPad, iPhone & iPod touch