Having problems with sending emails regardless of the recipient via your iPad or another iDevice?  When you send emails, does it always result in the error message "A copy has been placed in your outbox?" The recipient was rejected by the server because it does not allow relaying.?"  If so, you are not alone. Recently, many iPad users complain that their iPad cannot send emails at all!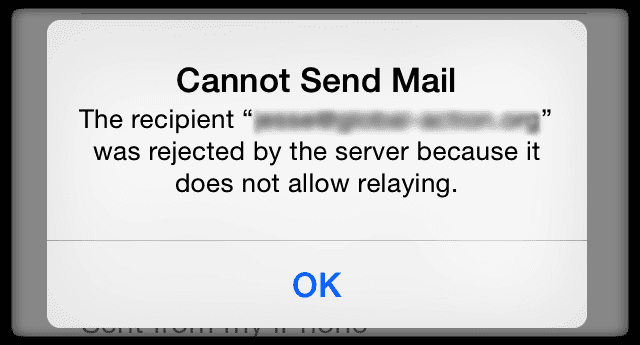 And the iPad is, for some unknown reason, no longer allowing email relaying. This error happens when you try to send an email message. When you tap the send button, you get a message that the recipient's email address was rejected by the server as it does not allow relaying. This is really a bothersome error! But fortunately for all of us experiencing this issue, it is indeed easily fixed by resetting your credentials for that email account.
Fast Track Fixes (for those in the know)
Turn off WiFi and send emails using your cellular data connection
Go to Settings > Mail > Accounts > Tap the Problematic Account > Tap your email address and verify your account information and the SMTP information for incoming and outgoing mail servers
Under Outgoing Mail Server SMTP > Primary Server, toggle the Server OFF, then back ON, and fill in BOTH User Name and Password under Outgoing Mail Server
Check the recommended settings for your email account using Apple's Mail Settings Lookup tool. Verify that these settings match those on your iDevice. If not, update your iDevice manually
Delete the problematic email account and then add it back
Fixes for iPad Cannot Send eEmails
Sometimes It's Easiest To Reinstall
Probably the easiest fix is to delete the troublesome email account and the add it back. This small action often makes all the difference and fixes both small and big problems.  Go to Settings > Mail > Accounts > Tap on the problematic email account and scroll down to the section "Delete Account."  Tap on the message "Delete from My iPhone." And then go through the usual process of adding an email account through Settings > Mail > Accounts > Add Account.
Take a Look at SMTP Settings
Step – 1 Settings
Go to your iPhone's or iPad's Settings and choose Mail ( for older iOS, Mail, Contacts, Calendars)
Step – 2 The Email Account
Choose the email account that you are having problems with as shown below by tapping on it.
Step – 3 On this next screen tap on Account
Step – 4 ADD YOUR ID
On this screen, please re-enter your EMAIL ID and Password related to your account and tap Done. Please make sure to use the complete email id, for example, maryXX@gmail.com
Step – 5 Check your SMTP Server Settings
On the Account information screen, Click on SMTP, When you go to the next screen, You should see the SMTP server under PRIMARY SERVER as "On".
Step – 6 SMTP SERVER
If the SMTP Server is not ON, please tap on the server button and set it ON the next screen. Fill in the optional areas for name and password. And make sure your username and password are correct and added in the Outgoing Mail server section.
Enter your user id and password for BOTH the outgoing mail server as well as for the incoming mail server. When you set up most email accounts, you enter your user id and password twice, once for the incoming SMTP Server and again for the outgoing SMTP Server.
There are exceptions to the rule, including Microsoft Exchange and iCloud. Most other ISPs and email providers require you to enter this information twice.
Step – 7 Switch off your iPhone or iPad and try your email again.
This should fix the problem related to the error that you are experiencing. If this does not fix your issue, we suggest that you delete the email account from your device and re-create the email account. If your account is active, you will not lose any emails that you have in your mail folders. Please also check our past articles on email related problems.
For AOL mail accounts
Go to Settings> Mail > Accounts > Tap on your AOL mail account from the list
Tap on your AOL email address at the top of the page
Choose SMTP from Account Information
Select SMTP from the SMPT Page
Check that the Server is ON
Verify that the Host Name is smtp.aol.com
Check that your User Name and Password are correct
Set Authentication to Password
Verify the Server Port is 587
Reader Tips
One reader discovered that turning off the email's primary server fixed the problem and all outgoing mail was sent perfectly. Another variation iFolks find success with is to turn off the primary server and turn on the individual servers
If your email provider doesn't allow a secured connection to SMTP,  use your mobile carrier's SMTP service for outbound email

Contact your carrier for that specific information

Turn Off Increase Quote Level.  Go to Settings > Mail > Scroll Down to "Increase Quote Level" > Toggle OFF
If you are still experiencing problems, we suggest that you check with your email service provider or with Apple Support.
If the steps work for you, please feel free to share the tip by clicking on the Share buttons