Do you keep missing important emails on your iPhone because the notifications aren't working? You aren't the only one; this problem has affected lots of people using Apple's Mail app.
We can help you fix it with the ten simple steps below.
Related:
Why Doesn't My iPhone Notify Me When I Get an Email?
One of the reasons email notifications might not work in the Mail app on your iPhone is because you don't use Push. Go to Settings > Passwords & Accounts > Fetch New Data and turn on Push at the top of the screen. This ensures emails appear on your iPhone as soon as someone sends them to you.
We've explained the Push email settings and many other troubleshooting steps in more detail below. If that quick tip didn't help, read on for more help.
Notification Issues on your iPhone?
If you are having general notification issues on your iPhone such as missing alerts or notifications, and if you are short on time, please check out this video that covers a lot of the essentials:
Step 1. Choose an Alert Sound for Mail Notifications
By default, new emails sent to your iPhone don't make a notification sound. It's possible Apple silenced emails to reduce distractions, since most people receive dozens of emails every day but few of them need immediate action.
Choose an alert sound for new email notifications in your iPhone settings:
Go to Settings > Sounds & Haptics.
Turn up the Ringer and Alerts volume.
Tap New Mail.
Choose an Alert Tone or Ringtone from the list of options. Your chosen tone shows a checkmark next to it.
Tap Vibration to choose a pattern for notification vibrations. The default vibration for New Mail on an iPhone is None.
Step 2. Turn On Email Notifications for the Mail App
Even with an alert sound assigned to new emails, you also need to turn on the correct type of notifications for the Mail app. It's possible to customize the notifications for each of the email accounts on your iPhone.
Edit your Mail notifications from the iPhone settings:
Go to Settings > Notifications.
Scroll down and tap Mail.
Tap the email address you want to receive notifications for.
Turn on Allow Notifications at the top of the screen, then turn on the alerts you want to receive: Lock Screen, Notification Center, or Banners.
Tap Sounds and choose a sound effect for that email account.
Turn on Badges to show a badge with your unread emails on the Mail app.
Go back in the top-left corner and turn on notifications for each of your other email accounts.
Step 3. Unmute Email Thread Notifications
With iOS 13, Apple introduced the ability to mute email threads so you don't get notifications whenever someone hits Reply All. Perhaps your Mail app notifications aren't working because you accidentally muted an email thread.
Open the Mail app and look for any recent emails with a crossed-out bell icon next to them. These are conversations you muted.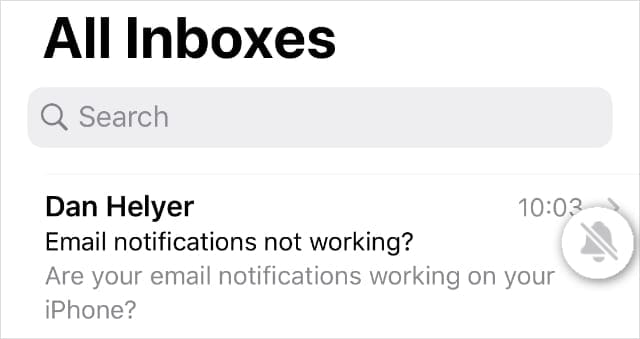 There are lots of ways to mute or unmute an email thread, but the easiest method is to swipe right-to-left on the email and tap More > Unmute.
Step 4. Disable Low Power Mode on Your iPhone
When your iPhone is in Low Power Mode, it disables lots of behind-the-scenes services to preserve battery life. Some of these services are responsible for sending you email notifications, which might explain why they aren't working.
Check if your iPhone is in Low Power Mode by looking at the battery symbol in the top-right of the screen. If it's yellow, Low Power Mode is on.
To turn off Low Power Mode, go to Settings > Battery > Low Power Mode.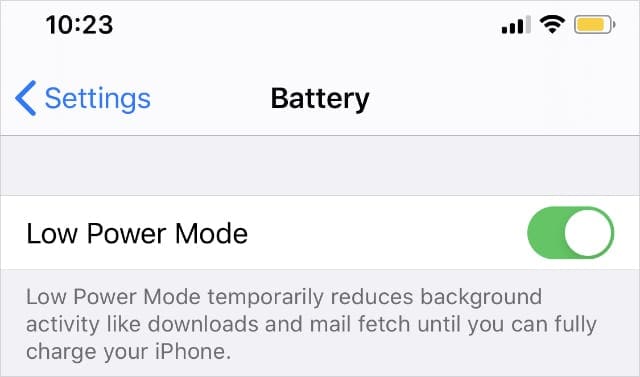 Step 5. Turn On Push Data for Your Email Accounts
There are two protocols your iPhone uses to receive new emails: Fetch and Push. With Fetch, your iPhone checks for new emails on the server at set periods. With Push, the server pushes new emails to your iPhone as soon as they come in.
If your Mail app notifications aren't working or your emails are delayed, change the email account to Push:
Go to Settings > Passwords & Accounts.
Turn on Push at the top of the screen.
Tap each email account and set the schedule to Push, if you can.
If you choose Fetch instead, select a schedule at the bottom of the screen.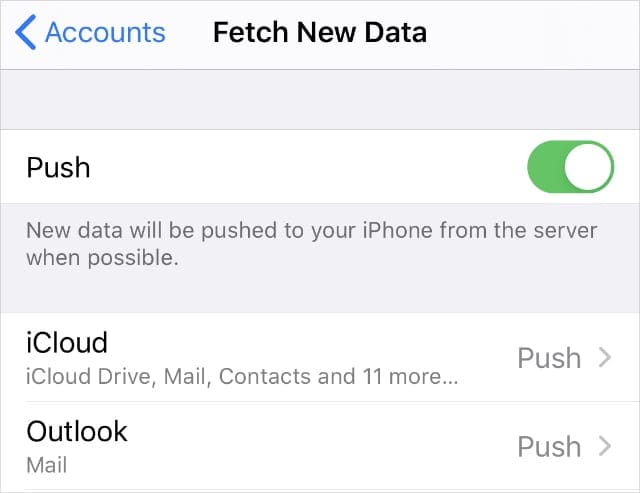 Step 6. Let the Mail App Refresh in the Background
One of the various settings disabled by Low Power Mode on the iPhone is Background App Refresh. If this is off, Mail can't search for new messages without you opening the app.
That said, even without Low Power Mode turned on, you may have disabled Background App Refresh anyway.
Turn on Background App Refresh for Mail in your iPhone settings:
Go to Settings > General > Background App Refresh.
Tap Background App Refresh.
Turn it on for either Wi-Fi or Wi-Fi & Cellular Data.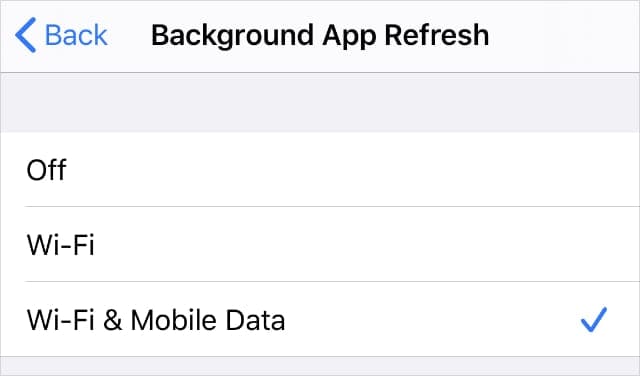 Step 7. Remove and Re-Add Your Email Accounts
Some users managed to fix their problems with Mail app notifications by removing an email account, then adding it again. When you do this, you may lose any messages waiting to send from your Outbox.
If you use POP email accounts, removing the account also deletes any messages you downloaded from the server. You might not be able to recover them again, so back up your iPhone first.
To remove and re-add email accounts from your iPhone:
Go to Settings > Passwords & Accounts.
Tap the email address you want to remove, then tap Delete Account.
Confirm you want to Delete Account.
From the Passwords & Accounts screen, tap Add Account.
Choose your account type and enter the username and password to add it.
After signing in, choose to sync Mail, Contacts, Calendars, or Reminders. Then tap Save.
Repeat these steps for each of your email accounts.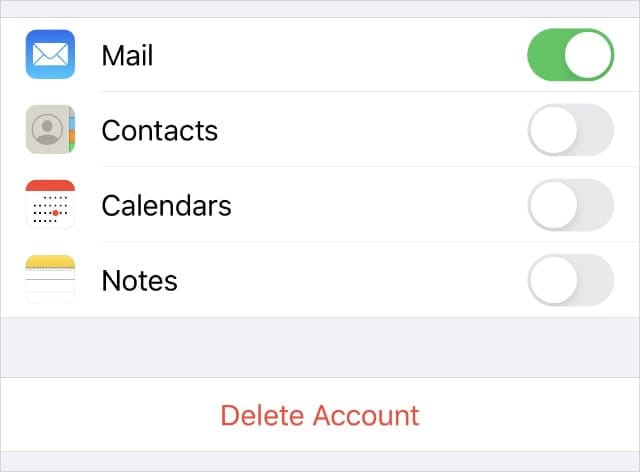 Step 8. Delete and Reinstall the Mail App
With the release of iOS 10, Apple made it possible to remove some of the stock apps from your iPhone. This is great for troubleshooting problems with your email notifications not working because you can reinstall the Mail app to fix it.
Tap and hold the Mail app icon from your Home screen to reveal a Delete App option. Tap that to remove the app, then restart your iPhone.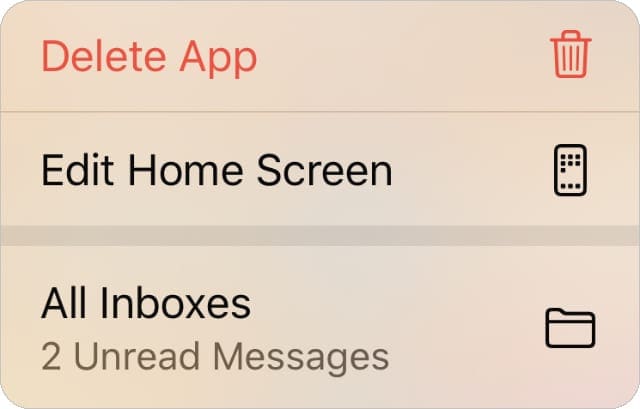 After your iPhone starts up again, download Mail from the App Store.
You may also need to return to the Passwords & Accounts settings to turn Mail on for each of your email accounts again.
Step 9. Temporarily Disconnect Your Apple Watch
One of the great things about an Apple Watch—if you have one—is that you can use it to check notifications without needing to touch your iPhone. But that benefit may also be the reason Mail app notifications don't work on your iPhone.
Test this out by turning off your Apple Watch for a while. If your iPhone email notifications start working again, edit the notification settings for your Apple Watch or reset your Apple Watch entirely.
Change your Apple Watch notifications from your iPhone:
Open the Apple Watch app.
Go to the Watch tab and tap Notifications.
Find the Mail app and edit the notifications to your liking.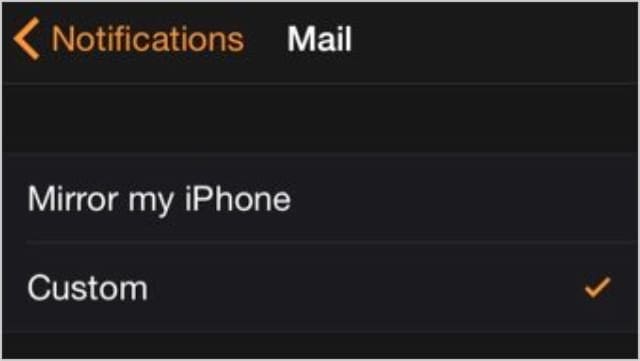 Step 10. Update Your iPhone to the Latest Version of iOS
It's common for iOS updates to introduce new problems to your iPhone. In fact, previous iOS updates have been known to cause problems with email notifications not working in the Mail app on iPhones.
When this happens, Apple usually releases a new update in the next couple of weeks to fix it. Make sure you're running the latest version of iOS so you benefit from Apple's repair patches.
To update your iPhone software:
Connect your iPhone to a working Wi-Fi network.
Go to Settings > General > Software Update.
Wait for your iPhone to check for new software updates.
Download and install any available iOS updates.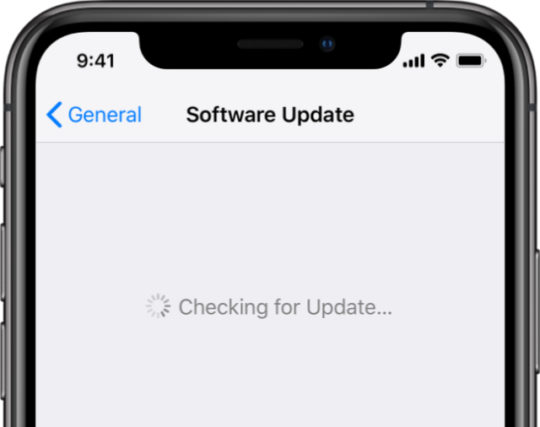 Find Out How to Fix All Your Mail Problems
Hopefully, Mail notifications are working for new emails on your iPhone now. If so, let us know what fixed it in the comments! Otherwise, take a look at this other article to find out how to fix other Mail problems in iOS.