You know, sometimes we don't actually want our devices in sync. This is especially true if you're losing a lot of iPhone storage to your email inbox. When you delete those emails to save space on your iPhone, you still want to keep them on the server and read them from your computer later.
So how can we make that possible?
Let me get this out of the way: It's not actually possible to do this for an iCloud email address. But most other email addresses are fine.
Related:
It's all about the protocol
Every email you send or receive on your iPhone moves through your email server: Gmail, Yahoo, Outlook, iCloud, for example. What we need to do is change the way your iPhone interacts with that server. We need to change its email protocol.
With most email setups, each of your devices constantly syncs everything it does with the server. You can think of your iPhone, your Mac, or even your Apple Watch as a reflection of what's happening with your emails online.
With this setup, when you receive an email it appears on the server and syncs to each of your devices. When you reply to that email from one device, your message syncs to the server and appears in the Sent box on all your other devices. And when you delete the message from your iPhone, it also gets deleted from the server and vanishes everywhere else. 
This is what happens with the Internet Messaging Access Protocol (IMAP). But we want to use the Post Office Protocol (POP) instead.
What's the difference between IMAP and POP?
With IMAP, everything you do syncs back to the server. But with POP, your emails are stored locally. Changes you make on your iPhone with a POP email account don't affect the emails anywhere else.
So you can delete an email on your iPhone, but have it remain on the server and still be available on your computer. We found a helpful diagram from WebFuel below.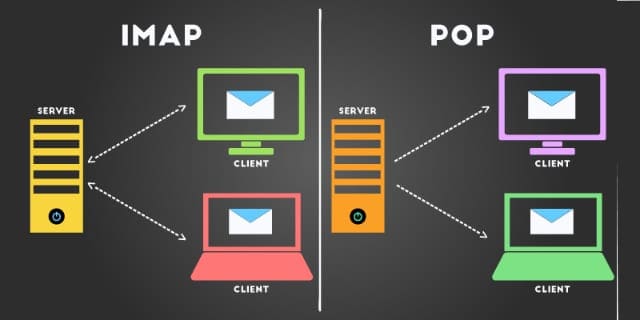 Of course, there are potential downsides to POP as well:
you constantly need to re-read messages on different devices
when you flag emails as important, they don't get flagged on other devices
and if you set it up wrong, receiving emails on your iPhone deletes them from the server and they never appear anywhere else.
A POP email setup isn't for everybody. Most people prefer to keep their emails perfectly in sync across every device using IMAP. But if you know you want to make the switch, we've explained how to change to a POP email setup below.
How do I set up emails to use POP on my iPhone?
By default, email accounts on iPhone try to use IMAP whenever they can. The only way to change your account to use POP is to remove it from your device and manually re-add it with POP settings.
If you're already using POP emails on your iPhone, but messages still delete from all your devices at once, you might have the wrong settings. Take a look at this section a little further down to check.
Step 1. Remove your email account
The first step is to remove the current email account from your iPhone. If you have messages waiting in the Outbox, you should wait for them to send before continuing.
Unless you're already using a POP account, you shouldn't lose any data by removing an email account from your iPhone, since everything is on the server. 
How do I remove an email account from my iPhone?
On your iPhone, go to Settings > Passwords & Accounts.
Tap on the name of the email account you want to remove.
If you see options to turn on Contacts, Calendars, and Notes:

You're currently using IMAP, tap 'Delete Account.'

If you see a POP Account Information window:

You're already using POP, click here to check your settings.

If you're already using a POP account you may have the wrong settings.
Step 2. Re-add your email as a POP account
When you re-add your email account, you need to make sure your iPhone doesn't automatically add it as an IMAP account again. To do this, you need to add it as an 'Other' email account and enter the server information manually.
Before starting, take a look at your email provider's website to find their POP server settings. To save time, we've already found these settings for three of the most popular email accounts:
Additionally, if you use two-factor authentication to improve the security of your email account, you may need to create an app-specific password to use on your iPhone.

You can do this from the Security settings of your email account, on the email provider's website. You should use the app-specific password generated in place of your email password for each of the steps below.
How do I add a POP email account to my iPhone?
On your iPhone, go to Settings > Password & Accounts > Add Account.
Select 'Other' and choose 'Add Mail Account.'
Enter the details for your email account:

your name
the email address you want to add
your email password or app-specific password
and a short description of the account for yourself.

Tap Next.
At the top of the 'New Account' screen, select POP.
Enter the correct details for your Incoming and Outgoing Mail Servers:

get the Host Name from your email provider's website.
use your email address as the Username.
and enter your email password or app-specific password.

If you want to send emails from your iPhone you must enter the username and password for the Outgoing Mail Server as well.

 
Step 3. Check your POP settings are correct
Hopefully, by this point, you have a POP email account added to your iPhone. But if the settings aren't correct, it still might not work how you want it to. 
Check each of the settings, on your iPhone or with your email provider, to make sure deleting messages from your iPhone doesn't delete them from anywhere else.
What settings do I need to change on my iPhone?
On your iPhone, go to Settings > Passwords & Accounts.
Tap on your email account.
Scroll to the bottom and tap 'Advanced.'
Tap 'Delete from server' and choose 'Never.' This means you can receive emails on your iPhone, but doing so doesn't delete them from the server.
Review your email provider's POP settings and use them to set the correct Server Port or turn on SSL, if it's required.

Edit the SSL, Delete from server, and Server Port settings.
What settings do I need to change with my email provider?
Log on to your email provider's website and view your email account settings.
Ensure POP emails are turned on.
Choose which POP emails to download: every email or only the new ones.

Ensure your email account is set up to work with POP email clients.
You should now be able to delete emails from your iPhone without deleting them from the server or your computer. If any of this doesn't work as you'd expect it to, you should contact your email provider directly.
Let us know how you get on in the comments and be sure to tell us what you like about using POP emails!