Apple has quietly fixed an iOS 13 and iPadOS feature that plagued gamers, musicians and other users who relied non three-finger gestures.
The impacted groups probably already know which "feature" it was. The company has since fixed it, but it's not clear when or in what apps.
What the problem was
In iOS 13 and iPadOS, Apple introduced a new multi-touch shortcut for undoing and redoing actions. All it takes is a swipe to the left or the right to undo or redo an action, respectively.
Unfortunately, that shortcut caused major issues for certain games and music-based apps.
Gamers, for example, found that the redo or undo gestures would pop up unexpectedly during gameplay. That's just the nature of the bug.
Related:
Musicians also ran into problems. On GarageBand, for example, it was essentially impossible to play a three-finger chord on a piano without the app sporadically changing instruments or undoing the notes you just recorded.
There are also reports that the feature messed with other types of app, such as art platforms like Procreate.
Worse still, it appeared to be a baked-in feature with no way of turning it off. That was true during the iOS 13 and iPadOS beta cycle. We even tested it in iOS 13.1 and found a similar result.
Apple has never acknowledged the issue. And it seems weird that it was never identified and fixed during the beta testing cycle.
But wait, Apple quietly fixed this issue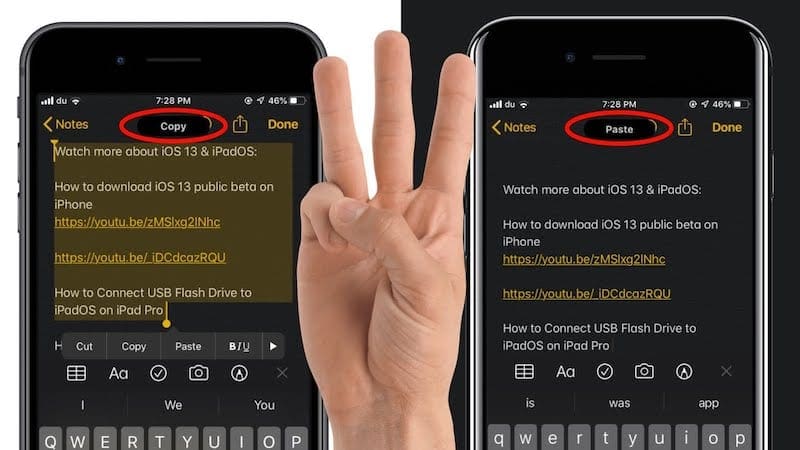 With all of that being said, the bug appears to be gone in the latest versions of iOS 13.1 and iPadOS 13.1.
At this point, it's not entirely clear when exactly Apple fixed the bug. Some users reported that it stopped impacting games in iOS 13.1.1 — and our testing pretty much confirms that.
But the three-finger behavior was still present in the latest version of GarageBand in iPadOS 13.1.1. It actually went away in iPadOS 13.1.2, despite the fact that the GarageBand version stayed the same.
It's not clear if Apple somehow implemented a server-side fix, or if it patched the issue in iOS 13.1.2 and iPadOS 13.1.2. The release notes don't mention anything.
From our understanding, the three-finger gesture is meant to be API-based. That essentially means that developers can "turn off" the feature in their own apps. In any case, if you're running into problems on third-party apps, then an iOS or iPadOS software update isn't going to fix it. You'll need to wait until the developer actually disables the functionality in a future app update.
We recommended keeping your apps up-to-date by going to the App Store and clicking on your user icon to see the latest app updates.
If you're still running into this problem in GarageBand, try updating to iOS or iPadOS 13.1.2. During our test, the app functioned correctly without any problems in that version of iPadOS.
At this point, the three-finger gesture still appears to be baked-in to other portions of the operating system with no option to disable it.
Mike is a freelance journalist from San Diego, California.
While he primarily covers Apple and consumer technology, he has past experience writing about public safety, local government, and education for a variety of publications.
He's worn quite a few hats in the journalism field, including writer, editor, and news designer.