Let's say you've got a flight coming up and you want to watch a movie on the plane. It's so much cheaper to rent one from iTunes than to buy it. But can you watch iTunes movie rentals on your iPhone or iPad without an internet connection?
This isn't the only scenario where you might need to do that. 
You could be planning a remote getaway — a log cabin in the woods with plenty of free time but zero Wi-Fi connection. Maybe you're getting ready for a cross-country bus trip and don't want to drain your cellular data. Or you could just have unreliable internet!
Whatever your circumstances, you'll be glad to know that yes, you can watch an iTunes movie rental without an internet connection.
You've just got to download it first.
Related:
How do I rent a movie from iTunes on my iPhone or iPad?
Most movies on iTunes are available to rent. If you only expect to watch it once or twice, it's generally cheaper to do so. You can rent movies through the iTunes Store using any Apple device: iPhone, iPad, iPod touch, Apple TV, or Mac.
Open the iTunes Store and search or browse for a movie you want to watch. When you find one, tap its name or image to view the rental price.
You'll see a brief summary of the movie along with its trailer. And to the left, you should see a price to buy and a price to rent.
If there's only a price to buy the film, it isn't available to rent at this time.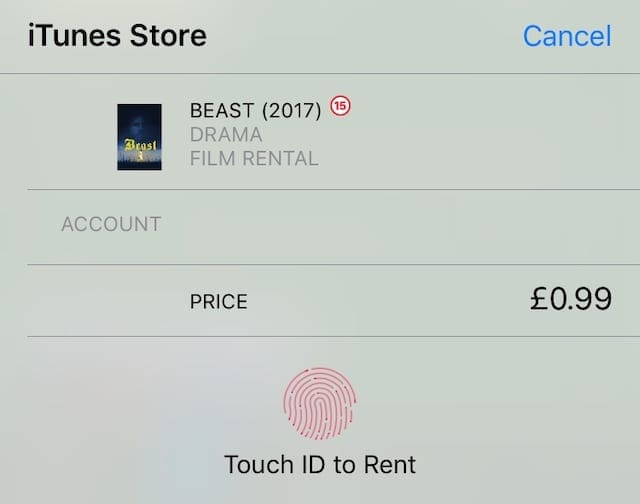 Tap the rent button and login to your Apple ID using your password, Touch ID, or Face ID.
Apple gives you the option to download the movie to watch now or later if desired.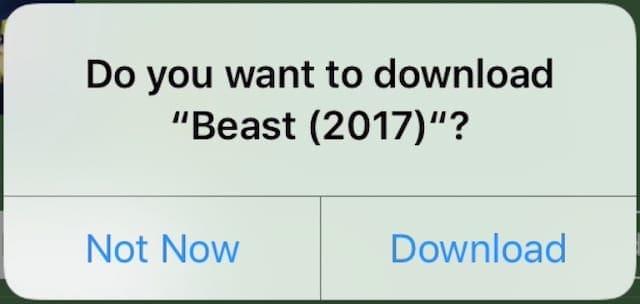 After you've paid to rent a movie, it becomes available to watch on any of your Apple devices.
Where can I find my iTunes movie rentals on a Mac or iPhone and iPad?
After you've rented a movie from iTunes, you should see it with your movie collection on all your other Apple devices.
Mac is easy enough to find
When you next open iTunes on your Mac, you'll see a Rented section with your movie in it.
But what about finding iTunes movie rentals on my iPhone or iPad?
For these devices, you need to open the TV app.
Your movie rental is probably suggested under Up Next on the Watch Now page.
Otherwise, tap the Library button to see a Rentals section beneath TV Programs and Movies. 
You can also search for your rented movie in the iTunes Store again and start playback or downloads from there.
How long do iTunes movie rentals last?
You have 30 days to start watching an iTunes movie rental.
Once you start the movie, you have just 48 hours finish it. However, you can watch it as often as you like during that 48-hour period.
There's a countdown timer telling you how much time remains on your rental. Find this information just beneath the rented movie's title and thumbnail in your TV app or the iTunes Store.
After the timer is up, the movie automatically disappears from your library; there's no need to delete it.
How do I download iTunes movie rentals to watch offline?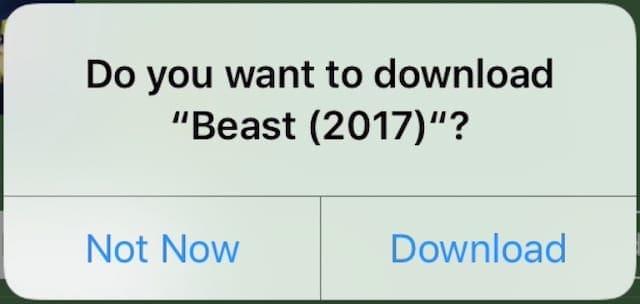 When you pay for a movie rental on iTunes, there's always the option to download it straight away.
If you chose Not Now, you can start the download to watch offline at any other time when you have an internet connection.
Find your movie rental in the TV app, iTunes, or the iTunes Store and tap the cloud icon next to it to start downloading.
A loading circle begins to fill in as the movie downloads. You can't download movies on Apple TV, but you can AirPlay to it.
The length of time it takes to download a movie depends on the file size and the speed of your internet connection.
Unfortunately, you can't see the time remaining on an iPhone or iPad.
Your movie is available to watch while only partially downloaded. However, if you plan to watch your iTunes movie rental offline, you need to wait for it to download fully.
We recommend you start downloading movies at least a day before you plan to watch them offline. This allows plenty of time to finish downloading.
How do I know when I've downloaded an iTunes movie rental?
While an iTunes movie is downloading, you can see a progress circle fill up beside the play button.
When that download is complete, the circle is replaced with a Downloaded message. Now you can watch your iTunes rental offline.
If there is a cloud icon, you have not downloaded the movie rental. Tap the cloud to start your download.
How do I download my rented movie on a different device?
You can stream your iTunes movie rentals on any of your Apple devices. But you can't watch it or have it downloaded on more than one device at the same time.
That means if your movie is downloaded to your iPhone you can't download it to your iPad as well. You need to delete the download first.
Make sure your device with the iTunes movie rental is connected to the internet, then tap the Downloaded button and choose to Remove Download.
You can then use the cloud icon to download the rental on another device.
Why isn't my iTunes movie rental on all my devices?
You should be able to see your rented iTunes movies on all your Apple devices. Go to the TV or iTunes app to view your movie library and search for it.
If you can't see your iTunes movie rental, try the following troubleshooting steps:
Make sure you sign into the same Apple ID account that rented the movie.

Go to Settings > iTunes & App Store to check your account.

Connect to the internet and test your connection is working.

Load a web page in Safari to test your connection.
Go to Settings > Wi-Fi to connect to a different network.

Download the latest version of iOS, macOS, or tvOS.

Go to Settings > General > Software Update to look for new updates.
We hope that helps you take advantage of Apple's low rental prices.
There's a wide selection available for less than a dollar!
And be sure to check out this page if you've got any problems with your iTunes movie rentals.