The Files app is a lot more capable in iOS 13 and iPadOS with a suite of new features that allow users to save content to and manage local storage.
There's even a new button in the Share sheet that lets you Save to Files directly. This is especially handy when you're working with images and you want to save a picture to local storage instead of the Photos app.
Related:
But, unfortunately, the Save to Files button doesn't always appear on the Share sheet. Here's why — and how you can work around it.
Why the inconsistencies?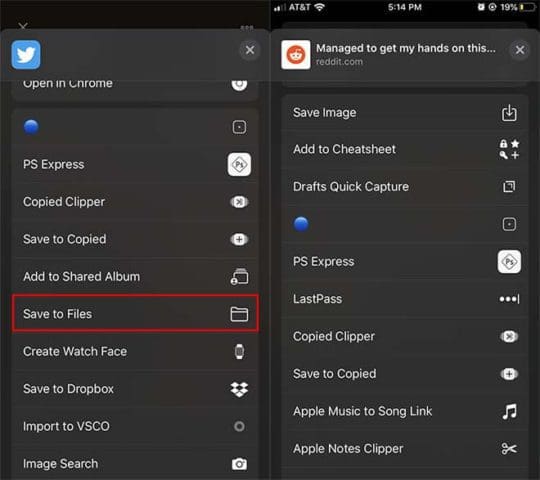 It's not clear why the Share sheets Save to Files button isn't universal. But it likely comes down to app compatibility.
From what we've seen, most native Apple apps let you save directly to Files. But when it comes to third-party apps and platforms, it's pretty inconsistent.
You can save an image directly to Files on Twitter, but not on Reddit, for example.
This is probably because the Save to Files button is an API that developers must implement into their own apps. If that is actually the case, then it would make sense that not all apps have been updated to incorporate it yet.
Still, if you're working with the Files app, it can be quite an annoying problem. So how do you go about addressing it?
A quick workaround
Sometimes, you may be able to scroll all the way down to the bottom of the Share sheet and add Save to Files by tapping on the Edit Actions… button.
Once you're in the Edit Actions menu, just look for the Save to Files options.
But, from what we've noticed, this option isn't available in all apps. Reddit, for example, won't let you add Save to Files to the Share sheet (while other apps may).
If you must save an image to your Files app instead of the Photos app, there is a workaround.
It isn't the cleanest solution, but it'll work. We'll use an awesome dog picture from Reddit as an example.
Tap and hold on the image you'd like to save in Reddit. This will bring up the Share menu.
Scroll down until you see Save Image.
Now, open up your Photos app and select the image you just saved.
Tap the Share sheet icon in the bottom left corner and scroll down.
In this Share sheet, you should see the ability to Save to Files.
Tap on Save to Files and select the folder where you'd like to save the image.
Finally, as an optional step, you can delete the image in the Photos app and it'll be stored solely in Files.
It's worth noting that this works both on individual pictures and videos in Photos, as well as multiple images or videos. At the very least, that way you won't have to individually Save to Files — you can do it in batches.
Mike is a freelance journalist from San Diego, California.
While he primarily covers Apple and consumer technology, he has past experience writing about public safety, local government, and education for a variety of publications.
He's worn quite a few hats in the journalism field, including writer, editor, and news designer.