Let's face it, additional chargers for cellular data overages is how carriers make money. For those of us with monthly data allowances, or for folks that travel and use data roaming, it's important to know exactly how we're consuming that data and how to limit cellular data use.
Cellular data on your iDevices lets you use the Internet wirelessly without a WiFi connection. While almost all carriers offer unlimited data plans, most people choose limited data plans.
That's why it is a good idea to keep an eye on your cellular data use
Luckily most iOS versions offer great features to track and limit cellular data usage. You can do a few things in order to monitor and limit your data in the future. Here is what you can do.
Related articles
Manage Cellular Data Settings on the iPhone
Look at your cellular data and how you use it
First, figure out how much data you are using. To view this, tap Settings > Cellular.
For users with monthly data caps, it's a good idea to reset these usage statistics monthly so you can see your monthly data use. Go to Settings > Cellular and scroll all the way down, past the apps section, to Reset Statistics
View cellular data use for your apps by going to Settings > Cellular. For each app that is installed on your device,  turn off or on cellular data so you can control what apps have access to cellular data.
Look at how you use location services
Let's be smart about how our iPhones and cellular iPads use Location Services!
Location services often drain your battery AND eat up cellular data unnecessarily. Only a few apps really need to use location services, so it's better to organize and manage those settings.
Head over to Settings > Privacy > Location Services
Tap on each app, one by one and change the setting to Never or While Using. Do not select Always
You can also completely turn off Location Services for all apps by toggling off Location Services entirely.
Turn off some notifications
Some of your apps may also use push notifications (e.g. badges, sounds or custom text alerts) that use cellular data.
Even though each notification is limited to a maximum size of 256 bytes, you may still want to turn off push notifications by going to Settings > Notifications
Tap on each app that you don't want to receive notifications
Toggle off the switch next to Allow Notifications
Turn off background app refresh
Disable Background App Refresh (this also helps you save battery life).
Simply tap Settings > General > Background App Refresh.
Or if you'd rather, toggle background app refresh on or off for all your apps one by one (yes, this is time consuming!)
Turn off Automatic App Updates
Disable cellular data for automatic downloads.
Simply tap Settings > iTunes & App Store > and tap the Use Cellular Data switch to turn off.
Look at your Safari Reading List settings
Disable cellular data for Safari's Reading List. Go to Settings > Safari > and toggle off Automatically Save Offline. For older iOS, tap Settings > Safari > Use Cellular Data > OFF.
Don't allow Apple Books (iBooks) to use your cellular date
Disable cellular data for Apple Books (aka iBooks) by going to Settings > Books (iBooks) > Cellular Data
Turn off cellular data for the Files App (formerly, iCloud Drive)
 Turn off cellular data for the Files App or for older iOS versions, iCloud Drive
Go to Settings > Cellular, scroll down and toggle off Files or iCloud Drive.
For older iOS versions, disable cellular data for iCloud Drive by going to Settings > iCloud > iCloud Drive > Use Cellular Data
Forget to data roam
Turn off data roaming by going to Settings > Cellular > Data Roaming
Disable cellular data altogether!
You may want to completely turn off cellular data. Simply tap Settings > Cellular on your iPhone or iPad.
When cellular data is off, you can't use  (a) personal hotspot and (b) MMS text messages
You may browse the Internet or check your mail over Wi-Fi.
Related: How to view & adjust your cellular data use on your iPhone & iPad
Lock your cellular data use settings
If you let your children or others use your iPhone or cellular iPad, you may want to add in a restriction so they don't abuse your data plan!
Luckily, Apple gives all of us some parental controls in the Screen Time setting (formerly, Restrictions settings) to make sure other folks can't eat up all our data using unauthorized apps, at least without our okay.
How to lock down your cellular data settings
Open Settings > Screen Time (or Settings > General > Restrictions for older iOS 11 and below)
Tap Content & Privacy Restrictions (iOS 12+)

Screen Time tracks your device usage

Enter your screen time passcode
Scroll down and locate Cellular Data Changes
Tap Don't Allow Changes
No Time? Check Out Our Video!
Please explore our in-depth video tutorial to help you with these settings and more by checking out our video below.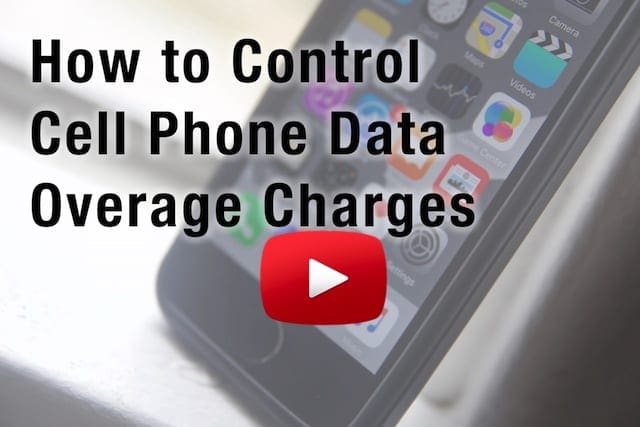 Turn Off WiFi Assist
For our readers who recently updated to the latest iOS versions, please make sure to double check the wi-fi assist setting.
After upgrading, many users found that the update changed this setting to ON by default. In order to check this tap on Settings > Cellular > and scroll down to the bottom to locate Wi-Fi Assist option.
Please let us know in the comments below if you have any questions or any additional tips to share.
Obsessed with tech since the early arrival of A/UX on Apple, Sudz (SK) is responsible for the original editorial direction of AppleToolBox. He is based out of Los Angeles, CA.
Sudz specializes in covering all things macOS, having reviewed dozens of OS X and macOS developments over the years.
In a former life, Sudz worked helping Fortune 100 companies with their technology and business transformation aspirations.