Disney has made its new streaming services Disney+ available on the App Store starting today.
You can get the app now, sign up to Disney's new streaming service, and start streaming The Mandalorian, now that you have been flooded with the new Star Wars show ads over the weekend.
Related:
Good time to plan that Mandalorian viewing party with your friends! OR if you are home for a snow day in the Midwest, take advantage and start exploring some of your nostalgic memories of shows from yesteryears.
Disney+ costs $6.99 per month or $69.99 per year with content from Walt Disney Studios, 21st Century Fox, Marvel Studios, Pixar, Lucasfilm, and National Geographic.
You can download the app to your iPhone, iPad or Apple TV and start streaming. When you search for 'DisneyPlus' in the app store, you will find the app as the number one search result.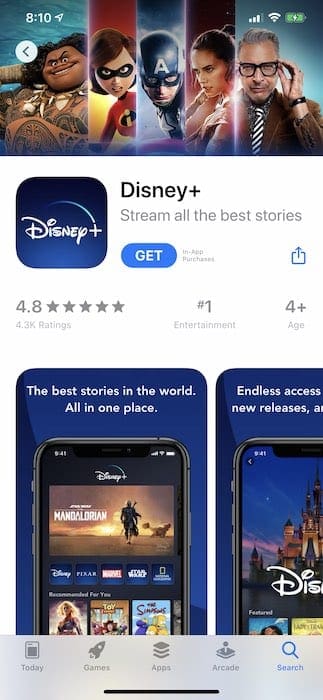 You can also watch the shows directly via the web using disneyplus.com  
The best deal for Disney+ is via Verizon. If you're a Verizon customer on a newer unlimited plan, you get Disney+ FREE for a year. To activate it, sign into the My Verizon app on your phone, then hit Menu > Account > Add-Ons > Entertainment > Disney Plus.
A single Disney+ subscription supports up to seven user profiles, so one purchase can be used among the family members.
Some users are getting an error message when trying to stream the new Disney + service. This is temporary as the servers are getting flooded with new user requests. They should be able to resolve this soon.
Disney released this statement following the outage.
"The demand for DisneyPlus has exceeded our highest expectations. We are so pleased you're excited to watch all your favorites and are working quickly to resolve any current issues. We appreciate your patience"
You can try it a few times and also try switching your DNS on your Apple device to see if that helps.
Are you planning to try out the new Disney+ streaming service? What shows are you super excited about? Let us know in the comments below.
Obsessed with tech since the early arrival of A/UX on Apple, Sudz (SK) is responsible for the editorial direction of AppleToolBox. He is based out of Los Angeles, CA.
Sudz specializes in covering all things macOS, having reviewed dozens of OS X and macOS developments over the years.
In a former life, Sudz worked helping Fortune 100 companies with their technology and business transformation aspirations.