So maybe you recently got married or are finally giving the kids their own Apple ID accounts, and the time's come to set-up Family Sharing. Apple's Family Sharing allows a maximum of six people in your family (including you) to share each other's iTunes, iBooks, and App Store purchases without sharing accounts.
As parents, you even get to approve your kids' spending right from your own iDevices! And Family Sharing lets you all share photos, your family calendar, even your location with Find My iPhone to keep everyone connected.
Best of all, Family Sharing lets you share eligible music, movies, TV shows, books, and apps from the iTunes, iBooks, and App Store so you only have to purchase ONCE.
Quick tips
Follow these quick tips to get your device to download family shared apps and purchases
Verify that the device's iCloud and iTunes account have the same Apple ID and email
Turn on Purchase Sharing for all family members
Remove a family member from family sharing and re-invite them
Related articles
Trouble in Family Sharing Paradise
Recently, my family's encountered some problems with Family Sharing. Specifically, we just bought our newly-minted teenager (yes. 13 years old–oh my goodness!) a new iPhone XR for his birthday.
Since this is his first iPhone, we didn't restore from a backup.
But when we started downloading and installing apps via the app store, things started smoothly but after installing about a dozen different apps, we received the following error message:
"Redownload Unavailable with This Apple ID This redownload is not available for this Apple ID either because it was bought by a different user or the item was refunded or cancelled."  
What the heck?
Okay, we've used Family Sharing in the past–a lot.
And we love sharing each other's purchases from iTunes, iBooks and App Store without sharing accounts.
But this error is not good, especially for a very impatient 13-year-old (and consequently, his stressed-out parents.)
But of course, we quickly discovered that we are not alone.  Several AppleToolBox readers report similar issues where they (or their family sharing group members) are unable to download shared content.
If you are having this Family Sharing Redownload Unavailable issue, here is how you can troubleshoot. Try each step until your issue is fixed.
How to fix Family Sharing error Redownload Unavailable
Match Apple IDs for services
Our top (and easiest) tip is to make sure the device is signed in with the same Apple ID for both iCloud and the iTunes & App Store–these should match and be the person's Apple ID, not the family organizer or parent.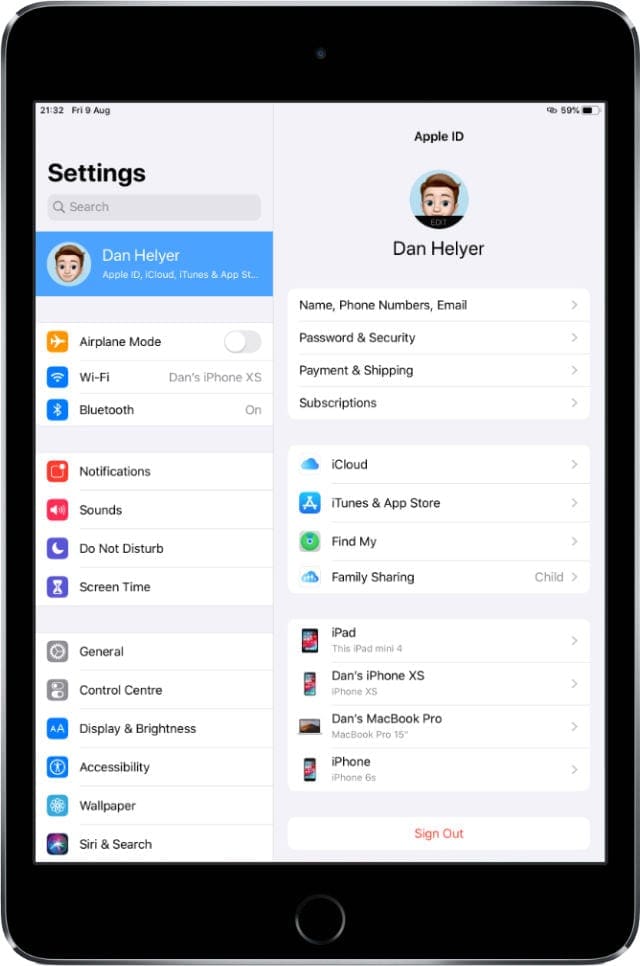 Go to Settings > Apple ID 
Take note of the Apple ID and email listed–if you don't see the email, tap Name, Phone Numbers, Email to verify that email address
Now, tap iTunes & App Store

Confirm the Apple ID is the exact same as above–if not, tap it and choose to Sign Out, then sign back in with the same Apple ID
Sign out of the iTunes & App Store account
Go to Settings > iTunes & App Store
Tap the listed Apple ID
Choose to Sign Out–do not sign back in
Open the App Store app
Locate any app that won't redownload by searching for it
Tap on the GET button or the cloud icon

Every app on the App Store has to meet Apple's strict requirements.

Since you aren't signed in, the app store prompts you to either sign in or create a new Apple ID
Tap on Use Existing Apple ID
Apple prompts you to sign in to your account–sign in with your Apple ID (the same one associated with this specific device–not the family organizer or parents Apple ID)
Redownload Unavailable for Family Sharing Plans: Additional Tips and Tricks
Make sure that Purchase Sharing is On (Settings > Apple ID > Family Sharing > Purchase Sharing > On)
Settings > iTunes & App Store > Automatic Downloads > Apps [Toggle Off and On]

Turn on automatic downloads for Music, Apps, Book & Audiobooks, and Updates. Also Mobile Data.

Go to Settings > Apple ID  > Sign Out and then Sign Back in
Verify that you are using the same Apple ID in the iTunes Store and Family Sharing.  Tap Settings > iTunes & App Store and then go to Settings > Apple ID >  Family Sharing > tap your Name to verify this.
Note that some content cannot be shared, even if you turned on Share My Purchases: In-App purchases, Apps that are not shareable, hidden content, etc.
Contact Apple Support
Sometimes, it takes a call or a visit with Apple Support to get your Family Sharing account working again.
Obsessed with tech since the early arrival of A/UX on Apple, Sudz (SK) is responsible for the original editorial direction of AppleToolBox. He is based out of Los Angeles, CA.
Sudz specializes in covering all things macOS, having reviewed dozens of OS X and macOS developments over the years.
In a former life, Sudz worked helping Fortune 100 companies with their technology and business transformation aspirations.