Confused about Apple's Screen Time feature? If so, you aren't alone! We get a lot of comments and emails about how to use this feature. In particular, parents and guardians want to know how to use Screen Time to track how much their children are using their devices.
The best way to do this is by using Family Sharing. Follow our guide to set up Family Sharing on your device, then check out the instructions below to use Screen Time with Family Sharing on your children's devices.
Related:
What is Screen Time?
Apple introduced Screen Time with iOS 12, adding the feature to Mac the following year with macOS Catalina. It's a handy tool that allows you to see how much time you're spending on your device and with which apps. You can also use it to set up restrictions, downtime, and time limits for specific apps.
Along with managing your own screen time, you can monitor that of your children and enable restrictions for them as well. All you need to do for that is enable Screen Time for Family Sharing.
Enable Screen Time for Family Sharing
You can enable the Screen Time feature with your Family Sharing account in two different ways: from the Screen Time settings and from the Family Sharing settings. Both of these options are from your own device.
How to enable Family Sharing from the Screen Time settings:
Open Settings on your device.
Select Screen Time.
Tap Set Up Screen Time for Family.
Follow the prompts to set it up for an existing Child account in your family group or create a new one.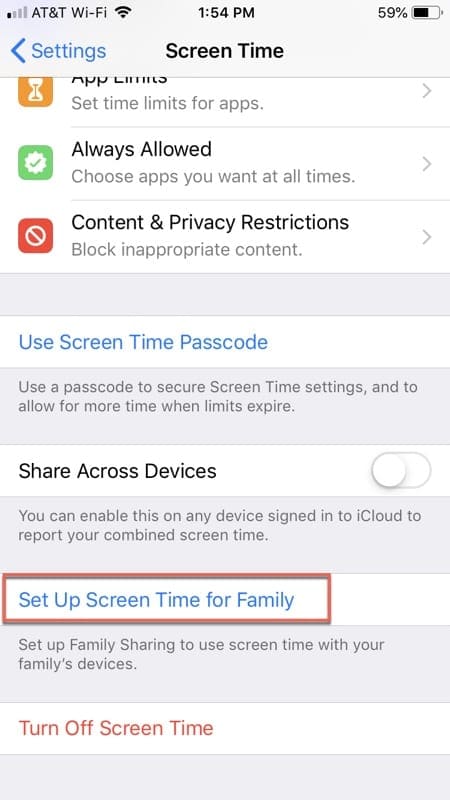 How to enable Screen Time from the Family Sharing settings:
Open Settings on your device.
Select your name at the top.
Tap Family Sharing.
Choose Screen Time at the bottom to turn it on.
Select your family member.
Tap Turn On Screen Time.
Regardless of which method you use to enable Screen Time for your Family Sharing account, you need to complete a brief Screen Time setup, which we've detailed below.
Complete the initial Screen Time setup
After turning Screen Time on, you should see a few setup pages taking you through each of the major Screen Time features. We've detailed these setup steps below to give you a little more information.
After completing the setup, you can return to the Screen Time settings at any time to make changes or drill down for deeper customization.
Schedule Downtime
The first thing you're asked to create is a Downtime schedule. This feature lets you set a start and end time for screen use.
For example, you may not want your child to use their phone between the hours of 8 pm and 8 am. Select the times you want to block and tap Set Downtime.
Set App Limits
Next, you're asked to set up App Limits. This feature lets you limit the amount of time spent on specific types of apps like social networking, games, entertainment, or creativity.
Tap a category you want to limit, then tap Time Amount at the bottom of the screen. You can set the amount of time you want to limit that category at for each day. Then tap Set App Limit to finish.
Create a Screen Time or Parent Passcode
After that, you're prompted to customize the Content & Privacy Restrictions at a later date in the Settings. We've shown you how to do this below, but first you need to create a Screen Time (or Parent) Passcode.
You'll use this passcode whenever you want to make changes to the Screen Time settings. It's different from the lock screen passcode, which means you can keep it secret from your children to keep them from editing the settings themselves.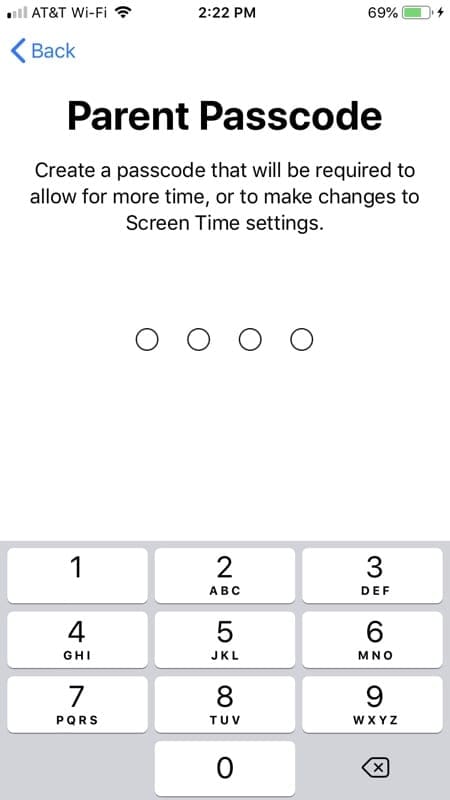 After finishing the setup, you can leave you Screen Time settings as they are or go into the settings to make more changes. We've detailed some of the extra settings you might want to tweak below.
Additional Screen Time Restrictions
Along with the ability to edit those setup settings you configured, you can dig deeper into Screen Time at any time for more restrictions and limits.
If you aren't already in the Screen Time settings, revisit them by going to Settings > Screen Time on your device, then tap your family member's name to edit their Screen Time settings rather than your own.
Customize Days for App Limits
You may want to allow your child to use certain apps like entertainment or games more on weekends than during the week when they have school.
Tap App Limits and choose the category you want to edit the limit for, or tap Add Limit to create a new one. Tap Time > Customize Days and select each day of the week to create different time limits for them.
Customize Days for Downtime
You can also customize Downtime settings based on days of the week. This means you could stop children using their devices on school days or let them use it later on the weekend.
To do so, select Downtime from your child's Screen Time settings, then tap on the Customize Days option. Select each day to create different Downtime settings for them.
Content & Privacy Restrictions
This is an important section of Screen Time since it lets you decide the type of content your child is allowed to view along with what changes they can make to the device's settings.
Turn on Content & Privacy Restrictions using the toggle at the top of the settings page. Then work your way down through each option to customize the finer details.
Store Purchases, Allowed Apps, and Content Restrictions
You can choose whether or not to allow your child to install and delete apps, make in-app purchases, and decide if a password should be required.
Next, you can enable or disable specific apps on the device, such as Mail, Safari, AirDrop, Camera, and Wallet. When you disable an app it vanishes from the device entirely until you enable it again.
The following section is another important one for you to check out. Content Restrictions lets you decide what type of content your child can view from movies and TV shows to books and apps.
Each has its own options for you to choose from including age for apps and ratings for movies. You'll also notice you can restrict certain types of web content, language, and Game Center options from this page.
Just go through each of these Content Restrictions one-by-one so you don't overlook an important setting.
Privacy and Allowed Changes
The last two areas in the Content & Privacy Restrictions let you allow or disallow location sharing, passcode changes, account changes, and other items. Just tap each one and choose either Allow or Don't Allow.
How to check the Screen Time Activity Report
Another wonderful feature of Screen Time is the Activity Report. This gives you a detailed view of how much time someone spent on their device, with which apps, and more.
Head to your Settings and select Screen Time then choose the family member whose activity you want to see. You should see a summary report at the top of the settings which you can tap for further details.
On the detailed screen, you can change the timeline to Today or Last 7 Days to see the amount of time spent on each app over that time period.
As you scroll down, you can check out the number of pickups, number of notifications, and the most popular times for each app.
This report is a valuable tool for gaining insight into where your child spends most of their time on their device.
Screen Time and Family Sharing Troubleshooting Tips
If Screen Time with isn't working properly with Family Sharing, here are a few things you can try to fix it:
Make sure your child's device is updated to the latest version of iOS, iPadOS, or macOS.
Disable and re-enable Screen Time from the Settings on both devices.
Sign out and back in to the iCloud accounts on both devices.
Restart both devices.
Many perceived problems with Screen Time actually come from a misunderstanding of how it works. There are three key rules you should be aware of when using Screen Time with Family Sharing:
Family Sharing only lets you control the Screen Time for children's accounts in your family. This is anyone under 13 years old.
You can't create a Screen Time passcode for your child's device if they already had Screen Time turned on. To fix it, turn Screen Time off on their device, then use yours to turn it on again and create a passcode.
If a Child account wishes not to share Screen Time usage with Parent/Guardian accounts, the Family Organizer needs to change their account to a Parent/Guardian as well.
Gray Screen on Screen Time
If you see a gray screen when accessing Screen Time, it means you aren't set up as a Parent/Guardian. It is important to point out here that an "Adult" account is not necessarily a Parent/Guardian account.
Ask your Family Sharing Organizer to turn on the Parent/Guardian setting for you to fix Screen Time.
Turned off Screen Time by mistake and can't access it again
We have seen this issue from many users. They use Family Sharing and under Screen Time there is an option not to allow Parents/Guardians to view Screen Time information. After enabling this, off they cant use screen time features anymore because everything is grayed out.
To fix this, the parent or guardian for your family sharing account has to give you Parent/Guardian Family Sharing privileges.
Screen Time won't let you change its passcode?
Some parents discovered that their kids figured out the Screen Time or Parent passcode and were able to work around all the restrictions! To get those parental controls back in place, you might try changing the passcode, only to discover that the old passcode remained active.
If you are unable to get Screen Time to update its passcode, the most reliable fix we know if is to Reset All Settings on your child's device. We usually use this as the last resort since it resets all your settings back to factory defaults.
If you want to do it, go to Settings > General > Reset and choose to Reset All Settings. This resets to everything in the Settings app to its default state, including notifications, alerts, brightness, and alarms.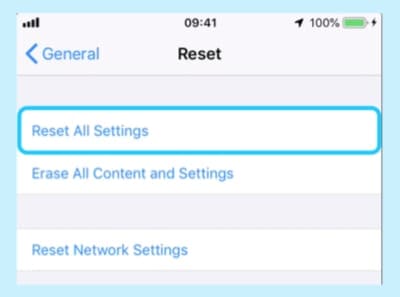 Resetting all settings also reverts all your personalized and customized features like wallpapers and accessibility settings back to factory defaults. You need to reconfigure these settings once your device restarts.
Performing this action does not impact any of your personal device data, including photos, texts, documents, and other files.
Other Screen Time Passcode Issues?
If you've got other issues with your Screen Time passcode, check out the video below for more help.
Learn more about using Family Sharing
Hopefully, these tips and tricks get you on your way to setting up Screen Time with Family Sharing for you and your loved ones. If you'd like to learn more about Family Sharing, take a look at our Family Sharing overview for Apple devices.
And, if you have tips of your own you'd like to share, please feel free to do so in the comments below!
Sandy worked for many years in the IT industry as a project manager, department manager, and PMO Lead. She then decided to follow her dream and now writes about technology full-time. Sandy holds a Bachelors of Science in Information Technology.
She loves technology– specifically – terrific games and apps for iOS, software that makes your life easier, and productivity tools that you can use every day, in both work and home environments.
Her articles have regularly been featured at MakeUseOf, iDownloadBlog and many other leading tech publications.