After announcing support for storing driver's licenses in iOS 15, Apple has confirmed the feature is now making its way out to certain users. In a blog post, Apple announced the following states are the first to adopt the ability to add your license to Apple Wallet:
Arizona
Connecticut
Georgia
Iowa
Kentucky
Maryland
Oklahoma
Utah
According to Apple, Arizona and Georgia are the first two states to adopt the feature, with the others to follow suit shortly thereafter. In addition to being able to add your driver's license to Apple Wallet, the Transportation Security Administration (TSA) are allowing you to use these at select checkpoints.
Related Reading
Add Driver's License to Apple Wallet
So if you live in one of the aforementioned states and want to add your driver's license to Apple Wallet, here's how you can do it.
Open the Wallet app on your iPhone.
Tap the + button at the top of the screen.
Follow the onscreen prompts to add driver's license to Apple Wallet.
The process of adding your driver's license will require you to use your iPhone to scan the physical license. This means you'll want to be in a well-lit area, while having your license or ID card places on a flat surface. Your iPhone also will prompt you to add driver's license to Apple Wallet on the Apple Watch.
After the license has been scanned, you're also prompted to take a selfie. But instead of just taking a regular selfie with the front-facing camera, this is a bit different. If you've been through the setup process for Face ID, the process seems familiar. That's because you are asked to "complete a series of facial and head movements during the setup process."
Using Apple Wallet With the TSA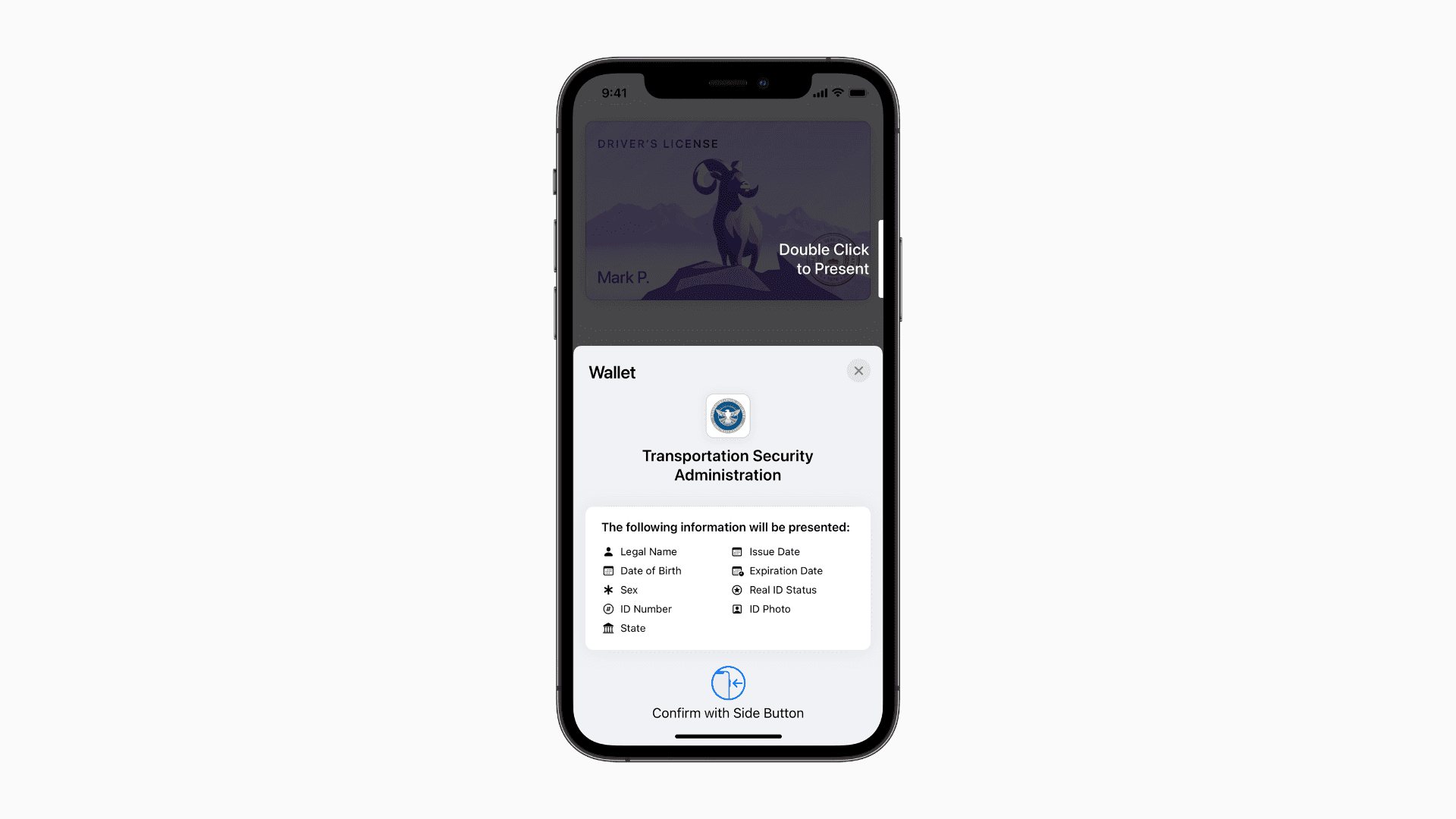 The TSA has already confirmed that there will be specialized lines and airport security checkpoints for those using a virtual ID with Apple Wallet. But this feature is likely to make getting through the airport security much faster, as you won't need to go digging in your pockets or luggage to get your ID. Apple points out that the following bits of information will be shared when going through TSA checkpoints:
Legal Name
Date of Birth
Sex
ID Number
State
Issue Date
Expiration Date
Real ID Status
ID Photo
Instead, you'll simply tap the iPhone or Apple Watch against an "identity reader". Then, a prompt appears on your screen providing the information needed by the TSA. Finally, you'll need to authorize your iPhone to display the information by using either Face ID or TouchID.
Is This Secure?
In the announcement post, Apple points out quite a few reasons as to why this is secure and how it keeps your information private. At no point are you asked to unlock your iPhone or Apple Watch. The use of Face ID or TouchID is only to authorize the ability for the information to be displayed on your devices. Here are a few of the highlights:
Apple and the issuing states do not know when or where users present their IDs.
Customers' identity data is encrypted and protected against tampering and theft.
Driver's licenses and state IDs in Wallet are only presented digitally through encrypted communication directly between the device and the identity reader, so users do not need to unlock, show, or hand over their device.
And in the event that you lose your iPhone or Apple Watch, you can simply fire up the Find My app on another device and either locate the device or lock it.
Andrew is a freelance writer based on the East Coast of the US.
He has written for a variety of sites over the years, including iMore, Android Central, Phandroid, and a few others. Now, he spends his days working for an HVAC company, while moonlighting as a freelance writer at night.