The App Store first opened its doors in 2008. If you were among the first to use it, you have over 10 years worth of apps sitting in your account ready to download again to your iOS devices. You can check your app download history (and redownload titles) on your iPhone by following the steps below.
How to View Your App Download History
You can find information about your free and paid apps on your iPhone in one of two ways.
Use the App Store App
To find a list showing your purchased apps, go directly into the App Store app on your iOS device.
From the Home screen, tap the App Store app icon.
Tap the Updates tab at the bottom of the screen.
Select the account icon at the top right.
Tap All Purchased.
Choose My Purchased.
Begin typing to find the app you'd like to see in the Search box. By default, you'll search under All apps. To narrow your search, you can choose Not on this iPhone.
All: Shows you a list of every app you bought through the app store, sorted by the newest first.
Not on this iPhone: Includes only the apps that aren't installed on your app currently.
Once you find an app to download, tap on the iCloud icon to begin the process.
Recommended:
Using 3D Touch
If you own an iPhone with 3D Touch, you can press firmly on the App Store icon on your iPhone Homepage.
From there, tap the Purchased tab.
You'll see the All Purchases page discussed above.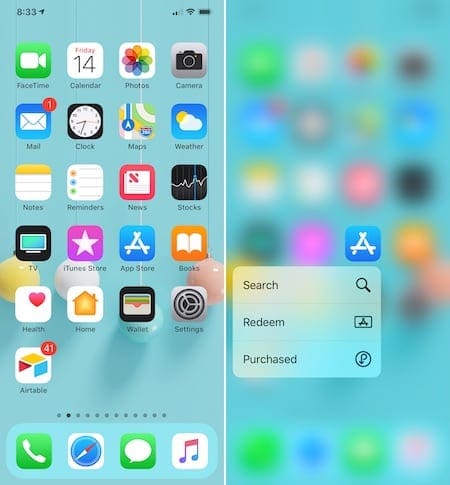 Family Purchases
If you're part of a family in iCloud, you can also access apps purchased from other family members. On the All Purchased page, tap on the person under Family Purchases. Find and download the app(s) as noted above.
Important Points
Not all apps can be downloaded again to your iOS device. These take various forms:
Beginning with iOS 11, apps needed to support 64-bit architecture. If an app doesn't, you can't redownload it.
Apps that Apple pulled from the market aren't shown on your App Store history and can't be downloaded again.
Developer-pulled apps will still show up in your download history. However, you can't download the app to your device.
If you have an outstanding balance, but there is something wrong with your default payment option in the App Store, you can't download or update any app until the issue is resolved. Once it is, you can download apps again immediately.
When you purchase an app on the App Store, it's yours to keep and download again, if needed. Whether you're installing apps on a new device or checking out an old favorite, the process to find and download these apps is simple enough.
Do you have anything to add? Let us know in the comments below.