All of your apps and files on your Mac are stored on your hard drive.  You can easily check the free space on your hard disk to make sure you have enough space on your computer's hard disk. For instance, your Mac (running OS X or macOS) always needs some free space to function effectively–a Mac drive needs about 20% of total space to effectively run and read/write.
Related articles
See a quick storage snapshot!
In macOS, select your Mac's drive in the Finder and press the spacebar on your keyboard, to see a preview of your disk.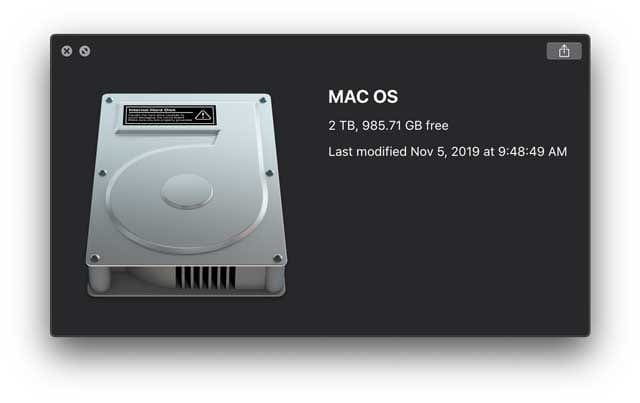 Want more information on how your Mac uses drive space? Use these methods
Method one: Use Get Info
We recommend this method because it shows your disk's total capacity as well as how much space is currently available and how much space is used. Additionally, it shows how much space macOS considers purgeable.
Right-click on your Mac's disk icon and select Get Info
Your disk's total capacity of the drive and the available capacity is listed–look below that to find how much space is used
Wondering what purgeable space in on your Mac's hard drive?
Purgeable storage contains files like local snapshots of Time Machine, some caches, sleep images, swap files, and other temporary system files. It also lists files you store in iCloud or your Trash bin.
It's space that macOS frees up when needed by removing those files from your computer. Your Mac only removes these files when necessary.
Because your Mac can quickly reclaim this purgeable space, macOS counts it toward the available space metric rather than used.
Method two: check About this Mac
For all macOS versions and OS X Yosemite+
Go to the Apple Menu and choose About this Mac
Tap the Storage tab
Wait for the information to populate
Scroll your cursor through the storage use graph to see information on how much space is used by your apps, documents, photos, system, users, and so forth
Press Manage to dive deeper into how you use storage on your Mac and access macOS's storage recommendations
For OS X versions Mountain Lion or Mavericks
Visit the Apple menu () > About This Mac
Choose Storage
Check how much space your audio, movies, photos, installed apps, and other files take up, and how much free, available, space you have.
Method 3: Open Finder
Double-click your Mac's hard disk icon on your desktop
From the top menu, tap the View menu and select Show status bar
Use Disk Utility for an advanced view
If you want to know more, open Disk Utility to see your drive's total capacity, available space, used space, and other information like the format and mount points.
Disk Utility also shows you all connected drives and provides options to repair or reformat your disks.
Open Applications > Utilities > Disk Utility
Wait for macOS to populate the data
Tap your disk name to see it's information
My Mac's disk is getting full, now what? How to free up storage space
If you discover that your hard drive doesn't have a lot of available space, there are some things you can do rather quickly to free up space!
We highly recommend that your Mac has at least 20% of its total space to find existing information and write new information
Don't forget to empty your trash
Check out the storage recommendations your own Mac creates for you!
Clear out all users' downloads file
Delete files and app you no longer need or use
Move files over to an external hard drive (or cloud-based storage system–not iCloud)
Remove duplicate or bad photos
Consider upgrading your Mac's hard drive with a larger and faster drive
Learn more tips on getting more free space on your Mac in this article: New Year, Quick Fixes for Your Mac for Better Performance and More Storage
Obsessed with tech since the early arrival of A/UX on Apple, Sudz (SK) is responsible for the original editorial direction of AppleToolBox. He is based out of Los Angeles, CA.
Sudz specializes in covering all things macOS, having reviewed dozens of OS X and macOS developments over the years.
In a former life, Sudz worked helping Fortune 100 companies with their technology and business transformation aspirations.