While many people have already started going back to the office, the same can't be said for the entire workforce. There are plenty of people who are still working from home due to the ongoing pandemic, meaning that you still have to deal with participate in regular or semi-regular meetings.
Related Reading
Apple has recognized this fact and is continuing to implement new and useful features that aim to transform how we use our devices. It's similar to what we've seen over the past year with the ability to unlock your iPhone with an Apple Watch. Another example is having Face ID improved to the point that it can still recognize you even if you are wearing a mask in public. But with iOS 16 and macOS Monterey, Apple did something that truly surprised everyone when it announced improvements to Continuity Camera and the introduction of Desk View.
What Is Desk View?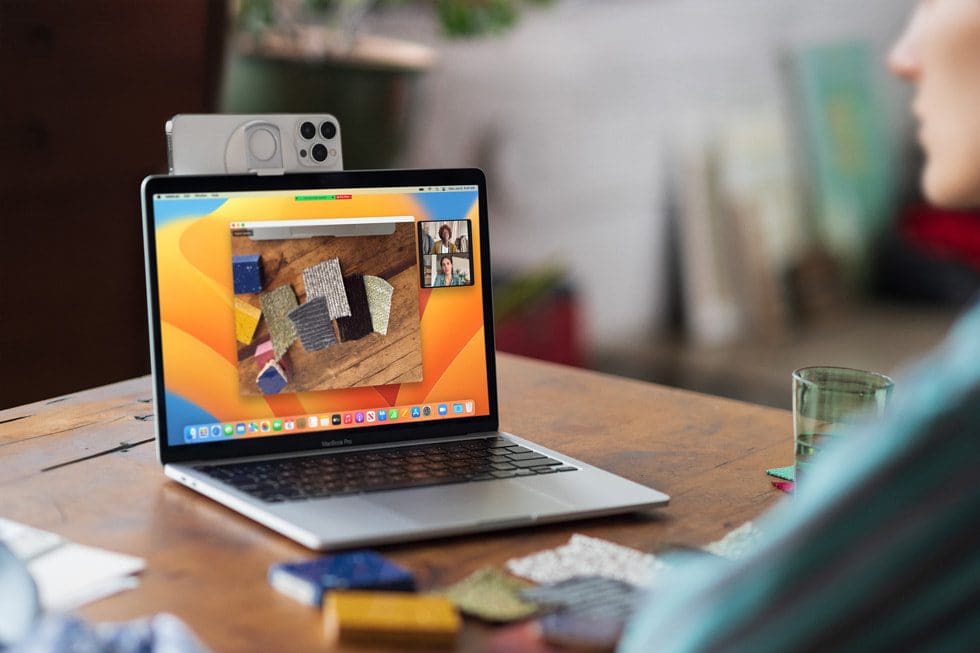 When participating in "regular" video calls on your Mac, your iPhone will use either the standard or wide-angle lens to keep everything in view. The wide-angle lens comes in handy for those who want to play around with Center Stage, a camera feature that is designed to keep you in the middle of the frame, even if you're moving around.
But with Desk View, video calls are turned up a few notches. Desk View was shown off during the WWDC '22 Keynote, and really turned a lot of heads during the presentation. With your iPhone acting as the webcam, Desk View uses the ultra-wide camera on compatible iPhone models.
And instead of just showing much more of your background, it actually shows your face along with an overview of whatever is on your desk. Desk View is a fantastic addition for those who need to perform presentations, allowing you to show off something on your desk, as opposed to trying to line up the shot correctly using the wide-angle camera.
How to use Desk View
One of the most useful and helpful reasons to use Continuity Camera and a feature like Desk View is that it removes the need to purchase or use an external webcam. The really good webcams can get quite expensive and they also require a bunch of setup and cable running. To put it frankly, using a webcam that isn't already embedded in your MacBook, iMac, or Studio Display, can just be cumbersome and rather frustrating.
But when you use Desk View, those problems are largely solved, as the iPhone's camera is already heralded as arguably the best camera on the smartphone market today. And with that, let's run through the steps you need to take if you want to use Desk View with your iPhone and Mac.
Requirements
As you might expect, there are a few requirements that you need to follow before you can use Desk View with iOS 16 and macOS Ventura:
Your Mac is using macOS Ventura or later and your iPhone is using iOS 16 or later.
Make sure that Wi-Fi and Bluetooth for your Mac and iPhone are turned on.
Sign in to the same Apple ID across both devices, and make sure that two-factor authentication (2FA) is enabled.
Use Desk View
Provided that your devices follow all of Apple's requirements listed above, you can now use Desk View with iPhone and Mac. By default, this feature is enabled, meaning that the next time you join a video call with your iPhone nearby, your Mac will automatically detect and use the iPhone as opposed to another webcam. However, in some cases, you might find that the feature is turned off, and here's how you can enable and use Desk View:
Open the Settings app on your iPhone.
Tap General.
Tap AirPlay & Handoff.
Next to Continuity Camera Webcam, tap the toggle to the On position.
Bring your iPhone close to your Mac.
Open any app that utilizes a camera, such as FaceTime, Zoom, or Google Meet. (This also works in a web browser).
In the top right corner, click the Control Center icon.
From Control Center, click Video Effects in the top left corner.
Select Desk View… from the list of options.
As soon as you select Desk View from the Video Effects option, whatever video calling application you are using will be transformed. Not only will the person (or people) on the other end be able to see you, but they will also be able to see various items that are on the surface or table in front of you.
This is great for presentations, and makes it easy to show something off during a meeting without needing to reposition your webcam, or try to awkwardly move the objects from the surface in front of you and into the frame of the video call.
Desk View Limitations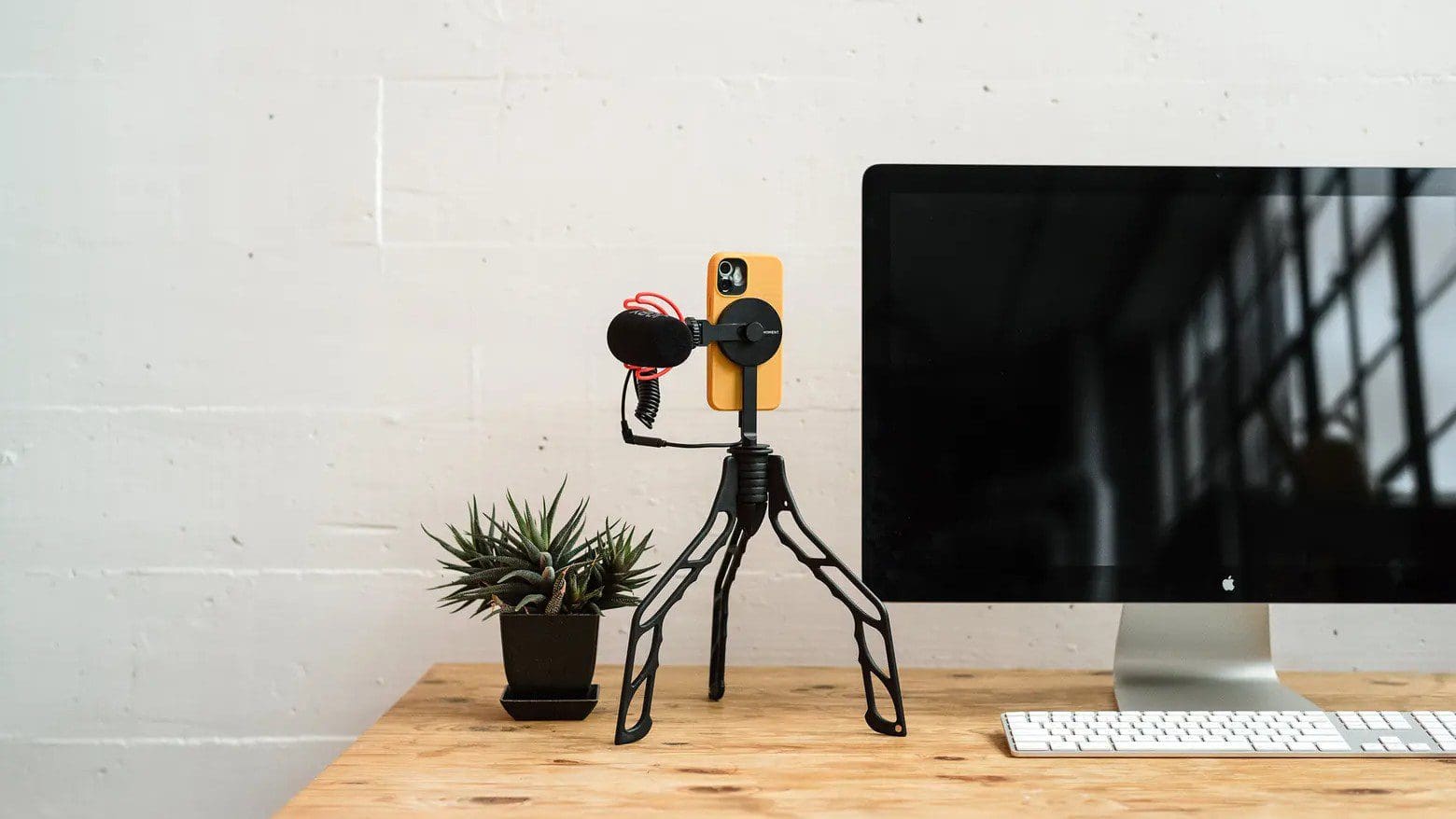 Truth be told, there actually aren't too many limitations for using Desk View. The most common issue that you might run into if you're using the iOS 16 and macOS Ventura Public Beta is that accessory makers have not yet started to release mounts that attach your iPhone to your Mac. A few of these third-party solutions have already been shown off during the WWDC '22 Keynote, but since iOS 16 and macOS Ventura are not yet officially released to the masses, there's still time before these accessories will be needed.
If you're like us and have jumped on the beta train, here are a few of our favorite solutions if you want an iPhone mount to hold you over until more suitable options arrive:
Lume Cube Mobile – This phone tripod can be used as stand or held like a selfie stick for better angles. Rotating smartphone mount easily adjusts from landscape to portrait mode.
Moment Tripod Mount for MagSafe – Designed to work with any standard 1/4-20 tripods or handles, you can now shoot in landscape and portrait mode without a phone clamp. Compatible with or without a case, this mount also includes Moment's proprietary (M)Force magnet array which is even stronger than standard accessories, giving you extra confidence your phone won't fall off.
STM MagPod– Smoothly opens to a tripod to provide a stylish phone mount fit for your desk, countertop, or nightstand. MagPod's magnetic disc swivels and pivots to enable virtually any viewing angle.
Andrew is a freelance writer based on the East Coast of the US.
He has written for a variety of sites over the years, including iMore, Android Central, Phandroid, and a few others. Now, he spends his days working for an HVAC company, while moonlighting as a freelance writer at night.