Now that Spatial Audio has been available for a little while, this has given app developers the opportunity to integrate the feature. One such app is Netflix, as it remains one of the most popular video streaming services on the App Store.
Related Reading
In August 2021, Netflix surprised everyone by rolling out compatibility with Spatial Audio. This follows in the steps of other popular apps and services like Spotify, Amazon Music, and others.
What Is Spatial Audio?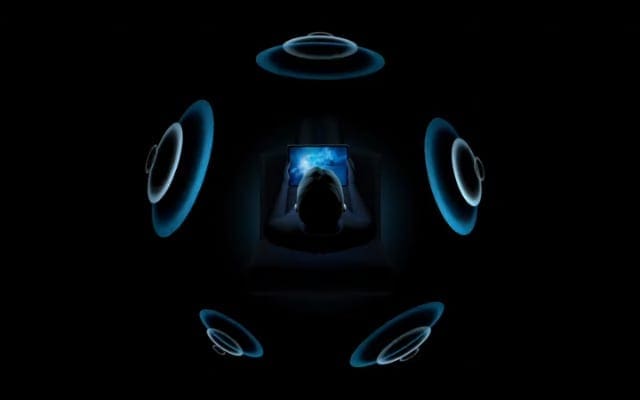 Spatial Audio itself is essentially an additional layer that is created on top of Dolby Atmos. This layer is a 3D space making it feel like you're in the room with the band, instead of just having the music evenly distributed in each ear.
This is Apple's description of how Spatial Audio works:
Spatial audio with dynamic head tracking brings the movie theater experience right to your AirPods Pro. By applying directional audio filters and subtly adjusting the frequencies each ear receives, spatial audio can place sounds virtually anywhere in space, creating an immersive surround sound experience. Using the gyroscope and accelerometer in your AirPods Pro and your iPhone, spatial audio tracks the motion of your head as well as your device, compares the motion data, and then remaps the sound field so that it stays anchored to your device even as your head moves.
Between Spatial Audio and Dynamic Head Tracking listening to music or watching your favorite movies will never be the same again.
Watch Netflix With Spatial Audio
While Netflix has made it possible to use Spatial Audio when streaming, there are a few caveats. The first is the most obvious one, in that it's only compatible with the AirPods Pro or AirPods Max headphones. Currently, there aren't any other headphones that can take full advantage of the feature.
The second caveat is that you'll need to find a movie or TV show on Netflix that has some sort of surround sound. Content released within the last few years is probably safe. However, if you are thinking of firing up some classics from the 80's and 90's, you'll want to double check.
But if you've found a compatible movie or TV show and have your AirPods Pro or Max in hand, you're ready to go. Here's how you can enable Spatial Audio with Netflix.
Connect your AirPods Pro or AirPods Max to your iPhone.
Open the Netflix app and find a movie or TV show to watch.
Swipe down from the top right corner to reveal Control Center.
Long-press the Volume Slider.
Tap the Spatialize Stereo or Spatial Audio button if it's not already enabled.
After a moment, just sit back and listen as the media is transformed to take advantage of Spatial Audio. It's truly a unique experience to sit back and feel like you're immersed in whatever you're watching or listening to.
And with iOS 15, your iPhone, iPad, or Mac can turn things up a notch with Spatial Audio. That's because Apple has introduced the new Spatialize Stereo functionality. This essentially simulates the standard Spatial Audio experience for content that has not been optimized for it.
Andrew Myrick is a freelance writer based on the East Coast of the US. He enjoys everything to do with technology, including tablets, smartphones, and everything in between. Perhaps his favorite past-time is having a never-ending supply of different keyboards and gaming handhelds that end up collecting more dust than the consoles that are being emulated.