By chance, I just discovered a really cool and unappreciated feature of iOS 10 and macOS Sierra–iCloud Universal Clipboard!  As it happens, late last night I was trolling my iPad, looking for a fun image to send my friend for her upcoming birthday.  And I found a pretty good and funny one, quickly copying it onto my iPad.  But then I fell asleep and forgot all about it until this morning when I opened my MacBook.  And I saw the paste command was active and contained that very image I copied to my iPad late last night!  Low and behold, that's the power and beauty of iCloud's universal clipboard!
Introducing iCloud Universal Clipboard
With iCloud Universal Clipboard, you copy text, images, photos, videos, and pretty much anything on one Apple device and then paste that same content onto another iDevice or Apple computer.  So if you're anything like me, you use different devices throughout your day, depending on the time and where you actually are.  For example, I'm usually on my iPad at night, just before bedtime and hopefully sleep.  So now, with iCloud enabled I copy things at night, like a funny image or a great recipe to try out when browsing the web on my iPad at bedtime.  And then I paste that image or recipe into a note, email, or Photoshop on my MacBook the next morning. Pretty amazing!
Basic Requirements
Universal Clipboard is part of what Apple calls its Continuity Features.  These include things like Handoff, Instant Hotspot, Auto Unlock, iPhone Cellular Calls, SMS/MMS messaging, and of course Universal Clipboard.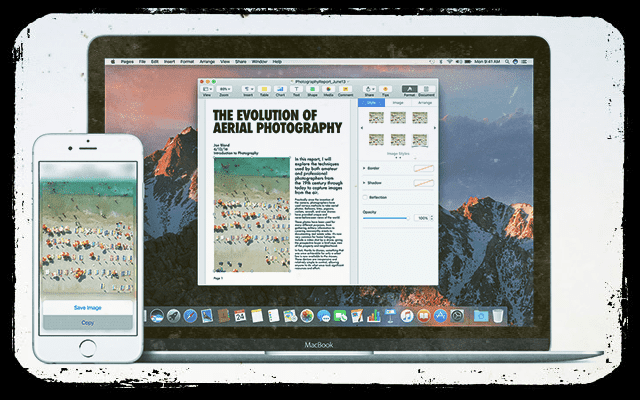 iCloud Universal Clipboard works on iPhone 5 models and later, 2012 or later models of iMacs and MacBooks and late 2013 plus onward models of Mac Pros. iCloud Universal Clipboard supports 4th generation iPads, all iPad Pro models, iPad Air models, iPad mini 2 and above, and iPod Touch 6th generations and newer.  For more info on system requirements for universal clipboard and other continuity features, see this apple support article.
Sorry but currently there is no Universal Clipboard for Apple Watch, as Apple Watch  OS doesn't yet include support for copy and paste. That's because on Apple Watches there are no standard text fields for entering text other than dictation. We hope to see these features coming soon to WatchOS.
And Your Ground Rules
All devices must be on the same Wi-Fi network and within normal Bluetooth range of each other, 33 feet or 10 meters.  Devices must have Bluetooth and Handoff turned ON in System Preferences (Macs) and in Settings (iOS devices.) And you must be signed into iCloud using the same Apple ID on all your devices.
Universal Clipboard does work with cellular data, so a WiFi connection is not absolutely mandatory.  But our readers note that using cellular data rather than WiFi results in inconsistence results and spotty performance–sometimes it works and sometimes it doesn't.  For that reason, we recommend a WiFi connection.
Interestingly, while Bluetooth and WiFi need to be enabled on both devices they seemingly do not need to be paired.  Go figure that one!
Setting Up iCloud Universal Clipboard
Make sure the following settings are ON
All devices are signed into iCloud with the same Apple ID
Bluetooth is turned ON
WiFi is turned ON and all devices connect to the SAME WiFi network
Make sure you're running iOS 10 and macOS Sierra
Devices are within a range of 33 feet (10 meters)
Ensure "Handoff" is turned ON for BOTH iOS and macOS

For iOS, it's under Settings>General
For macOS, it's under Systems Preferences>General
On one device, copy the text, image, or video as normal. Consequently, that same content is added to the clipboard of your all nearby devices automatically. This content remains on the clipboards of connected iDevices and computers via the paste command.  Your clipboard content remains available for a brief period of time or until you replace it by copying something else.
To Sum Up Copying to Universal Clipboard
Select Copy

Select the content you want to copy, then copy it

On Macs

Copy & Paste from the Edit menu

On iOS

Copy & Paste with a tap and hold

This content is available to paste on your other devices for a short time

Choose Paste

Position to where you want to paste the content, then paste it
If pasting to a Mac, a small pop-up window lets you know its Pasting from…
If pasting to an iPhone, iPad, or iPod Touch, a large pop-up tells you Pasting from…

Summary
iCloud Universal Clipboard is a really neat and lesser known feature that's actually quite useful, especially for iFolks that use different devices throughout their day.  It's similar to AirDrop but without the extra steps–like a lazy version of AirDrop.  The major downside to iCloud Universal Clipboard is that it allows only one file on the clipboard at a time.  And you never know how long that file remains active on the clipboard.  Sometimes it's minutes and other times it's hours–not sure why.  And Apple doesn't report any specific time metric here, though there are some claims in developer discussions of 2 minutes or so.  But I definitely have experienced much longer times. So experience rules on this one.
But the great part is that iCloud Universal Clipboard allows you to copy and paste between your most of your Apple products, regardless of macOS or iOS . So say you copy an image on your Mac. Then presto, you paste it into an email on your iPhone.  Or vise-versa and you copy a picture on your iPhone and paste it into an email on your MacBook.  It all works with a simple copy and paste–commands we know by heart!
We are just at the beginning of a new Apple ecosystem that works seamlessly and smoothly between iOS, macOS, and hopefully watchOS (and maybe even tvOS.)
For most of her professional life, Amanda Elizabeth (Liz for short) trained all sorts of folks on how to use media as a tool to tell their own unique stories. She knows a thing or two about teaching others and creating how-to guides!
Her clients include Edutopia, Scribe Video Center, Third Path Institute, Bracket, The Philadelphia Museum of Art, and the Big Picture Alliance.
Elizabeth received her Master of Fine Arts degree in media making from Temple University, where she also taught undergrads as an adjunct faculty member in their department of Film and Media Arts.