Your iPhone may sometimes get stuck on the "Estimating time remaining" screen when you're trying to install the latest iOS version. The download bar remains grey even if you restart your device several times. In other words, your phone remains stuck on requesting the update. Follow the troubleshooting steps below to solve the problem.
How to Fix iOS Update "Estimating Time Remaining" Issue
Quick Checks
First of all, go to Settings, tap General, select About and check your iPhone model. Make sure your device is compatible with the iOS version you're trying to install.
Then disable the Personal Hotspot option. You cannot install the latest iOS release using an iPhone personal hotspot.
The battery needs to be at least 55 percent charged. The device won't update if it's in Low Power mode.
Additionally, ensure the Wi-Fi connection is stable. Feel free to disconnect all the other devices using the connection.
Disable your VPN. Your device won't connect to the update servers if the VPN is on.
Sign Out and Force Restart Your iPhone
Sign out of your account, restart your terminal, and check for updates again.
Go to Settings, scroll down to your name near the bottom of the screen.
Tap Sign Out.
Then enter your Apple ID password, and hit the Turn Off option.
Select the data you want to keep a copy of on your iPhone.
Tap Sign Out and confirm your choice.
Force restart your phone.

Press and quickly release the Volume Up button.
Then press and immediately release the Volume Down button.
After you do that, press and hold the Side button.
Release the Side button when the Apple logo appears on the screen.

Sign back in, and check for updates again.
Free Up Some Space
As a quick reminder, you need at least 5GB of free storage for iOS 14. If your iPhone doesn't have enough free space to download the update, make room by removing the apps and files that you no longer need or use. Navigate to Settings, select General, go to Storage, and start decluttering your iPhone.
Delete Previous Updates
Navigate to Settings, and select General.
Go to Storage, and locate the problematic iOS update in your list of apps.
Select the update, then tap Delete Update.
Then go to Settings, and tap General.
Select Software Update and download the latest iOS update.
Reset Network Settings
First of all, try to improve the speed of the download. Avoid downloading other apps or files while checking for updates. Additionally, use a Wi-Fi network, it's faster and more stable than cellular data.
If the issue persists, reset your network settings, and check the results. Go to Settings → General → Reset → Reset Network Settings.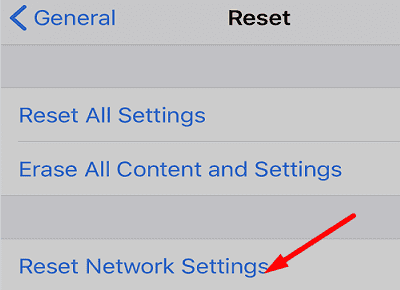 Use iTunes to Update Your Device
If you still can't update your terminal, use iTunes to get the job done. Launch iTunes on your computer, and then connect your iPhone to your machine. Trust the device if prompted, and click on Check for updates. Click Download and Update, and check the results.
If the issue persists, contact Apple Support.
Conclusion
If your phone is still stuck on "Estimating time remaining", sign out of your account, and force restart the device. Additionally, free up some storage space, delete previous updates, and reset network settings. If the issue persists, use iTunes to update your iPhone.
Hit the comments below and let us know which method did the trick for you.