Having trouble maintaining an internet connection to your iPad? Losing a network connection or does your iPad just not seem to "see" your networks, even when other devices see and connect to them with no problems?
If so, you are not alone. Quite a few of our iPad readers tell us they see this problem periodically when using their iPads.
Related Articles
In what is surely the oddest fix for what has become the most pervasive set of iPad issues, it appears that adjusting the device's screen brightness may, in some cases, resolve a problem in which the iPad fails to reconnect to Wi-Fi networks after the unit wakes from sleep.
(Note that this issue is separate from an issue in which users experience weak/fluctuating WiFi signals, inordinately slow transfer speeds, and/or inability to maintain wireless connections [constant drops.)
In this issue, the iPad does not automatically reconnect to a previously connected WiFi network when it wakes from sleep, forcing the user to open Settings a reselect the network. In proper behavior, the iPad/iPhone rejoins the network with no user intervention.
Possible Fixes for iPad Not Reconnecting to WiFi Networks
Adjust Brightness Settings on iPad
Oddly, a number of users have found that they can resolve this issue by simply toggling Auto-Brightness on or off OR adjusting the iPad's brightness level upward and off the lowest setting.
To Turn on Auto-Brightness for iOS 11 and above, tap Settings > General > Accessibility > DisplayAccommodations > Auto-Brightness .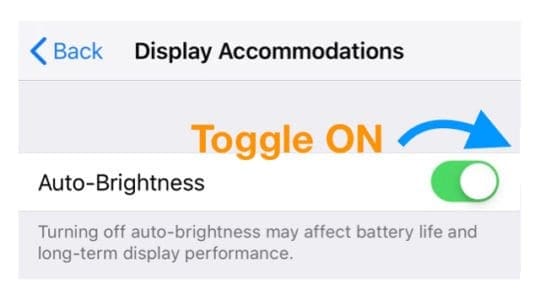 For older iOS, find the Auto-Brightness center in Settings > Display & Brightness 
To adjust Display Brightness, tap Settings > Display & Brightness and slide the brightness scale. For older iOS, look for Brightness & Wallpaper from the left-hand pane. 
Once you slide the brightness bar upward, put your iPad to sleep and check to see if the WiFi reconnection issue resolves.
Speculation holds that a power delivery issue associated with the screen brightness affects the WiFi reconnection scheme.
Toggle on Ask to Join Networks
Go to Settings > WiFi and scroll down
Toggle on (or off and on) the settings Ask to Join Networks 
Manually Select Your SSID
Tap open Settings > WiFi. 
Look under Choose a Network and select one of your networks from that list
If nothing shows up, toggle WiFi off and on and then select a network
Toggle Off Auto-Join and Auto-Login
If the problem occurs on a public (hotel/airport/cafe/free) network, try toggling Auto-Join and Auto-Login off. Then reconnect and enter any details like ID or password if needed
Try AirPlane Mode
Toggle AirPlane Mode on 
Wai for a few minutes
Toggle Airplane Mode back off
Bring up the slide to power off screen, but don't power off
Another odd workaround: when your iPad forgets a network and prompts for the password, instead of entering the key, press sleep/wake/power button until the iPad shows "Slide to power off," then press cancel.
For iOS 11, there is another way to slide to power off. Go to Settings > General and scroll down to Shut Down–tap it but don't slide it off. 

This appears to force your iPad to automatically reconnect to the network.
Reset Network Settings
Settings > General > Reset > Reset Network Settings
Rejoin the Network again and enter the passcode (required)
Change DNS Settings
Change to Google's DNS or another third-party DNS
Go to Settings > WiFi
Tap on the network
Delete all numbers under DNS and enter 8.8.8.8 and/or 8.8.4.4 
Reboot Your Network's Router or Modem 
Unplug the router from power for a few minutes and then plug again. See if you can successfully connect
Update Router Firmware
Check with your ISP (Internet Service Provider) or with the router's manufacturer support site on how to update its firmware
Try Different Network Signal Bands (2.4 GHz and 5 GHz)
Alternate to a different band if available
Obsessed with tech since the early arrival of A/UX on Apple, Sudz (SK) is responsible for the editorial direction of AppleToolBox. He is based out of Los Angeles, CA.
Sudz specializes in covering all things macOS, having reviewed dozens of OS X and macOS developments over the years.
In a former life, Sudz worked helping Fortune 100 companies with their technology and business transformation aspirations.