Just updated to the latest iOS for your iPhone, iPad, or other device and now see the message that your pencil, keyboard, headphones, speaker, microphone, or other Bluetooth or lightning accessory is not supported by this iPhone (or iPad, etc.)? If so, you are not alone!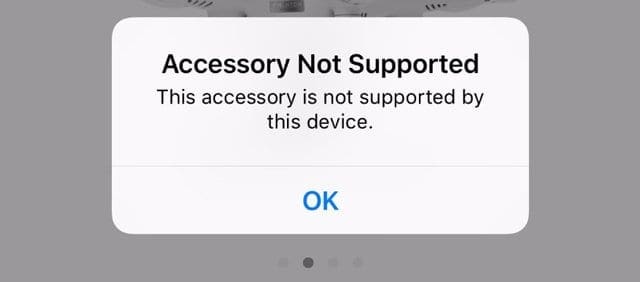 Quite a few of our readers tell us that after updating to either a major or even minor iOS upgrade that their accessories no longer work with their iDevices.
So here are a few tips that our readers found worked for them!
Related Articles
Check That Your Accessories Are Certified MFI (Made for iPhone/iPad/iPod)
If you use third-party accessories, it's possible that they were not certified to work with Apple products.
MFi-certified or licensed means that a product is consistent with Apple's design standards. 
So if possible, use the original cables, chargers, and adapters that came with your iDevice. And if using a third-party accessory that's not MFI, then test on a similar product that is MFI to determine if that's the problem (or not.)
If you connect to your accessory using a third-party cable or adapter, it may be the cable/adapter that's the problem and not the actual accessory (like speaker or headphones.)
Restart or Reset
Often a simple restart or reset (forced restart) does the trick.
To restart, power your device off, wait 30 seconds, and power it back on.
Perform a Forced Restart
On an iPhone 6S or below plus all iPads & iPod Touches, press Home and Power at the same time until you see the Apple logo
For iPhone 7 or iPhone 7 Plus: Press and hold both the Side and Volume Down buttons for at least 10 seconds, until you see the Apple logo 
On an iPhone X, XS, or XR or iPhone 8 or iPhone 8 Plus: Press and quickly release the Volume Up button. Then press and promptly release the Volume Down button. Finally, press and hold the Side button until you see the Apple logo 
Clean The Accessory and the Port
If your accessory makes a physical connection to the iDevice, like the iPad Pro Keyboard or a pair of lightning headphones, make sure you clean both sides of the connection well.
So first, disconnect the accessory from the device and turn everything off, if possible.
Take a microfiber cloth and rub each surface well, removing any lint, dirt, or even corrosion.
Some users like to clean using a standard pencil eraser followed by vigorous cleaning with a lintfree cloth or electronic cleaning cloth. Use the eraser on the lines of the contacts to clean away any dirt, grease, or corrosive build up.
If cleaning a Smart Connector (like on the iPad Pro Models to attach the Apple-branded keyboard), make sure you rub those connections (three dots on the side) well. 
For lightning ports, you may need to use a smaller tool to clean inside the port. Things like interdental brushes work well. 
Take a look at this article for more details on cleaning lightning ports.
Remove and Replace
Sometimes disconnecting and reconnecting the accessory does the trick! 
You may need to perform this action more than once to get it to work–so try a couple of times before you give up.
Forget and Change Bluetooth Device Name
If the message "this accessory is not supported by this iPhone (or iPad/iPod) happens when connecting to a Bluetooth accessory, like speakers or headphones, try forgetting the device and then adding it back while renaming that device something different than before (if possible.) 
Another option is to forget all Bluetooth devices and then add them back one-by-one, testing between each to see if there is one BT device causing the error.
Reset Some Settings
It's often a setting that's causing the problem. So let's try resetting a few things and see if that solves and helps this problem.
Reset Network Settings
Go to Settings > General > Reset
Tap on Reset Network Settings

You need to re-enter all WiFi passcodes so have those on-hand before you do this step 
Reset All Settings
This action resets to default everything in Settings, including notifications, alerts, and brightness. Performing a settings reset does not impact any app or personal data, like Photos, Messages, Mail, and so forth.
Resetting all settings also reverts all your personalized and customized features like accessibility features, wallpapers, and alarms back to factory defaults.
So you need to reconfigure all these settings once your iPhone or iDevice restarts.
To Reset All
Backup first before resetting all settings, just in case something happens
Go to Settings > General > Reset
Tap on Reset All Settings 
Visit an Apple Genius or Contact Apple Support
Tried all these steps and still seeing that message "this accessory is not supported by this iPhone (or iPad/iPod)? If so, it's time to reach out to Apple Support. 
When your device continues to experience issues, we recommend you schedule a Genius Bar appointment, visit an Apple Authorized Service Provider, or contact Apple support by phone, online chat, or email.
If your Smart Keyboard is less than 3 years old, you may be eligible for a replacement
Typically, Apple's warranty on accessories like the iPad Smart Connector Keyboard is one year, but for specific keyboard issues, there is an extension program that runs up to 3 years from the date of purchase.
Covered problems include the sensor and magnetic connector issues, sticking keys, repeating keys, unresponsiveness, and data connections issues.
This extension is due to quality alerts and functional issues that were placed on iPad Smart Keyboards back in 2017.
Contact Apple Support for more details. Readers report success in replacing keyboards when making appointments with Apple Store Geniuses.
Reader Tips 
I updated to the latest minor version of iOS, and that fixed my problem with getting that message when connecting my Bose headphones (wired with adapter dongle)
Try using a soft pencil erasure on any contacts, then cleaning it thoroughly with rubbing alcohol. My problem was on the iPad Pro SmartKeyboard, cleaned that Smart Connector (the 3 dots on the iPad's side) and the 3 pins on the keyboard this way (eraser then alcohol) and no problems thus far!
My Apple Smart keyboard (for iPad Pro) only works if I detach it completely from my iPad and then restart the iPad. I then re-attach the keyboard, and it works, I can use it. Restarting the iPad with the keyboard still attached does not work for me
I took some rubbing alcohol on a clean lint-free cloth and cleaned those three contacts on the Apple Smart keyboard and the side of the iPad that has the Smart Connection. Worked for me in a jiffy! No more accessory is not supported by this device message!
For folks with problems on Apple's Smart Keyboard and iPads, try remagnetizing the magnets! To renew a weakened magnet, carefully bring it in contact with a neodymium magnet–just rub it against the magnets on your keyboard's magnetic strip. Pay particular attention to the area that usually loses its magnetic charge between keys 1 and 2
Sometimes restarting my iPad works. Sometimes detaching the keyboard from the iPad, then reconnecting it a few times also works. But it's a pain!
I used QTips and a little isopropyl alcohol and cleaned the contacts. Then let it all dry before trying again
These tips worked for me. Give them a try!

Use the other original charging cable for your iPhone iPad
Clean your Apple Accessory. You can use a toothpick or similar tool to carefully insert into your iPhone or iPad's lightning charging port. Then, clean out all the lint, grease, or debris
Plug your charger in, when you get the error message press and hold your finger on the dismiss button and pull your charger out while still holding. Continue applying pressure and plug your charger back in and see if the accessory works
Turn off the device with the Lightning plug attached, then restart
Connect your iPhone to the accessory and ignore the message. Then, turn on the Airplane mode and turn off your iPhone. Wait for 1-2 minutes and turn it on again with the accessory attached