Apple's new iOS 13 update and its point releases appear to be causing dropped call issues for many iPhones, causing frustration and confusion among the Apple user base.
Here's everything you should know about the dropped calls bug, why it may or may not be affecting you, and how to carry out some steps to fix the issue.
Quick tips
Follow these quick tips to help fix when your iPhone calls drop out with iOS 13
Remove your iPhone from its case, place a call, and see if the case causes any issues with calls
Restart or force restart your device
Toggle off silence unknown callers
Update to the latest iOS
Check if there is a carrier update for your device
Remove and then reseat your SIM card

For lingering problems, ask your carrier to provide you a new SIM card (if applicable) or transfer to eSIM service on compatible iPhones

Try WiFi calling
Related articles
What you should know about the problem
Since iOS 13 was first released, users have been running into various problems with the Phone app and cellular connectivity. Many of Apple's subsequent point releases (iOS 13.1, 13.1.1, etc.) fixed these issues.
But many users have reported significant problems with calls dropping. The issue actually appeared to get worse after iOS 13.x+. More than that, Apple's latest iOS 13.2 software update doesn't seem to have fixed it.
It's not clear how many users this bug is impacting, but it does seem to hit iPhones regardless of their model or carrier.
We've seen reports of the bug on everything from an iPhone SE to an iPhone 11 Pro Max. As stated earlier, the carrier a user has doesn't seem to have anything to do with it, either. That indicates that it's a software-based issue.
The problem appears to vary in severity. Some users indicate that cellular reception is poorer than normal and calls drop frequently. Others complain that the bug is "constant" and that "virtually all" calls drop after a short amount of time.
If this issue hasn't been affecting you, good. Despite the number of reports, we can safely say that it isn't impacting every iPhone running iOS 13. But for affected users, the problem is annoying — especially since it appears annoyingly persistent.
Apple hasn't acknowledged the issue, but it's likely aware of it. While iOS 13.1.3 didn't appear to solve it completely, a forthcoming iOS update may. Keep an eye out for that. In the meantime, you can attempt to troubleshoot your iPhone yourself.
Troubleshooting dropped calls
Even though Apple's latest software update didn't mitigate the issue, there's a chance that you can troubleshoot and fix it yourself. Try these steps.
The basics
Remove any case or cover. Sometimes, the cases or covers for our iPhones get in the way. So take your iPhone out of its case/cover and then run some tests, calling people and asking people to call you. If your iPhone doesn't drop a call during these tests, it's likely your case is causing a problem.
Restart. In many cases, simply restarting or powering down your device is enough to fix bugs or glitchy behavior. So we recommend starting with that.
Update your iOS. As always, it's also recommended that you ensure your iPhone is running the most up-to-date software available. You can see if there's a new iOS update by going to Settings —> General —> Software Update.
Try Airplane Mode. Open up Control Center and temporarily disable cellular connectivity by turning Airplane Mode on. Wait a few moments and then turn it back off.
Turn off Silence Unknown Callers feature
A new option for the Phone app with iOS 13 is Silence Unknown Callers. This feature helps you avoid getting calls from people, businesses, and phone numbers that you don't recognize or know.
When you toggle on Silence Unknown Callers, it blocks phone numbers that have previously never called or numbers that you did not save to your contacts list. Any phone number that you previously added to your contacts, phoned, or texted automatically goes through as well as any phone numbers sent to you an email.
However, some folks discovered that turning off this feature helped with problems with dropped calls, so give it a shot!
To toggle it off, go to Settings > Phone and toggle off Silence Unknown Callers.
Look for a carrier update
There's also a chance that there's a Carrier Settings update needed for your device to continue working properly. Carrier Settings update isn't the most well-known iOS feature, but you may have seen a pop-up dialog box about them in the past.
To see if there's a Carrier Settings update available and to manually install it, head to Settings —> General —> About. If an update is available, you should be notified here.
Take out your SIM card
While it's not the most likely, there may be an issue with your iPhone's SIM card. Because of that, it may be worth taking it out and putting it back in.
Just power down your device and look for a small SIM try on the side of your iPhone. You'll need a paperclip or a similar tool to pop it out.
If problems continue after reseating your SIM card, ask your carrier to provide you a new SIM card or switch to eSIM service instead of a physical SIM card!
Experiment with Wi-Fi calling
Some users have reported problems with iOS's Wi-Fi Calling feature. It's not clear if this may not be directly connected to missed calls. But it's possible a bug with the feature could be snarling your cellular connection.
Try making and receiving calls with the Wi-Fi Calling feature both enabled and disabled to see if it makes a difference. To turn the setting on or off, navigate to Settings —> Phone —> Wi-Fi Calling.
Reset your network settings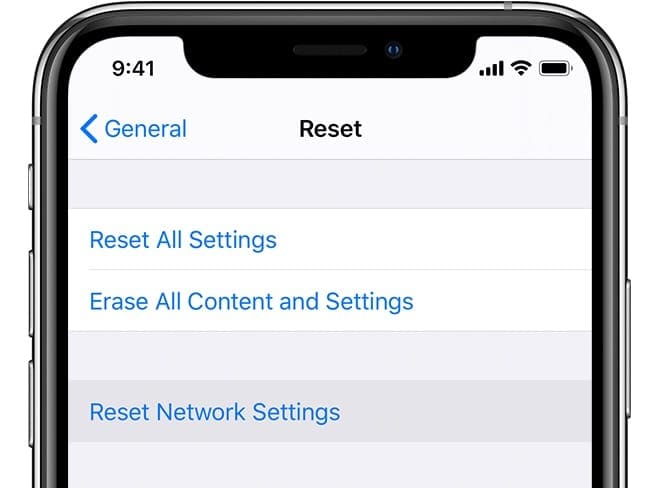 Some users have reported improved cellular connectivity and fewer dropped calls after resetting their network settings. This is actually a recommended troubleshooting move for any type of cellular, Wi-Fi or Bluetooth problems.
Just head to Settings —> General —> Reset and tap on Reset Network Settings. Do keep in mind that you'll need to reconnect to all of your Wi-Fi networks, and you may have to reconfigure certain cellular or VPN preferences.
Call your carrier support
If you keep experiencing dropped calls after all of the above troubleshooting tips, it's time to call your carrier. Dropped calls after a major software update isn't new. And, in the past, some users have fixed the problem by talking about their carrier.
First off, ask if your account is still active and about any outages in your area. If that all checks out, you may need to ask your carrier to reset your cellular connectivity from their end.
In the worst-case scenarios, they may need to send you a new SIM card. If that's the case, just make sure to update your Carrier Settings once you install it.
Mike is a freelance journalist from San Diego, California.
While he primarily covers Apple and consumer technology, he has past experience writing about public safety, local government, and education for a variety of publications.
He's worn quite a few hats in the journalism field, including writer, editor, and news designer.