Is there anything more annoying than your iPhone randomly hanging up on people? Many users complained their devices sometimes seem to develop a will of their own and randomly drop calls in mid-conversation. If restarting your terminal didn't fix the issue, pursue the troubleshooting solutions below.
Why Does My iPhone Hang Up by Itself When I Make a Phone Call?
Update Your iOS Version and Carrier Settings
Navigate to Settings, tap General, and select System Update. Install the latest iOS updates and restart your device.
Don't forget to update your carrier settings as well. Check if your carrier has rolled out new updates to improve network connectivity and performance. First, enable cellular or Wi-Fi data, and go to Settings. Select General, tap About, and check if there's any new update available next to Carrier. Follow the on-screen steps to install the updates.
Take Out the SIM Card
Power off your iPhone and remove the SIM card. Turn on your device and wait until it fully boots up. Then turn it off again, and insert the SIM card. Restart the terminal and check if the issue is gone.
Is Your iPhone Burning-Hot?
If your iPhone's really hot, it may automatically drop phone calls and other processes to prevent hardware damage. Take a break from using your phone, or turn it off completely. Remove your case,  and wait until the overheating problem is gone. Turn on the terminal, and check if it still drops your calls.
Disable Battery Saver
The battery saver option may automatically drop your calls when your iPhone's battery has reached a critically low level. Disable this option and check if the problem persists. Go to Settings, select Battery, and turn off Low Power Mode.
Contact Your Carrier
Many users complained their iPhones automatically hang up after two or four hours. Most carriers have set up call limitations that automatically drop calls after a certain time. Some carriers end calls after 60 minutes, while others have set up a four-hour window before cutting off your phone calls. Contact your service provider and ask them to give you more information about the call limitations in place.
Reset Network Settings
If your iPhone randomly drops the calls that you make over Wi-Fi or cellular data, try resetting your network settings. Go to Settings and select General. Then tap Reset and select Reset Network Settings. Keep in mind that this action will reset your network, VPN, and APN settings.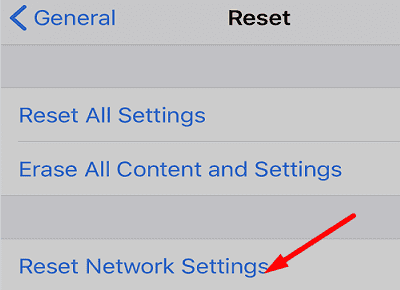 Conclusion
If your iPhone is randomly dropping calls in mid-conversation, check for updates and install the latest iOS and carrier settings updates. Additionally, remove the SIM card, wait for a couple of minutes and reinsert the card. If the issue persists, disable Low Power Mode and contact your carrier for further help. Which of these solutions helped you fix the issue? Let us know in the comments below.