The iPhone is capable of storing nearly any kind of information you can think of, from photos to contacts. Sharing this information with someone standing right next to you can be unnecessarily tricky, but not with AirDrop.
AirDrop is a handy feature built into the iPhone, iPad, iPod Touch, and Macs that makes sharing with someone nearby simple and easy. On an iPhone, AirDrop gives you easy Tap to Share functionality over all kinds of information.
You can share various photos and other information on your iPhone in various ways. Messages will share all sorts of information, but this isn't always the fastest way. You and the person you're sharing with also need either a cellular connection or a Wi-Fi connection.
AirDrop doesn't use your cellular data or Wi-FI. Instead, it directly communicates with other devices running iOS, iPadOS, or macOS. This means that regardless of where you are or what your connectivity may be, you can share photos, documents, and more.
AirDrop is also simple to use. That said, there are a few issues.
The Downsides of AirDrop
AirDrop is handy, but it isn't perfect. There are some quirky downsides that you may run into if you're not expecting them.
For some time, you couldn't share photos over AirDrop between iPhones and Macs, only with devices using the same operating system. This is no longer an issue, but if you're using older devices or software, you may have issues with some AirDrop functionality.
The other is that AirDrop can be finicky. Occasionally, you need to try to share an item two or three times before it will actually share. As long as you're patient, this isn't much of an issue, but it is worth mentioning.
To get started sharing, find the item you want to share. For our purposes here, we'll share a photo. Tap the share icon (a square with an upward facing arrow).
On the share sheet, you'll see the AirDrop icon. If you've used AirDrop before, you may also see commonly used devices listed in the quick access section of the share sheet. Tap the AirDrop icon.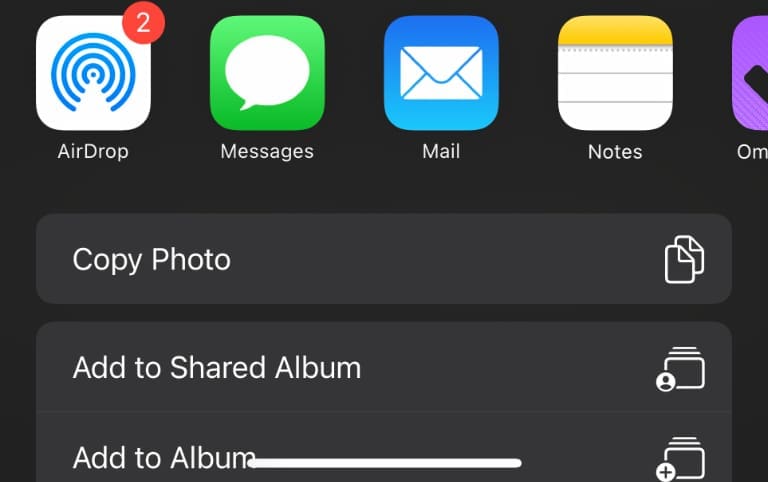 Here you'll see a list of nearby devices. Choose the device you wish to share with, and you'll see "Waiting…" appear underneath this icon while it transfers.
How to Receive via AirDrop
If you're trying to receive an item from another person, or you don't see their device when you try to share, you or they likely need to enable AirDrop. This is simple.
First, open Control Center. To do this on an iPhone with Face ID, swipe down from the top-right of the screen. On an iPhone with a Home button, swipe up from the bottom edge of the screen.
Now press and hold on the top-left group of controls to expand it. Now tap the AirDrop icon to turn it on. You can also press and hold to choose from Receiving Off, Contacts Only, and Everyone.

Now, you should see a prompt to allow AirDrop. Allow it, and now people should be able to share items with you.
If, on the other hand, you're receiving unwanted AirDrop messages, take a look at our guide to how to stop this from happening.
Kris Wouk is a writer, musician, and whatever it's called when someone makes videos for the web. He's an Apple nerd with a fondness for hi-res audio and home theater gear.