Got a sweet and featured packed iPhone 11 model (11, 11 Pro, 11 Pro Max) or iPhone X Series phone (XS, XR, or X) but missing the handy battery percentage in your status bar?
We've gotten so used to seeing this number in the top-right corner of our iPhones–it's a favorite feature that many of us rely on to monitor how our battery is performing.
Plus, it's super helpful in deciding when to toggle low power mode on or off.
But then you start up your new iPhone 11 or X Series (XS, XR, X) and guess what, it's not there! What gives?
Quick Tips 
Follow These Quick Tips To See Your Battery Percentage on an iPhone 11 or X Series XS, XR, or X
See the battery percentage from Control Center by swiping down from the top right corner
Charge your phone and percentage appears on-screen
Add the battery widget to your lock screen
Open the Battery Setting
Related Articles
Does the newest iOS show your iPhone's battery percentage at the top of the screen?
Nope!
Sorry folks, Apple did not make any design changed in the latest iOS version to add the battery percentage back in for iPhone 11 models and X Series iPhone users.
iPhone Battery Power! 
The good news first!
Your iPhone 11, XS, XS Max, and XR feature awesome batteries AND fast charging!
The iPhone 11 Pro models offer better battery performance than ever before–up to an additional 5 hours versus previous models. That's really awesome.
And the iPhone 11 Pro models come with an 18 Watt fast charger in the box!
For those using the iPhone XS, these models last about 30 more minutes than the X. And the XR a nice 1.5 hours longer than the iPhone X.
Both the XS and XR also offer fast charging, with up to a 50% charge in 30 minutes using an Apple USB-C Power Adapter (30W Model A1882 or 87W Model A1719).
The redesign means change!
Well, the redesigned iPhone X Series and 11 model phones feature a beautiful and bright screen that almost, yes almost, goes end-to-end and top-to-bottom.
But the one sacrifice, if we think of it that way, is the top "notch," the area of the screen where your front-facing camera lives.
And it's that notch that blocks out some real estate from the traditional iPhone top status bar.
And one of the primary victims of this redesign is your iPhone 11 or X Series' battery percentage–it just takes up too much space to include it as well as your battery icon.
So, how then do you see your iPhone 11/XS/XR/X's battery percentage?
It's all in your Control Center! Remember that reaching Control Center is a little different on your iPhone 11 or X Series.
Instead of swiping up, we swipe down from the right corner at the top of the screen. Right now using Control Center is the primary way you can only see the battery percentage on an iPhone 11/X Series.
Or add the battery widget to your lock screen
The only other way we discovered to view your battery percentage is charging up your iPhone, either via the lightning charging cable or via a Qi-supported wireless charging pad.
Add The Battery Widget To Your Lock Screen 
Navigate to your home screen and then swipe to the right
Scroll down that page and locate the edit button and press it
On the Add Widgets screen, look under More Widgets and tap the plus sign next to Batteries

The next time you swipe right from your home or lock screen, the battery widget appears
I personally put my battery widget at the top of my all my lock screen widgets so viewing the battery percentage is easy.
Not Seeing the Battery Widget on Your iPhone's Lock Screen? 
Try toggling on Today View in Settings > Face ID  & Passcode > Today View ON
Pair a new Bluetooth device, refresh a Bluetooth connection, or check that a BT device is currently connected
Toggle Bluetooth off and then back on again. Go to Settings > Bluetooth
When you pair your iPhone with an Apple Watch, AirPods or any other Apple wireless accessory (like Apple Pencil for iPads), you should see the battery widget
If you don't have any Bluetooth devices or Apple accessories, go into an Apple Store and pair your iDevice with a wireless/BT device in the store and you should see the option to select battery widget
Reset your network settings to refresh any connections. Go to Settings > General > Reset > Reset Network Settings

Performing a network reset removes any stored WiFi passwords, so have those on-hand to re-enter

Restart (power off and power back on) or Force Restart your device. To force restart,

On an iPhone 6S or below plus all iPads with home buttons & iPod Touches, press Home and Power at the same time until you see the Apple logo
For iPhone 7 or iPhone 7 Plus: Press and hold both the Side and Volume Down buttons for at least 10 seconds, until you see the Apple logo
On an iPad with no home button or an iPhone 8 and above models: Press and quickly release the Volume Up button. Then press and quickly release the Volume Down button. Finally, press and hold the Side/Top button until you see the Apple logo

Some readers found that resetting all their customized features helps get the battery widget back

Go to Settings > General > Reset > Reset All Settings

Choose to Reset All Settings on your iPhone.

This reset removes all customized settings, like wallpapers, accessibility settings, stored WiFi passcodes, and so forth and returns everything to default
None of your data (like photos, texts, documents, or app data) is impacted–just your customized settings and features
Check Your Battery Settings
For folks using iOS 11.3 and later, Apple includes a battery health setting.
Find it in Settings > Battery. 
This setting shows you the details of your battery over the past 24 hours as well as the past 10 days.
To see current levels, look at Last Charge Level.
Want to see the battery percentage on an iPhone 8 and below, iPad, or iPod touch?
For folks using older model iPhones (iPhone 8 and earlier) and any iPad or iPod touch (7th generation), you get to see your battery's percentage in the status bar!
Go to Settings > Battery
Toggle on Battery Percentage

Turn on the battery percentage option in Settings.
Or use Low Power Mode on your iPhone 8 or earlier. This feature is not currently available for iPad or iPod touch.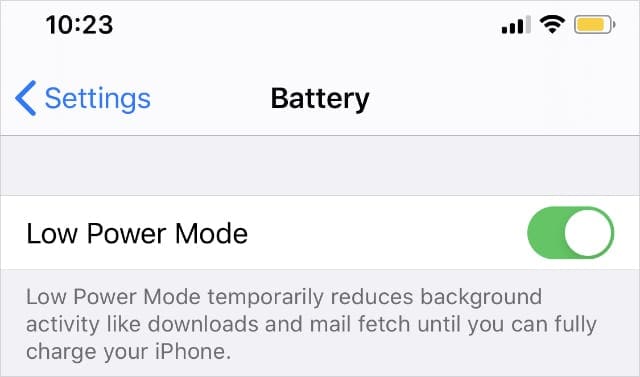 When you turn on Low Power Mode, the battery percentage always shows in your iPhone's status bar.
Our opinion on iPhone 11's and X Series's lack of on-screen battery percentage
We say yuck!
We want Apple to offer a way to customize the iPhone 11/X Series phones top status bar or at least an option to place the battery percentage in the status bar.
I certainly prefer having the percentage on-screen instead of the often useless battery icon.
So what do you think of this redesign? Works or doesn't work for you??
For most of her professional life, Amanda Elizabeth (Liz for short) trained all sorts of folks on how to use media as a tool to tell their own unique stories. She knows a thing or two about teaching others and creating how-to guides!
Her clients include Edutopia, Scribe Video Center, Third Path Institute, Bracket, The Philadelphia Museum of Art, and the Big Picture Alliance.
Elizabeth received her Master of Fine Arts degree in media making from Temple University, where she also taught undergrads as an adjunct faculty member in their department of Film and Media Arts.