We love taking pictures with our iPhones! The camera is one of the main reasons we are willing to pay the substantial price for our iPhones. From selfies to panoramic shots, our iPhones' camera captures it all. And it's usually pretty good taking photos even at night. But sometimes, it's mechanics are not enough to get a clear and beautiful picture at night or in dark spaces, and that's why we have our flash! Just like a traditional photographic flash, out iPhone's LED flash floods our scene with light, just for that quick instance when the camera shutter opens to take that image. But sometimes, when we take that nighttime picture, we see a very dark image indeed. For no apparent reason, our we discover that our iPhone's LED Flash is not working like it usually does. So let's get some help.
Unfortunately, several users have experienced problems with their LED flashes over the years. Either the feature does not work on their iPhones or works intermittently. If you find that your LED flash is not working on your iPhone, you are certainly not alone. Take a look at our tips to get your flash working again, so you snap all those nighttime shots AND see everyone in them.
Related Articles
Fast Track 
Turn on Show on Lock Screen in Notifications
Remove your iPhone from its case
Turn on LED Flashlight for Alerts
Turn off Do Not Disturb
Close Camera App
Turn off Lower Power Mode
Test Your Flash
First, let's find out if your flash isn't working. Open Control Center by swiping up on-screen to check your LED flash. You can even test right from your lock screen! Just tap the flashlight icon off and then on.
If the LED flash doesn't work as a flashlight, follow the steps below.
Turn on Show in Lock Screen
Make sure "Show in Lock Screen" is switched on in your Notification Settings for any Messaging app you want to see LED Flash Notifications for. Go to Settings > Notifications and select your app. Then under the section ALERTS, toggle ON Show on Lock Screen.
Look at Your Camera's Flash Setting
If the flash on your iPhone's camera isn't working, or conversely if it goes off every time you take a photo, check your camera app's flash settings. Open the camera app to take a photo or video and tap the lightning bolt icon in the upper left of the screen to choose a different setting.
Your options are Auto, On, or Off.  Update this setting to Auto if either On or Off are highlighted in orange. If Auto is already selected (in orange), change this to either ON or OFF, depending on what you want.
Troubleshoot Your iPhone LED Flashlight
Before you perform any of the steps below, remove your iPhone from its case.  Often enough, your case shifted and now blocks some or all of the LED Flash and possibly even your back camera. So, take a couple of seconds and check that there's nothing blocking the LED flash and camera lens. And if you're using a case, remove it. Then try to use the flash.
Step – 1 Check Settings
First, check out the Settings to make sure you have set it up correctly. Go to Settings >General >Accessibility. Scroll down to the Hearing section and make sure that the option "LED Flash for Alerts" is turned ON here.
Step – 2 Lock it Up
Keep in mind that this feature only works when your iPhone is locked. (Screen has gone dark). Click on the lock button on the side of your iPhone to lock it and then give it a try.
Step – 3 Turn Off DND
Check your Do-Not-Disturb (DND) Setting. If DND is on, this LED Alerts feature will not work. The same goes for the Airplane mode. Sometimes these settings get overridden when you accidentally press them in the Control Center. Swipe up from the bottom of the phone and make sure that the DND and the Airplane mode is appropriately set.
Step – 4 Close Camera App
Double tap on your home Button and check if you have the camera/flash app open. If So, shut the app by swiping it upward. Restart your iPhone and test your LED Flash functionality
Step – 5 Cool Down
In certain cases, your iPhone overheats due to usage and the LED flash may not work. If you take a lot of video or pictures with your flash on or use your iPhone in a hot environment, you get a message that says the flash is disabled. The message stays ON until your iPhone cools down to a normal operating temperature.
So if you see this message or suspect your iPhone's getting too hot, try switching off your iPhone for a few hours and then try to test the functionality. It's also a good idea to restart the iPhone by pressing the Home and Sleep/Wake buttons together for 10 or 15 seconds till you see the Apple Logo show up on your device. Occasionally resetting your phone this way can often help with problems.
Step – 6 Bring on the Power
Check your low power mode Setting. Switch it to OFF and then give your LED Flash feature a try. Sometimes, if you switch ON Low Power mode, it impacts this functionality. You can check your settings by tapping on Settings > Battery > Low Power mode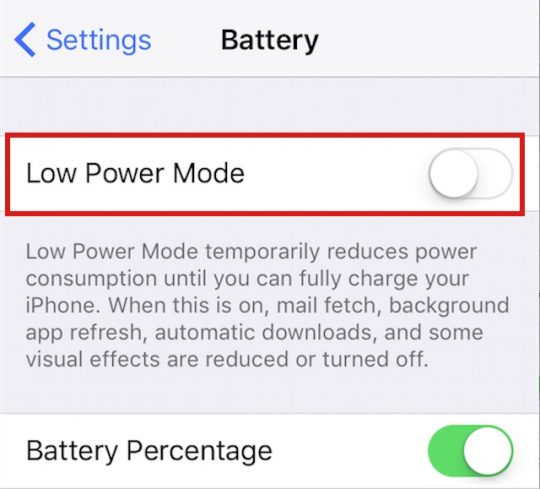 If the above steps do not work for you and you have checked your iPhone camera and made sure that your Flash is functioning properly, you may want to restore the iPhone.
Finally, if nothing works including a restore, the chances are that your iPhone's hardware is causing the problem. Some readers report success with pressing firmly around the LED flash on the back in a vise-like grip between the front and back of the iPhone. Proceed with caution if you try this tip out, pressing too hard could cause other damage (and most likely you won't know until something else fails.)  So again, perform this action at your own risk. If the LED flash still doesn't work as a flashlight, contact Apple Support.

Try swipe across from camera to video and then back again to the camera. It worked for me
Did a full restore via iTunes and it fixed it
Try using a 3rd party camera app. That did the trick for me
I force quit the camera app and relaunched it. It has worked since doing that
Open the Camera app then swipe across to Slo-Mo setting. The camera starts working and shows the view onscreen. When I swipe back across to normal camera, it lets me take pics
We hope that you were able to identify and fix this issue on your iPhone. Please let us know if you are still having the problem in the comments below.
Obsessed with tech since the early arrival of A/UX on Apple, Sudz (SK) is responsible for the editorial direction of AppleToolBox. He is based out of Los Angeles, CA.
Sudz specializes in covering all things macOS, having reviewed dozens of OS X and macOS developments over the years.
In a former life, Sudz worked helping Fortune 100 companies with their technology and business transformation aspirations.