This article demonstrates how to print double-sided (or two sided or duplex printing) on a Mac. PDF lets you print two-sided if your printer supports that feature. You may want to consider printing on both sides of the paper to save paper. Here is how:
Open the PDF file you want to print.
Choose File > Print.
Click the Printer button.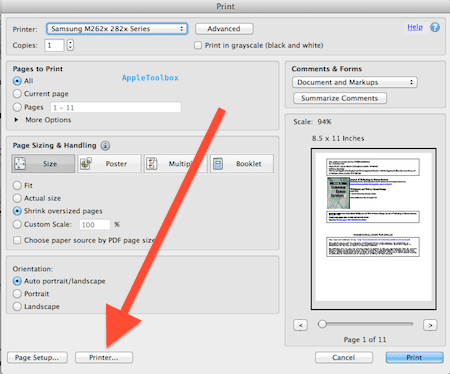 Select "Two-Sided" option and click the Show Details option.
You may change layout and/or binding options, if you like. Select the Long Edge binding if you want your document to be like a book and select the Short Edge biding option if you want your document to be like a legal pad.
Click Print, and then click OK to print.
You may save this as your default setting by creating a print options preset. To do this, open the Preset menu, choose "Save Current Settings as Presets…"
Give it a name (e.g., Double Sided) and then, click OK.
Related:
Obsessed with tech since the early arrival of A/UX on Apple, Sudz (SK) is responsible for the editorial direction of AppleToolBox. He is based out of Los Angeles, CA.
Sudz specializes in covering all things macOS, having reviewed dozens of OS X and macOS developments over the years.
In a former life, Sudz worked helping Fortune 100 companies with their technology and business transformation aspirations.