After upgrading to macOS Catalina, you might experience problems trying to print anything from your Mac. This is a common issue in part because Catalina does away with 32-bit apps, which your printer may depend upon. 
It's probably fair to say we've all already spent too much of our lives trying to make printers print. So save yourself some time and use the instructions below to fix it quickly.
Related:
You need a 64-bit printer driver for macOS Catalina
Apple's latest software upgrade improves the performance of your Mac by losing its 32-bit architecture. App developers used this architecture before 64-bit technology superseded it, delivering faster performance with more memory.
Apple explains that 32-bit apps don't deliver the premium user experience the Mac is designed for. So they're no longer compatible.
Most app developers are ahead of the game on this, since Apple has been working towards the transition to 64-bit apps for several years, and have already released 64-bit versions of their apps.
But there are still a lot of "legacy" apps that developers haven't upgraded to 64-bit.
How do 64-bit apps relate to macOS Catalina printer problems?
If your printer needs a driver to work with your Mac, you need a 64-bit version of the driver for macOS Catalina. Most printer manufacturers already released 64-bit updates to their drivers, so you should check for new updates.
Discontinued printers may never get a 64-bit driver, making it very difficult to fix problems with it in macOS Catalina. 
Visit the manufacturer's website to get the latest software to use with your printer. If they don't offer a 64-bit driver, you have four options:
Contact the manufacturer and ask them to develop a 64-bit driver.
Or find an alternative app, driver, or printer that works in 64-bit.
How do I know which apps are 64-bit on my Mac?
From the menu bar, go to  > About This Mac > System Report.
Scroll down to "Software" and select "Applications."
Find and select the relevant app from the list at the top of the window.
Next to the "Kind" section of the app, it says 64-bit or 32-bit.
What to do if you still have printer problems in macOS Catalina
If your printer doesn't use a driver or if you already have a 64-bit driver installed, use the instructions below to resolve other common printer problems in macOS Catalina.
Let us know which step fixes it in the comments at the bottom of this post.
Step 1. Check your printer's compatibility
Modern printers usually support driver-less technology, allowing you to print from any computer without installing additional software. Sometimes this comes in the form of Apple's AirPrint, which also lets you print directly from iOS and iPadOS devices.
However, even if your printer doesn't use a driver, you still need to make sure it is compatible with a Mac. Check Apple's list of compatible printers:
Step 2. Restart your printer and Mac
You should turn your printer off and on, as you would do with anything else that stops working properly. Make sure you restart your printer using its power button, rather than unplugging it from the wall.
Restarting your printer may mean you lose items in the print queue. Make a note of them before you restart it.
Take this opportunity to restart your Mac. From the menu bar, go to  > Shut Down and choose to shut down. Wait at least 30 seconds before pressing the power button to turn it on again.
Step 3. Reconnect the printer to your Mac
If you've still got problems using your printer with macOS Catalina, try removing it from your Mac altogether, then reconnecting it. As you reconnect the printer, macOS may prompt you to download new software or drivers.
If you use a wired printer, disconnect the cable that links it to your Mac.
If you use a wireless printer, go into the printer's settings and disconnect it from Wi-Fi.
On your Mac, go to  > System Preferences > Printers & Scanners. Select your printer from the sidebar then remove it by clicking the Subtract (–) button. Wait at least 30 seconds, then click Add (+) and follow the on-screen prompts to reconnect your printer.
Step 4. Reset the printing systems in macOS Catalina
It's very easy to reset the printing systems in macOS, and doing so can resolve all manner of printing problems on your Mac. If your printer still doesn't work, this might be the solution you need to use to fix it.
From the menu bar, go to  > System Preferences > Printers & Scanners. Control-click in the sidebar that lists your printers. Choose to "Reset printing system…" then confirm you want to "Reset" in the pop-up.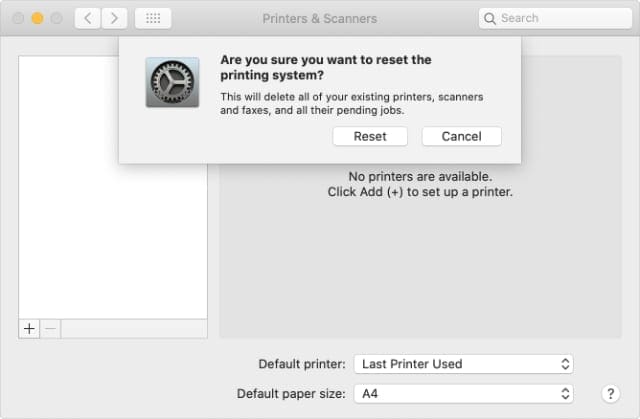 Resetting the printing systems removes all your printers and scanners as well as clearing various behind-the-scenes files. Reconnect your printer afterward, as you did in the previous step.
Step 5. Remove the printer settings from your Library
Your Mac stores all manner of system files, preferences, and other settings in a hidden folder called the Library. When an app misbehaves, sometimes it's because these files are corrupt. 
You can usually fix this by removing the relevant files, forcing macOS to recreate them. However, you need to be cautious before removing anything from your Library. These files can affect the way your macOS works.
Make sure you only touch the files in the folder listed below. And don't move anything to the Trash until you're certain your Mac is still working.
How do I remove the printer settings from my Mac's Library?
Open Finder, select Go > Go to Folder.
Type: /Library/Printers/ and hit enter.
Create a new folder called "Printers Content" and move everything from the Printers folder inside it. Now drag that folder to your Desktop.
Reconnect your printer and try printing again:

If it works: Move the "Printers Content" folder to the Trash.
If it doesn't work: Return the "Printers Content" folder to the Printers folder and empty it.
Did these steps fix your printer problems on macOS Catalina? Let us know in the comments what did or didn't work for you! And be sure to contact Apple Support directly for one-to-one technical support if you need more help.
Reader tips
First, I set my printer up using WPS/Wifi Network. Then, I deleted the printer from the preferences. Once deleted, I rebooted and re-added the printer as an IP. Works now!