Want to have your Podcasts app keep playing your playlist (Up Next queue)? Finding that when one episode ends, the next one does not start automatically and instead, Podcasts simply stops?
When Apple completely redesigned the Podcast app back with iOS 11, this new version of the Podcasts app caused a slew of issues and user complaints that continue to the latest iOS version iOS 13 and the first iPad-only iPadOS.  Many Podcasts app listeners could not get their podcasts to play continuously!
Related Reading
How to get the Podcast app to continuous play podcasts
Back in the "old days" (iOS 10 and below), iOS' Podcasts app automatically played the next podcast episode after the current episode ended. With the redesigned Podcasts app in iOS 11+, Apple changed the defaults for continuous playback.
First, check the settings for the Podcast app to make sure the feature is enabled.
Check Podcast app settings
Open Settings > Podcasts
Scroll down to Podcast Settings 
Toggle on Continuous Playback
This feature works to automatically play the next podcast episode that's in your Up Next Queue.
How to create a podcast station in the Podcasts app
In Apple's Podcasts app, stations function like playlists. When you create a station, you essentially create a personalized radio station, where you get your favorite podcasts in one place.
With stations, its easy to organize and sort through all your podcast subscriptions.
Stations also are a nifty trick to get your podcasts playing continuously outside of the Up Next queue.
In order to get things working properly, you first need to create a Station in the Podcast app.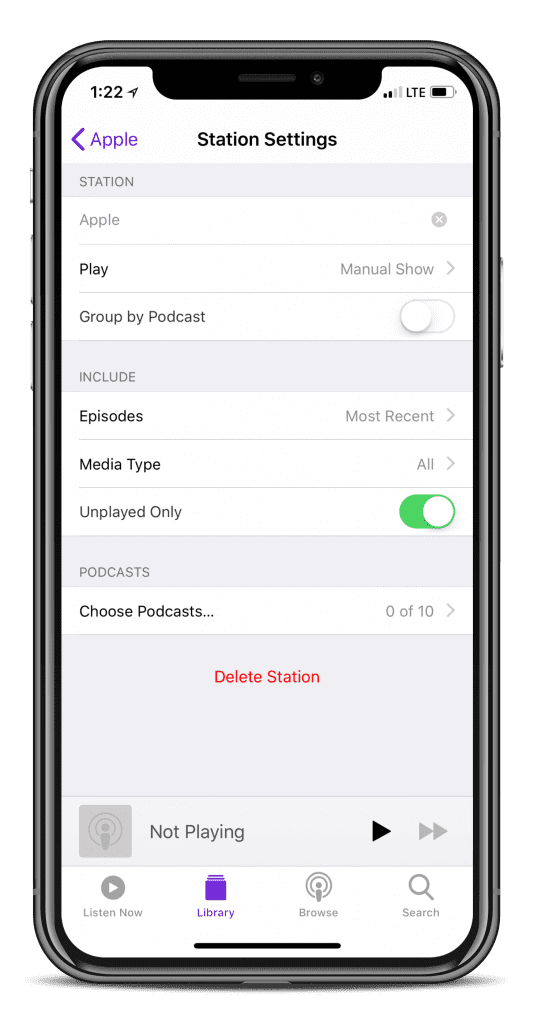 Create a Podcast App Station
Open Podcasts
Select Library
Tap Edit > New Station
Type in a name for your station (we like using categories, like murder mystery, self-help, etc.)
Tap Save 
Select your Station Settings
After creating a new station, iOS automatically directs you to a settings page where you complete a few more steps to customize your station.
If you don't want to change these settings now, you can change them later by going to Library > Your Station > Edit > Settings.

Name: tap to change the name of your station
Play: adjust the sort order for episodes. Choose from Manual Show Order, Newest to Oldest, Oldest to Newest, or Manual
Group by Podcast: toggle on to group multiple episodes of the same podcast
Episodes: select how many episodes of each podcast you want iOS to automatically add. Choose from the most recent episode or between the most recent 2, 3, 5, 10, or all episodes
Media Type: select the type of podcast media you add to your station. Choose from all, audio, or video
Unplayed Only: toggle on to only add unplayed episodes to your station
Choose Podcasts: Select the podcast shows you want on your station. Only subscribed shows are listed
How to delete a Podcast app station
If you don't want to listen to one of your stations anymore, it's easy to delete it.
Just return to those Podcasts App Station settings via Library > Your Station > Edit > Settings
The tap Delete Station
Confirm that you want to delete the station
Stations are your Podcasts app playlists
For those who listen to a variety of different podcasts, these stations act as a proper playlist.
Essentially, you create different stations where each station has a specific focus or category. For example, place all of your Sports or Murder Mystery podcasts in one station, while your geeky and techy podcasts are in another station.
Don't want to create specific stations? Use your Up Next Queue for continuous playback
There is another feature in Apple's Podcasts app which allows you to continuously play episodes–the Up Next Queue.

First, make sure you toggle on the setting Continuous Playback in Settings > Podcasts
To get started, find a podcast episode that you want to listen to–it can be an episode from ANY podcast you subscribe to
Tap the episode's Details button
Then, tap the three-dot menu More button 
Choose Play Next
Repeat this task until you add all the episodes you want to your Up Next Queue
This process is often time-consuming. However, if you don't want to create specific stations, the Up Next Queue is your next best option.
For a detailed look at iOS Podcasts app's Up Next Queue, take a look at this article How to Manage the Up Next Queue in the Podcast app in iPadOS & iOS 13-11
Is continuous playback not working in Podcasts App on your iPhone, iPad, or iPod?
Check that you enabled to setting Continuous Playback in the Podcasts App settings.
Find another Podcast app
It may come as no surprise that the Podcasts app from Apple frustrates many folks. These problems led many users to decide to get away from this app and looking for better options.
Take a look at this article Battle of the Apps: Overcast vs Pocket Casts vs Podcasts for a head to head on the most popular Podcast Apps for iOS.
Some personal recommendations are as follows, all of which have proper podcast playlist features:
Overcast – Free w/in-app ads. Offers iOS and web client, along with the best 'Smart Speed' functionality on the App Store.
Pocket Casts – One time $5.99 price. Clean design, and is available on iOS, Android, and the web.
Castro – One time $2.99 price. Easy-to-use interface, but lacking features offered by Overcast and Pocket Casts.
There are plenty of podcast apps on the App Store, so if you're tired of Podcasts, you won't have to worry about left missing out. If you have found a proper replacement, be sure to let us know about it in the comments below.
Andrew is a freelance writer based on the East Coast of the US.
He has written for a variety of sites over the years, including iMore, Android Central, Phandroid, and a few others. Now, he spends his days working for an HVAC company, while moonlighting as a freelance writer at night.