Can't figure out how to use Apple Podcast App? Having problems with playlists or getting the Podcast App to play in sequence? Or just feeling lost inside the app? If so, you are not alone!
It's always a love and hate relationship with changes that Apple introduces in its Apps. Most folks, in our opinion, are not digging the changes that Apple introduced in the podcasts app with iOS 11.
In this article, we cover a few short tips that help you customize the Apple Podcast app to your personal preferences so that you can make the best out of your podcast experience.
First Things First.
Yes, Apple removed the old playlists feature from the new Podcasts app in iOS 11+.
So let's get familiar with the Up Next Queue, the Chapters feature, and the other Podcast App settings.
Related articles
Podcasts App comes to Apple Watch and macOS!
With watchOS 5 and above, Apple's Podcasts app comes to Apple Watch! We've waited a long time for this one.

So when you are out and about, control your Podcast App from your wrist instead of your iPhone. And for folks with LTE Apple Watches, leave your phone at home and still enjoy the Podcast App while on the go!
With watchOS 5 and above, even ask Siri to queue up that next podcast episode.
And with macOS Catalina, we finally get the Podcast app for Mac too!
Other iOS 12+ Podcasts app features
How to use chapters in Apple's Podcasts app
iOS 12+ sees the return of a beloved but previously removed feature: Podcasts chapters. Apple Podcast App (iOS 12+) now fully supports MP3 chapter markers, which is excellent news for folks that listen to all those podcasts formatted as MP3s!
Note that not all podcasts provide chapters, so if you don't see this option in your podcast, it's likely the developer did not include it.
This feature requires iOS 12 and above.
How to use Podcasts Chapters
Open Podcasts and choose an episode
When the episode starts to play, swipe down and tap the Chapters option to show any chapter details (it's just below Description)

Remember, not all podcasts include chapters

To change chapters, just tap on a new chapter's name
Immediately, your podcast jumps to that time and starts playing

If you paused the podcast paused, press play after choosing your chapter

Below the Podcast's playbar and volume slider, you see the name of the chapter that's currently playing, indicated the animated purple icon
Use Siri to skip chapters too!
Basics of the Podcasts app Play Next / Up Next Queue in iPadOS and iOS 13-11
The Up Next Queue is not easily visible in the app.
While your podcast app is playing, you need to scroll up a little to find your up next queue.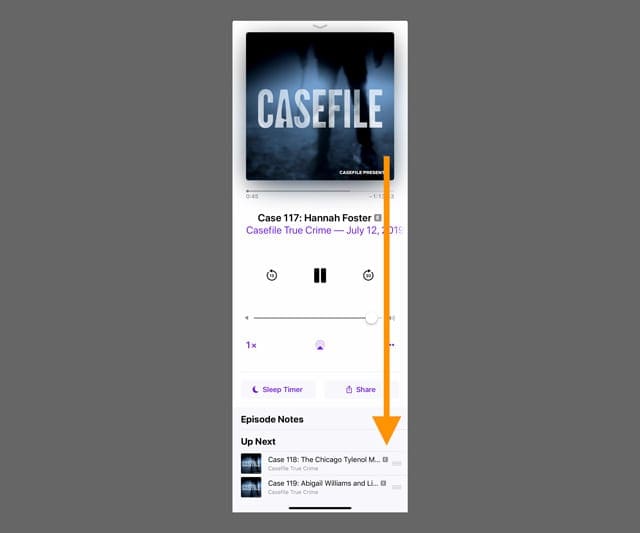 The Up Next shows all the different episodes from the various shows that are queued up to play.
Playing a Podcast on an iPad?
Things look a little different on an iPad versus an iPhone. But the mechanics are the same.
Find your iPad's Now Playing feature in the lower-right corner of your iPad's Podcast app. 
Tap your iPad's Now Playing to open up all your Podcast Player's features, including controls, sleep timer, share button, episode notes, and to see what's up next in your Podcast playlist. Scroll down to see your entire Up Next Queue.
Don't see an Up Next list?
There is no "up next" displayed if you don't actually have anything queued.
How do I change the sequence of episodes in the Up Next Queue?
It is easy to change the sequence of the episodes in your Up Next queue for the podcasts.
Once you have scrolled up to access your Up Next queue, press on the 3 horizontal bars on the far right of the episode and you can drag it and drop it to change its play order list in the queue. 
Problems using Up Next on an iPhone?
Some of our readers let us know that the Podcast App is not allowing them to change the order of their Up Next list on their iPhones.
Specifically, they do not see the three horizontal bars next to their upcoming Podcasts, and they are also unable to swipe to remove a specific podcast from their list.
If your Podcast app is experiencing this problem, try the following:
Close the app by double pressing Home or swiping up the Home Gesture Bar
Locate the Podcast App Preview, and swiping up to close
Restart your device
Launch the Podcast App again
If that didn't help, go through these steps again using a forced restart instead of a normal restart
A few readers say that changing their Episode Display Settings to "Play Most Recent First" also fixed this particular issue. To do so, tap Library > Shows > Select a Show > Tap the three dots > Settings > and change Episodes to Play Most Recent First.
How Do I add an episode to the Play Next Queue?
Adding and removing episodes from the Up Next/ Play Next queue is easy.
While you are exploring the various episodes of any given show, tap on the 3 dots inside a circle on the far right of the screen and then choose Play Later.
This action adds the episode to your play queue.
What about removing an episode?
This process removes individual episodes from your device.
Deleting episodes from your Podcast App's Up Next queue or Podcasts > Library > Episodes is reasonably straightforward.
Swipe towards the left from the episode's name to find the option to remove the episode from your play queue.  
You can also tap each episode for more information. Select the three dots in a purple circle, then tap Delete from Library to remove that episode. 
For more information on the Up Next Queue in Apple's Podcast app, see this article How to Manage the Up Next Queue in the Podcast app in iPadOS & iOS 13-11.
Automatically play podcast episodes continuously
If your Podcast isn't playing the next episode one after another, check that you enabled Continuous Playback in your Podcast Settings. Go to Settings > Podcasts > and toggle on Continuous Playback.
That should do the trick!
For more information on setting up automatic continuous playback, see this article How to play podcasts continuously in iOS 13-11 & iPadOS with Apple's Podcasts app.
How do I change the order of episodes for my podcast shows?
If you are in the process of catching up on older podcasts, you may perhaps want the older un-played episodes first followed by the newer ones. To change the sequence, you will need to access the "Settings' for the show.
In the Podcasts app, tap on the 'Library' tab and then select Shows. Tap on the show whose sequence you want to change. Next, tap on the three dots within the circle icon on the far right of the play row.
On this next screen, choose Settings and under Episodes, select Custom Settings.
Here you can choose to change the order of the episodes from 'Newest to Oldest' or choose 'Oldest to Newest.'
How to customize the options for your Podcast Shows
Not only can you customize the episode order of your favorite podcast shows, but you can also change other settings options to tune the experience to your liking.
Start with Download Episodes in the Custom Settings area. The default option is "Only new." You can change it to 'All unplayed' if you want to download older episodes that you missed out. You can also set this to Off and manually download episodes.
If you do decide to set it to download new or unplayed, you may want to check the high-level settings for cellular data usage if that is a concern. Tap on Settings > Podcasts > and choose to enable 'Only Download on WiFi".
Similarly, you can mark the episodes for deletion to save storage space once you have listened to them by enabling 'Delete Played Episodes' in the main podcasts app settings.
In the custom settings for the Podcast show, you can also customize the limit episodes settings and choose from a variety of options to match your preference.
You can also customize the refresh frequency of the episodes for your podcast shows here in the custom settings.
Take time to explore these settings to make the best use of the options that are most suitable for you.
Save your Podcasts
Select your Podcast Library and choose Shows

Tap the podcast show's name

Choose the specific episode you want to save from My Episodes, 

Available Episodes or Previously Played 
Press the More Button (those 3 little dots in a circle)
From the pop-up menu, choose to save episode

If you already saved the episode, you don't see the option to save in this menu
iOS confirms on-screen that the Podcast Episode is Saved

Find your saved Podcasts
Tap Library

Choose the particular podcast you want to listen to

At the main page for that podcast, scroll down past all of My Episodes

You find Available Episodes, Saved Episodes, and Previously Played

Tap Saved Episodes
How to set up a sleep timer with Podcasts in iOS 13-11 and iPadOS
Setting up the sleep timer is relatively easy. You find the option under the Now Playing screen.
Tap on the Sleep Timer button and choose the time limit that you want to use or set it to go to sleep after the currently playing episode ends.
You can also choose to add the Podcast app to your iPhone Widgets for easy access. This widget allows you to start playing the episodes of any given show by merely tapping on the show icon on the podcast widget.
When you 3D Touch on the Podcasts app on your home screen, you will find the option to refresh your podcasts as well as add in the podcast widget to your iPhone.
How To Unsubscribe from podcasts with iOS 13-11 and iPadOS
Unsubscribe from podcasts via iPhone, iPad, or iPod Touch
Go to Podcasts > Library > Shows to see this list of podcasts you currently subscribed to
Choose the show(s) you want to unsubscribe from
Tap the podcast, then tap the three dots in a purple circle
Choose Unsubscribe from the list of option

Your device(s) no longer downloads any new episodes
If you stopped listening to a show, you don't see the option to unsubscribe

Select Delete from Library to remove all downloaded episodes from your device(s)

Downloaded episodes don't have an iCloud icon next to them, so you need to delete these 
When you unsubscribe from a show, episodes in your Library and those downloaded to your device for offline listening don't remove. To unsubscribe and delete all episodes from your Library and device, tap the three dots then tap Delete from Library.
Unsubscribe from a Podcast In iTunes
Tap the three dots to the right of the show's title and choose Unsubscribe Podcast
To delete a specific episode, right-click or Control-click on the episode and choose Delete from Library
Unsubscribe from a Podcast on an Apple TV
Scroll to the bottom of the unplayed episodes list, then select Podcast Settings
Under Show, change subscribed to unsubscribe
In Summary
We hope that some of these items provided you with additional clarity around using the podcasts app in iOS 11+.
If you are open to exploring third-party apps to get the best out of your podcast listening experience, you may want to check out Overcast or the Pokectcast app in the app store. You can also learn more about the iOS Podcasts experience from Apple site.
Please let us know in the comments below if you have any questions or if you like to share a favorite tip of yours when it comes to using Podcasts on the iPhone or iPad.
Obsessed with tech since the early arrival of A/UX on Apple, Sudz (SK) is responsible for the original editorial direction of AppleToolBox. He is based out of Los Angeles, CA.
Sudz specializes in covering all things macOS, having reviewed dozens of OS X and macOS developments over the years.
In a former life, Sudz worked helping Fortune 100 companies with their technology and business transformation aspirations.