The Podcast app has been around on the iPhone for a while. Although there are many awesome third party apps such as Overcast, many users still use the Apple app to enjoy their podcasts. Most of the time, the app functions as intended. There is, however, those instances when you run into various podcast download issues and it's frustrating to tackle these problems.
These download related problems include issues with podcasts not downloading at all to partial downloads or stuck podcast downloads.
Related Articles
Podcast Download Not Working: Repairs in Action
The challenge with troubleshooting download related issues is that there could be many reasons that might lead to download issues starting with your network connection, signal strength, a particular podcast in question, iOS version, the status of Apple servers or defect in the app.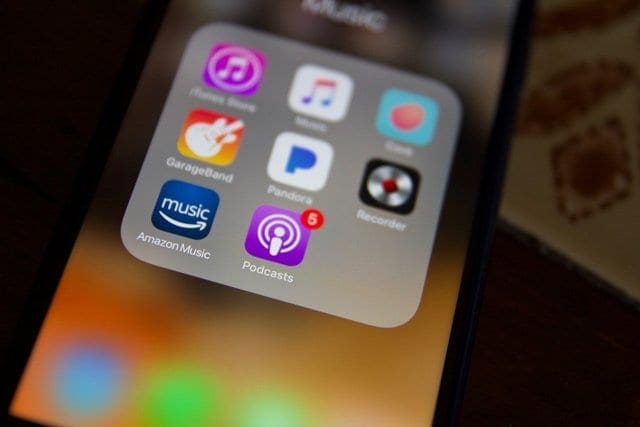 In this article, we highlight a few tips that might help you fix the podcast download issues on your iPhone or another iOS device
10+ Tips to Get Your Podcasts Downloading Again
The first thing is to make sure that Apple content servers are up and running and not down due to maintenance or other reasons. Open your browser and check the Apple system status page.  If there is an outage, the download issues may be just related to that. Give it some time and try again. 
If you have just started to experience podcast download issues following the latest iOS upgrade, try restarting your iPhone and see if it helps with the problem.
Some users find that resetting their network settings fixes the problem. Go to Settings > General > Reset > Reset Network Settings. Be mindful that this action removes any stored WiFi passwords, so have those written down or available to re-enter.
Tap on Settings > Podcasts > Download Episodes. Ensure that this is not set to Off and is pointing at 'All Unplayed' instead. 
Check the network settings for Podcast downloads. Tap on Settings > Podcasts > PODCASTS SETTINGS. Are you trying to download via cellular or just wi-fi? Sometimes we set it up for Only Download on Wi-Fi and experience download issues when the wi-fi is not available or very weak. 
You can toggle the setting to switch off Only Download on Wi-fi and use cellular just to test if that helps with your issue. That way you can isolate if it is a Wi-Fi driven issue.
Change the DNS for your Wi-Fi connection and point it to either OpenDNS or Google's public DNS and see if the episodes start downloading. Tap on Settings > Wi-Fi > Choose the Wi-fi connection that you are using and tap on the 'i' icon on the far right. Next, go to the DNS row and edit it to 8.8.8.8 & 8.8.4.4 and save your settings. Check if that helps with your wi-fi speed and download problems. 
Toggling the Airplane mode has also helped many users. Swipe up on the main podcast app screen to access control center. Toggle Airplane mode to ON, wait for a few seconds and then turn it OFF. Check and see if your podcasts start downloading. 
Connect your iPhone to Power source. Next, Tap on Settings > Podcasts > Sync Podcasts. Try toggling this setting to OFF and ON a couple of times and wait about 5 seconds or so between the toggles. This action sometimes help with the issue. 
Close the Podcast app and restart your iOS device. Open the Podcast app and try to refresh and see if it works. If your iPhone or iPad is running iOS 10 and higher, you can delete the Podcast app from your device and then re-install the app. The delete and re-install process can sometimes solve the issue around partial downloads. The other thing to do with partially downloaded/stuck episodes is to cancel the download and restart it. 
The last option here would be to restore your iPhone and check if it fixes your issue. Restore is time-consuming for many of us. We recommend that you try out a third party app such as Overcast and check if you are still experiencing the download issues before your restore your iPhone.
We hope that one of these ten tips help you with this frustrating issue. If you are still not having success, you can reach out to Apple Support and see if they can assist you with the issues.
Obsessed with tech since the early arrival of A/UX on Apple, Sudz (SK) is responsible for the original editorial direction of AppleToolBox. He is based out of Los Angeles, CA.
Sudz specializes in covering all things macOS, having reviewed dozens of OS X and macOS developments over the years.
In a former life, Sudz worked helping Fortune 100 companies with their technology and business transformation aspirations.