2017's WWDC showcased some interesting new products, like the iMac Pro and Homepod, but it was Apple's latest iOS update that stole the show. iOS 11 is a completely redesigned operating system with major overhauls to Siri as well as many other new features including the redesigned Control Center.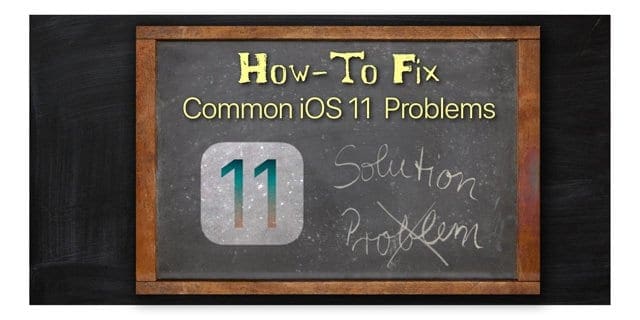 A persistent complaint leveled at iOS is that it has always lacked a proper file viewer. The new iOS 11 Files App changes that by allowing users to integrate cloud-based files onto their device from different sources.
At a more internal level, the entire camera compression has been revamped. Your Photos now take less space and the portrait mode works better in low light.
In this article, we highlight some of the common issues experienced during installing iOS 11 and provide guidance to other common problems users face after installing this latest update. 
Most of these issues relate to common settings that have changed in iOS 11 while others provide some extra tips that have proven handy over the course of many prior iOS upgrades.
First Things First….
We start by looking at common issues faced during iOS 11 Install and Update process and then dive into some of the other areas.
If you have not updated your iDevice to iOS 11 yet and are reading this article, please do yourself a favor and make sure you back up your device before installing the update.
RELATED POSTS
Install Problems with iOS 11, Comprehensive Guide
Sometimes when you go to Settings > General > Software Update, the update fails to install on your iPhone or iPad. The easiest way to fix this issue is to connect your iDevice to a computer running the latest iTunes version.
Once you are connected, open iTunes and click the device icon near the top left. Click Summary in the left-hand pane and then click on Check for Update.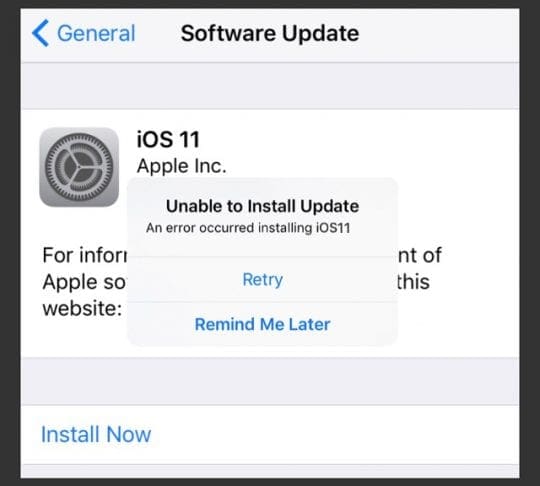 That should get your update process started on your iPhone and iPad. Most of the time, the update process is a smooth sailing process when you install the update via iTunes.
If you run into issues while trying to install the update on your iPhone or iPad, refer to our comprehensive guide that walks you through a step-by-step process for fixing iOS 11 install issues.
In the article, we provide tips on how to fix failed updates and handle issues such as "Error Occurred During Update".
RELATED POSTS
iPad Shows a White Screen with Apple Logo and gets stuck
We see this issue from time to time with many of the iOS upgrades. Users find that after upgrading to iOS 11, their device works well for some time and then suddenly starts rebooting. It keeps rebooting until the Apple logo simply flashes. This boot loop on iPad and iPhone usually happens with devices that have received their updates via OTA (Over-The-Air) rather than via iTunes.
The best course of action to fix this issue is to let your iPhone or iPad stay disconnected from a power source. Let the battery completely drain out of the device. Once the battery has drained out, connect your device to a power source and let it start up on its own.
That simple operation usually fixes it for many users.
If the step above didn't fix your issue, your next course of action is to use iTunes to install the downloaded image and then set up your device as a new iPad or iPhone.
RELATED POSTS
Missing Content After the iOS 11 Update, How-To Fix
After a successful update of your iDevice, it's normal to check out all your content to make sure that they are all there. These could be your Photos, iBooks or your Apps. Due to some weird reason, the content sometimes appears out of sync following an iOS upgrade. Either you find some apps missing or some content missing on your iPhone or iPad.
If you backed up your iPhone or iPad before the iOS 11 install, you should have no problems in recovering the content from your iCloud setup.
In this section, we highlight some of the common ways to deal with missing content and apps on your iPhone or iPad following the update.
Mail App has Disappeared, How to Get it Back
A common issue faced by many users relates to missing apps on the iPhone or iPad.
Beginning with iOS 10, Apple allowed users to delete some of the built-in Apple apps from your device. Many users accidentally delete an app like Mail, Calendar or Facetime and cannot find it on their device.
If you see that you are missing one of the built-in apps on your device, add it back from the App Store.
Open the App Store on your device and search for the missing app by name. Simply click the iCloud icon to download the app back onto your iDevice.
Mail App Not Working?
Right after the upgrade, it is likely that your Mail does not work as in it doesn't fetch any new emails or calendar items. You can easily fix this by simply restarting your iPhone. If Restarting doesn't work, go to your email account settings and re-enter your user id and password for your email account. That should take care of it.
Swipe to Delete Mail Not Working on iPhone or iPad?
All too often an iOS update returns our email settings back to defaults, so we need to update things on our iPhone. With iOS 11 that means visiting our new Accounts & Passwords Setting and changing some email account settings. Take a look at our article on Swipe to Delete Mail Not Working for step-by-step guidance on how to do this using that new Accounts & Passwords menu.
Mail Not Working with Microsoft in iOS 11
For many people, emails on Microsoft Exchange account is not working. Many academic universities that use Microsoft exchange have requested their students to wait on the iOS11 upgrade. Some are finding success by either restarting or re-entering credentials. This is a known issue following the upgrade and it appears that Apple and Microsoft created a fix available in the iOS 11.0.1 release. Go to Settings > General > Software Update and see if there's a minor iOS update available. If so, update–but backup first!
If you don't see this update or don't want to update, Microsoft's recommended workaround is to use the free Outlook for iOS client from the App Store. This app works on iOS 11 and supports these email services, including Outlook.com, Office 365, and Exchange Server 2016.
For more info on this error and its status, please see Apple's Documentation and Microsoft's Documentation.
Please note that the Mail Account settings have moved in iOS 11. You will not find them under Settings > Mail but rather under Settings > Account & Passwords.
Photos are Missing After the iOS 11 Upgrade, Here's How to Recover
If you find that you are missing content from your iPhone or iPad after the iOS 11 upgrade, easily recover them from your iCoud backup.
Depending upon how many Photos you have stored, the recovery may take some time.
Follow our step-by-step guides to recover your Photos, Contacts or iBooks below
Keyboard Shortcuts Missing
Many of us love our keyboard shortcuts and use them every day. But after updating to iOS 11, they aren't there. And we can't find any setting to get them back! What's going on?
Sadly, Apple decided to remove the keyboard shortcuts with iOS 11! Oh, the agony. Instead, we get the new One-Handed Keyboard for iPhones and a revised QuickType Keyboard for iPad. To learn more about these features, check out this article.
 RELATED POSTS
The process of recovering is essentially the same for any type of content that you back up into your iCloud.
Where can I find my videos and iTunes Movie content on iOS 11?
For some reason, several folks find that they cannot locate their video content on their iOS device. Either the TV App is missing from the device or when they open the app, they're unable to locate all or some of its' contents.
If you cannot locate the app, the best thing to do in this case is to go to the App Store and download the TV App onto your device. Once the app installs, open it and you should be able to locate your videos.
If your TV App is missing content, try downloading that content again by searching for it by name.
Where do I find this in iOS 11?
With every major iOS upgrade, Apple either adds new settings to manage new functionality or makes changes to existing settings. This is sometimes confusing when you are starting out with the new update on your device.
iOS 11 is no different.
Four of the most common questions that we have fielded from readers when it comes to iOS 11 center around Airdrop, Siri, Account Settings, and Auto-Brightness.
We strongly recommend that you take time in reviewing all the new Account settings in iOS 11. All your email accounts related to your Mail app have now been moved into a separate place.
iOS 11 also has added new password features that you can setup for apps using Safari profile etc. We have covered at length some of these new account management features in the article below.
RELATED POSTS
The articles above are short articles that explain changes to some of the common settings in iOS 11 and provide you with tips around using the new features.
Quick Settings Tip!
When in doubt, the easiest thing to do is to use the search functionality or Siri functionality to locate the missing setting. When you tap on Settings on your main screen, find the search box right on the top.
Type in the setting that you are looking for and the system shows you all the search results related to that setting under it. Tap on any of the results and it will take you directly to the setting on your iPhone or iPad.
Other Issues with iOS 11 New Functionality, Tips to Fix 
iOS 11 Control Center, Customizing, and Troubleshooting
iOS 11 provides you with functionality to completely customize your control center. You customize it to only house controls that you use the most and remove other controls. This was one of the features iPhone users have wanted for some time.
Sometimes, the controls in the control center get stuck and appear frozen. Tapping on them doesn't do anything at all. If you are experiencing this issue on your iPhone or iPad you can delete the control from the control center and re-install it.
RELATED POSTS
Multitasking, Split View, and the new iOS 11 Dock Function
Multitasking, split view, and the new dock feature can take a little time to get used to on your iPad. We have been testing the new features since the first iOS 11 Beta came out and we are happy to report that you will find the new multitasking features very productive once you get the hang of it.
Getting to Split View is very easy. If you drag and drop an app from the dock while another app is open, it will open in a floating window. If you drag the top part of that floating window down and both apps support split screen, they show in a side-to-side view. Dragging from the right to left to open split view doesn't work anymore.
This means if you have, say, Safari open and you want to split view with Mail, if Mail is in the dock you simply drag it from the dock onto the screen and adjust it to split view.
RELATED POSTS
If Mail wasn't in your dock you'll have to go through a few more steps to get Mail to appear in the recently used (right) side of the dock, and then proceed as normal from there.
So if there are apps that you regularly use in split view, make sure they are both in the dock to make life easier for you.
Do Not Disturb While Driving (DNDWD)
One of the most anticipated (or dreaded) iOS 11 features is Do Not Disturb While Driving. Its goal is to make drivers safer by temporarily turning off all notifications, message alerts, and other types of things that pop-up on our screen while driving and offer a dangerous distraction from the roadways. Great idea! But maybe not so great execution.
A lot of readers report that DNDWD gets in the way on all modes of travel, from daily train or bus commutes to long distance rides as a passenger. So if you want to turn DNDWD off or if you want to take it for a spin, check out this article.
RELATED POSTS
Problems with the AppStore, Tips to Fix
With iOS 11, Apple has given the App store a much-needed makeover. There is a new set of tabs at the bottom and the entire store features a new look and feel. If you are unsure about how to navigate the new app store in iOS 11, take a look at the article below helpful that walks you through some of the new features.
RELATED POSTS
Cannot Connect to App Store 
Several iOS 11 users report that they are unable to connect to the App Store. They are getting the message "Cannot Connect to the App Store." And these errors prevent them from buying, downloading or updating their apps.
Sadly, there are a lot of reasons for this problem. You might have a spotty internet connection issue or Apple Servers might be slammed with traffic or otherwise have problems. Before you troubleshoot, make sure your device and the App Store is using your current Apple ID. Go to Settings > Apple ID Profile and check that the information there is correct. Next, tap iTunes & App Store and again verify that the Apple ID listed is indeed your current and correct ID.
However, there is a known bug that sometimes happens after updating to a major iOS–and it impacts your device's date and time. To resolve this bug, tap Settings > General> Date and Time. First, if it's not toggled to Set Automatically, try this. Then restart your device and see if you connect to the App Store.
If not, set the date ahead to sometime in the future. Then try to connect iTunes or App Store again.
If you continue having issues with connecting to the App Store or seeing a blank screen, please follow these additional tips below to deal with the issue.
Sign out of your account and then try signing back in. Go to  Settings > Apple ID Profile > iTunes & App Stores. In iOS 11, you need to tap on your account profile at the top of Settings to locate this. Once you sign out, switch off your device. Restart your device and then try signing back in using your account credentials.
Also, check your device profiles especially users who use the device at work on their corporate network and home. Tap on Settings >General > Profiles and remove any extra profiles from here. Profiles are known to cause issues with the App Store.
RELATED POSTS
FaceTime and iMessage Problems with iOS 11, How to Fix
Apple's Facetime and iMessage are one of the most commonly used apps by folks. Most of the time, these apps work as intended following an iOS upgrade. There are however certain times when you notice weird behavior. And with new features like FaceTime Live Photos, that works with iOS 11 and High Sierra only, there's often a lot of questions and confusion on how to enable all the new bells and whistles. So take a look at our FaeTime Not Working in iOS 11 guide if you're having problems with Live Photos in FaceTime and other new (and old) feature problems.
The person on the other side of the communication cannot see you or hear you. Sometimes Facetime simply doesn't activate.
If you are experiencing issues with these communication apps, please take a look at our detailed iOS 11 troubleshooting guides to get help with the issues. We are constantly updating these guides as we uncover fixes.
RELATED POSTS
Other iOS 11 Problems and Tips to Handle Them
Volume Buttons Not Working on iPad Pro
Some folks find that after the upgrade their physical volume buttons no longer work on their iPad Pro. We saw this issue with our iPad Pro 9.7 in an earlier iOS 11 beta release.
In order to fix this issue, go into the sound settings, toggle the "Change With Buttons" under the Settings/Sound section and then restart your iPad.
Wi-Fi Not Working after iOS 11 Update
This is another one of those common errors that can happen following an upgrade if your device is particularly an older iDevice. It is relatively easy to fix. All you need to do is to Reset Your Network Settings. Tap on Settings > General > Reset > Reset Network Settings. Please remember to write down your wifi password(s) as you need to re-enter it when connecting to the Wi-Fi.
Unable To Open Photos from iPhone to Computer, How-To Fix
We all love our camera feature on our iPhone. With iOS 11, Apple has changed how it stores photos in your device's storage. It uses a new compression process so that your photos can be efficiently stored using the HEIC format. These new format photos can be opened using any of your other Apple devices but you run into issues if you are trying to transfer them directly to your PC.
If you are trying to transfer photos from your iPhone to your PC following the iOS 11 install, please make sure to change your Camera settings after the upgrade.
RELATED POSTS
iOS 11 Amazing Storage Savings!
Speaking of Photos and storage, iOS 11 has provided some pretty nifty tools that can help you manage your iPhone and iPad storage more efficiently. Learn all about how to use these new tools and settings to get the most out of your device storage.
RELATED POSTS
Battery Draining Issues After iOS 11 Upgrade
In our experience, we have found that there is initially some battery draining issues following the new install. This is because how the new iOS optimizes your photos and memories etc. Usually, the battery drainage issue goes off after a few days of the install but if you are faced with it on an on-going basis, here are some tips that can help you.
Tap on Settings > Battery on your device and check the usage. Are there any apps that stand out? An easy way to fix this is to identify the offending app, delete the app and then re-install it to see if things are better. This is usually the case with third-party apps that may sometimes cause issues. Many times, we forget to update these 3rd party apps and it can cause problems.
With the release of iOS 11, many of the third party app developers have released a newer version of their apps. Please make sure to check with the app developer to see if they have a new update and upgrade the version on your device to the latest.
The One Proven Tip That Will Fix Your Battery Issues on iOS 11
Indexing of documents and data on your iPhone consumes a lot of battery. If you are planning to downgrade to iOS 10.3.3 because of battery drainage issues. STOP! Give this a try.
Tap on Settings > Siri & Search > Scroll Down and for every App listed in the section, tap on each one of them and Turn OFF the Search & Siri Suggestions.
Here are some other items that you can check if you are suffering from Battery life woes:
Check the Background App Refresh Settings
Take a look at the Settings for Automatic Downloads in the App Settings
Check your Screen Brightness and Auto-Brightness Setting
Try out the Low Power Mode and add it to your iOS 11 Control center for easy access
We have added some of these battery saving tips in a video. Although the video is centered around iOS 10, the tips still work with iOS 11.
iPhone Slow or Unresponsive after iOS 11 Upgrade
If your iPhone or iPad responds sluggishly or freezes up several times following the upgrade, try a forced restart then let the device start on its own and see if this improves the responsiveness.
How-To Perform a Forced Restart on iPhone models
On an iPhone 6S or below plus all iPads & iPod Touches, press Home and Power at the same time until you see the Apple logo
For iPhone 7 or iPhone 7 Plus: Press and hold both the Side and Volume Down buttons for at least 10 seconds, until you see the Apple logo
On an iPhone X or iPhone 8 or iPhone 8 Plus: Press and quickly release the Volume Up button. Then press and quickly release the Volume Down button. Finally, press and hold the Side button until you see the Apple logo
If a forced restart fails to improve the speed of your iPhone or iPad and you have a recent iTunes or iCloud backup of your device, consider a restore. Restoring it to factory settings followed by restoring from backup may help with the issue.
Please check Apple's white paper around Restoring your iPhone if you are not sure on how to proceed.
iOS 11.1.1 Released To Address Key Bugs
Updated – 11/10/2017
Apple released the new iOS 11.1.1 today that addresses two common issues that many iFolks have been experiencing.
-Fixes an issue with keyboard auto-correct
-Fixes an issue where Hey Siri stops working
The first issue was a problem for many users and workarounds included setting up Auto-replace to handle the '?' and 'i' inconsistencies. This new update not only fixes the issue moving forward but it also goes back and fixes the issue in past messages. The update has made the Hey Siri experience a bit snappier as well.
This latest update comes after iOS 11.1 which addressed a fix for the KRACK wi-fi vulnerability, resolved many issues with the Photos App and included new accessibility features.
Reader Tips 

For folks with iBooks issues, reader Eric found some solutions after this update to iOS 11. He noticed that iBooks wasn't using iCloud and fixed this by toggling iCloud drive off and then back on. (Settings> Apple ID, iCloud, iTunes & App Store>iCloud>iCloud Drive). Eric notes that this change is not immediate, as the iOS needs to download some things from iCloud, so, be patient, and iBooks should return to your list.
If your device is replacing common words with things you don't want, create a text replacement as a temporary fix. Go to Settings > General > Keyboard > Text Replacement. Enter the word you want to show up in the fields for phrase and shortcut.
In Summary
We hope that you found this resource helpful. And read it again, as we plan on keeping this post updated as we conduct additional testing with iOS11 and any minor updates that Apple releases. We look forward to your comments and tips so that we can share them with all the readers.
Please use the comments below to share your issues so that other folks can benefit from your experience.
Obsessed with tech since the early arrival of A/UX on Apple, Sudz (SK) is responsible for the original editorial direction of AppleToolBox. He is based out of Los Angeles, CA.
Sudz specializes in covering all things macOS, having reviewed dozens of OS X and macOS developments over the years.
In a former life, Sudz worked helping Fortune 100 companies with their technology and business transformation aspirations.