iOS 13 & 12 features a new name for all your iPhone's and iPad's Mail app's email account information and all your password information. Look for the new setting in your iPhone's Settings menu named: Passwords and Accounts (called Accounts & Passwords in iOS 11.) Here you access all your iCloud and other Mail accounts, like Gmail, Outlook, Yahoo, and so forth.
It also sends passwords that you already saved in Safari and in iCloud Keychain directly to your apps' keyboard to make logging in super simple.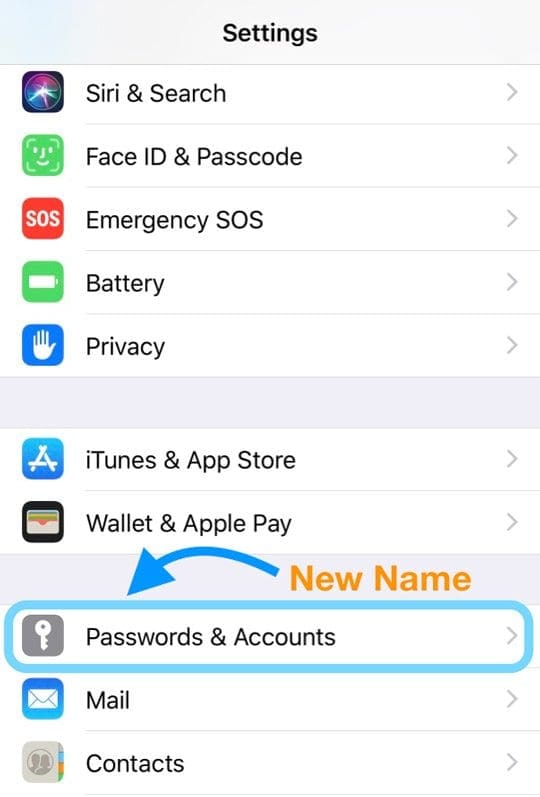 Related Articles
Pre-Requisites for Saving Passwords in iOS 13 through iOS 11
iCloud Keychain is ON

Every user is prompted to turn on iCloud Keychain when setting up a new device
If not, go to Settings > Apple ID Profile > iCloud > Keychain > On

Toggle on your iCloud Keychain

For Macs, System Preferences > Apple ID (or iCloud) > Tick box for Keychain

turn on your Mac's Keychain
Strong Passwords and Security AutoFill for iOS 13 & 12!
iOS 12 also added us a few new tricks to passwords and autofill on our iDevices.
Enter in Strong Passwords & Password Manager Support
With iOS 13-12, your device prompts you with an auto-generated strong password that's saved and stored in your iCloud Keychain for easy access and auto-filling later on.
If you like creating your own passwords, there's an option to choose your own password as well.
Another awesome feature of iOS 13&12 is full integration with popular password managers like 1Password and others.
Security Code AutoFill
In these iOS versions, you no longer need to memorize all those security codes that get sent via text!
When you receive a security code via Messages, your iOS automatically copies that code to your QuickType Bar in your keyboard. Just tap the code and it's automatically entered. One and done.
Works for iPhone, iPad, and iPod Touch.
Learn More About iOS 13 & 12 Passwords & Accounts today!
Mail Accounts in iOS 13-11: Check Your Mail Options
Once you tap on a particular account, it shows the same information as the previous iOS versions, including account name, the Delete Account button, and toggles for Mail, Contacts, Calendars, Reminders, and Notes.
To find more detailed information about a specific account, tap on the account name (usually the email address.) You'll see information like Name, Email, Description, Outgoing Mail Server information (available for some email accounts,) and an Advanced settings option.
Mail Accounts in iOS 13-11: View Advanced Settings
Tapping the Advanced settings button leads to additional options like changing the location of discarded messages, updating mailbox behaviors, selecting SSL (prevents third-parties from potentially viewing your email messages,) changing server ports, IMAP Path Prefixes, and a toggle for S/MIME (a protocol for sending digitally signed and encrypted messages.)
Saved Passwords: An Awesome Feature in iOS's Passwords & Accounts
Ever notice that when using Safari, after logging into a previously visited website, that your iPhone or other iDevice offers to save your password? And then the next time that you come back to that same website, Safari fills it in automatically, making logging into a site really easy.
Well, new to iOS is a feature that automatically saves your app and website passwords so logging into your favorite sites or apps is easy.
Using data previously collected from Safari's Password Autofill, App & Website Passwords remembers all your passwords for you and keeps these secure by using Keychain and requiring authentication with Face ID or Touch ID.
What iOS does is it takes those previously-stored passwords, already saved in your iCloud Keychain, and makes them available within your apps. 
And if you have multiple devices, your iCloud's Keychain syncs all of these passwords across your devices.
That means all your devices that you sign in with the same Apple ID and that use iCloud Keychain automatically share that data.
And that's the magic that makes it really easy to log in to sites across multiple devices, without having to save the ID and password for each device.
ID and Password Already Saved in Safari? No Problem!
So if Safari already saved your information, when you tap the sign-in option your iDevice asks you if you want to use a previously saved password to use with your app.
For example, I previously saved my username and password for Amazon using Safari in iOS 10. When I now open the Amazon app, a pop-up asks me if I want to select that saved password and gives me the choice to OK that or select Not Now.
If I OK the use of the saved password, another pop-up request that I press Touch ID (or Face ID/ fill in your password) to automatically fill in those details. All you need to do is press the Sign In button, that's it!
Seeing AND Adding IDs and Passwords is Easy Too!
Go to Settings > Passwords & Accounts (or Accounts & Passwords) and tap on Website & App Passwords (or App & Website Passwords.) A pop-up asks for your Face ID/Touch ID (or type in your password), tap it and you immediately see all the stored IDs.
Want to do is see an app's or website's password?
Go to Settings
Tap Passwords & Accounts
Tap Website & App Passwords
Type in your device's passcode
Scroll down the list for the site/app you want to see the user name and password for
Tap that app/site to open its card
On the card, you find the user name, password, and you may also see an option to change the password and others
And if Safari did not previously save your data, it's super easy to add it
There are two ways: automatically and manually.
Automatically works like it used to: open Safari and visit a website, when you enter your credentials a pop-up asks if you want to add that to your iCloud Keychain for AutoFill on all your devices. Tap Save Password and you're done. Now that website and your credentials follow you on all your Apple ID connected devices.
To manually add credentials using App & Website Passwords, go to Settings >Passwords & Accounts and tap on App & Website Passwords. A pop-up asks for your Touch ID/Face ID/Password, tap it and you see your password manager.
Add an ID and Password Manually
Open Passwords & Accounts
Tap App & Website Passwords
Face ID/Touch ID to verify (or fill in your password)
Scroll down to Add Password
Fill in Website, Username and Password fields
Press Done
Don't Worry Safari Still Auto-Fills!
And Safari still auto-fills all your passwords. Just make sure this setting is enabled by going to Settings > Safari > AutoFill > and toggle ON Names and Passwords. Viewing and editing these passwords is now handled by Accounts & Passwords so everything is in sync.
And iOS 13-11 Passwords & Accounts is for Apps Too
iOS's Password AutoFill also allows you to fill in your login credentials directly into third-party apps through your keyboard using the QuickType bar that sits just above the keyboard.
Once your app offers password autofill, the method is simple. When you see a login screen, tap the username field, and in the QuickType bar, you'll see any saved IDs and passwords, previously saved in Safari.
Tap in the bar and it automatically fills in your username and password–all with just one tap! Then press the log in button and you're done.
And for those concerned about privacy, Password AutoFill only put credentials in the QuickType bar when it is safe to do so.
There are no guessing games–it recognizes the website affiliated with the app. And if not, it leaves the QuickType Bar blank.
If nothing shows up in the QuickType bar, press the key icon, authenticate via FaceID/Touch ID (or your device password), and a list of all your saved passwords appears. Scroll through these and tap on the correct information and the work is done for you.
Log into your apps using third-party services like Facebook or Google?
NO problem, it works the same way as long as your App Developer supports Safari View Controller and AutoFill.
Not Working For Your Favorite Apps?
App developers need to first implement Password AutoFill in their app in order for this to work. So some apps have this functionality while others do not. So let your favorite app developers know you want this functionality!
Looking for an Option to Change or Update Your Email Password on an iPhone or iPad?
We get a lot of readers wanting to know how to update their passwords on their devices or change their password entry so it matches after they've updated an email's account password online.
Well, it ain't easy! Luckily, we have an article all about it. So if this is your particular issue, check it out. You'll discover just how to change your passwords for any email account and get your Mail App information updated too!
Concerned About The Security of Your Saved Passwords and IDs?
Well, you should be. We all should take our privacy seriously. And luckily, Apple agrees. That's why it always requires authentication, either with Face ID, Touch ID, or your passcode before anyone can view passwords and other credentials.
Apple never shares your passwords app to app or site to site. So if you enter your ID and passwords for one app (or site), iOS does not automatically fill in for another, even if those credentials are the same.
And even though you can see your information by entering your passcode or Face ID/Touch ID, Apple cannot see this information. Apple encrypts it all with iCloud Keychain.
So while iOS and iCloud Keychain make it easy to sync passwords and IDs across devices, iOS and all of Apple's operating systems (macOS, watchOS) keep your information secure.
For more information on how Apple does this, check out their white paper on the security of iCloud Keychain.
For most of her professional life, Amanda Elizabeth (Liz for short) trained all sorts of folks on how to use media as a tool to tell their own unique stories. She knows a thing or two about teaching others and creating how-to guides!
Her clients include Edutopia, Scribe Video Center, Third Path Institute, Bracket, The Philadelphia Museum of Art, and the Big Picture Alliance.
Elizabeth received her Master of Fine Arts degree in media making from Temple University, where she also taught undergrads as an adjunct faculty member in their department of Film and Media Arts.