Ever tried to download a recent app, movie, or music purchase only to get the App Store or iTunes Store replying that your "Apple ID has been disabled?" Apple occasionally disables Apple IDs automatically for security reasons, especially if it thinks your Apple ID was hacked or otherwise compromised.
So that's great in protecting you from identity theft but bad in that you (the victim) are often uninformed of the problem. Consequently, without so much as a warning, you see the dreaded alert "Your Apple ID has been disabled." 
When your Apple ID is disabled, you cannot even update any of your apps. Instead, you see the message that your Apple ID is disabled or locked–again and again, no matter how many times you try. So yeah–this is a serious inconvenience and problem! 
But take comfort. Though seeing this message is very worrying, questions about Apple IDs are one of the most common reasons iFolks call Apple Support or visit Apple Stores. Remember, you are not alone. Folks deal with this particular problem every day!
Quick Tips 
If you tried multiple times, wait for at least 8 hours (up to 24 hours) for your Apple ID to start functioning again–don't try to log in during this time
Try logging in to your Apple account via a web browser and check for any messages requesting security updates or information updates
Go to Apple's iforgot website to unlock your account with your current password. Authenticate your ID with your email or by answering  security questions
If you believe your Apple ID was hacked or otherwise compromised, reset your password via the iforgot website
Update and confirm your billing info in iTunes (you may need to contact iTunes Support directly)
Check your App Store, and iTunes account for unpaid charges AND pay them
If you recently disputed a charge with Apple, follow up with Apple Support asap
Make sure that your iDevice's Restrictions are OFF
Contact Apple support if nothing else works
Related Articles
The Symptoms 
You enter your Apple ID and password, click Sign In, and it doesn't work. One of the alerts listed below may appear when you try to use certain Apple services (like iCloud, iMessage, or FaceTime) that require an Apple ID.  These messages inform you that your Apple ID is disabled.
You might not have used your Apple ID in a long time. And you probably won't see anything beforehand alerting you on your iPhone, iPad, or Mac. But every time you try to log in, it doesn't accept the information.  Your Apple ID is disabled.
Known Apple ID alerts include
"This Apple ID has been disabled for security reasons."
"Too many attempted sign-ins."
"Your Apple ID has been disabled"
"You can't sign in because your account has been disabled for security reasons."
"This Apple ID has been locked for security reasons."
"Please contact iTunes support to complete this transaction."
And if you tried to access your Apple ID too many times with the wrong password, your account is automatically locked for a period of time. Even if you remember the correct password! Once Apple identifies a problem with your Apple ID and disables it, you can't log in. It's as simple AND as frustrating as that!
Beware of Scams
Many Scammers like to take advantage of this issue and send emails or messages to unsuspecting Apple users to get them to divulge their credentials.
Do not click on any links in the emails or messages OR supply your Apple ID credentials. You should report any funny links to Apple Support directly.
One of our readers reported this scam which states 'Due to suspicious activity your Apple-id has been locked tap apple.id-user-access.com to restore full access to your Apple services' . Highly recommend that you dont click on any links or supply your credentials. Get in touch with Apple Support and chat with them directly. You can also set up an appointment at the Apple Store and have them look into this for you.
The Causes
The usual suspects for a disabled Apple ID are entering the wrong password too many times in a row or not having used an Apple ID for a long time. Most of the time, when your Apple ID is disabled it's not someone trying to hack your account, but instead you get yourself locked out because of a forgotten password. Yes, we're human and yup, we are error-prone.
Additionally, Apple periodically changes the rules and requirements for Apple IDs, passwords, security questions, and verification steps.  So if you haven't updated your Apple ID setting to meet these needs, Apple occasionally disables these accounts until you log in and update all your information.
If you have an outstanding (unpaid) charge or any disputed charges on Apple's iTunes or App Store, Apple might disable your ID and purchase priveledges until you pay the charge. Unpaid charges are often due to credit or debit card expiration, so check that your card information is up-to-date. You may need to call Apple's iTunes Support Team directly to find out if there is an unpaid charge on your iTunes account. Once paid, Apple restores app purchasing again.
Forgot Your Password?
If your issue is a forgotten password, visit Apple iForgot to recover your password.  iForgot walks you through the steps to reset a forgotten password, unlock your account, and recover an Apple ID.
Be aware that after multiple unsuccessful attempts to unlock your account, your Apple ID remains locked. And you need to wait at least a day try again.
Recent Dispute with Apple Charges?
Your Apple ID might just be locked because months ago you disputed Apple charges on your credit card. When you dispute an Apple charge, Apple often temporarily closes your account until you call in and resolve the charging issue.  Apple takes security very seriously.  When Apple suspects your account has been hacked, it suspends it. So this is added protection just in case your credit card is being used by someone not authorized.
Bills Not Paid?
Often this message ("Apple ID has been disabled") means that you have a billing issue–usually an unpaid iTunes or App Store order. If you can still access your account information, check your billing information and update your payment method and any other settings. If you cannot access your account, contact Apple Support and take a look at your billing and payment information with them. Clear up anything outstanding.
Entered Password Too Many Times?
When you try incorrect passwords too many times, your Apple ID automatically locks to protect your security.  Consequently, you can't sign in to any Apple services that use your Apple ID, like iCloud, iTunes, the App Store, Apple Music, etc. Once you verify your identity with Apple, your account unlocks. Go to iforgot. apple. com and unlock your account with your existing password or reset your password. See the section Reset Password for the details on how to do this.
Log in Via a Browser
Try logging into your iTunes or iCloud account from Safari, Chrome, or another browser, preferably on a Mac or computer versus an iDevice. Getting this particular error message usually means Apple needs to perform a security check on your account.  Alternatively, wait at least 8 hours and try again–this fix works in cases when you made multiple unsuccessful attempts by entering an incorrect password too many times.
Check Your Restrictions
Look and see if you set-up Restrictions on your iDevice for times when other folks are using your device, like your kids, grandparents, family members or friends, check those restrictions off. We often use restrictions on our iPhones and iPads to disable in-app purchases so that our children and any others using our iDevices aren't allowed to make purchases on our accounts.
Go to Settings > General > Restrictions and verify this setting is "Off." If Restrictions are enabled, you'll need your restrictions passcode to disable this feature. Your restrictions passcode is not the same as your Apple ID password–it's a four-digit passcode you created when first enabling restrictions. If you've forgotten your Restrictions Passcode, check out our article on setting up iDevices into Kids Mode that outlines the steps to address this issue.
Reset Password and Log Out of iTunes or iCloud
First, reset your password by visiting Apple's support site for Apple ID passwords.  If you're able to reset your password, then try logging out and back in of iTunes or iCloud on your iDevice. Make sure you update your password on all your devices including Macs and Windows PCs.
To log out of your iTunes account on your iPhone or other iDevices, Tap on your Apple ID in Settings > Apple ID Profile.  Scroll Down and Sign Out and then log back in to see if that refreshes your Apple ID account.  There's also a link here to Apple's iForgot site if you're having trouble remembering your Apple ID and password.
Visit Apple's Support Sites
Go to Find Apple ID to unlock and reset your account. This process requires you to either authenticate your ID by email or answer the security question(s) provided when you created your Apple ID. This recovery process should restore your account in a jiffy. Please note that if you are an iCloud user, enter your full iCloud email address ([email protected]) If your security questions do not work, or you don't know the answers anymore, and you do not have a verified rescue email setup that's different from your locked iCloud email account, you cannot prove your identity using the web interface. You need to contact Apple support directly to get help with unlocking the account.
For iFolks Using Two-Step Verification
If you use two-step verification, you need to use BOTH your recovery key and one of your trusted iDevices.
If you use two-factor authentication
You need your trusted device OR your trusted phone number to unlock your Apple ID.
If You Lost Your Recovery Key
As long as you remember your Apple ID password and still have access to one of your trusted devices, you can sign in and create a new Recovery Key. Go to your Apple ID account page. Sign in with your password and trusted device. In the Security section, click Edit > Replace Lost Key.
Keep your new Recovery Key in a safe place. Your old Recovery Key won't work anymore, and you can't use it to reset your password or access your account.
Reset Apple ID and still cannot make purchases?
Sometimes performing the suggested reset for your Apple ID doesn't help. Usually, you still can access all of your Apple accounts without problems. But you may not be able to purchase or update your Apps.
Receiving this alert when buying something means that your account is under investigation by Apple due to some of the more serious security concerns. You need to contact Apple support straight away. Resolving this issue often takes several days for Apple. So prepare for patience!
Here are the steps on how to fix it, first Contact Apple for support and service.  Find your country's Apple Customer Service, call the appropriate phone number and talk directly to an Apple Account Service Team Member. Let them know you need to enable your Apple ID Account. Enabling your account should only take a few minutes as long answer all their questions verifying your account and identity.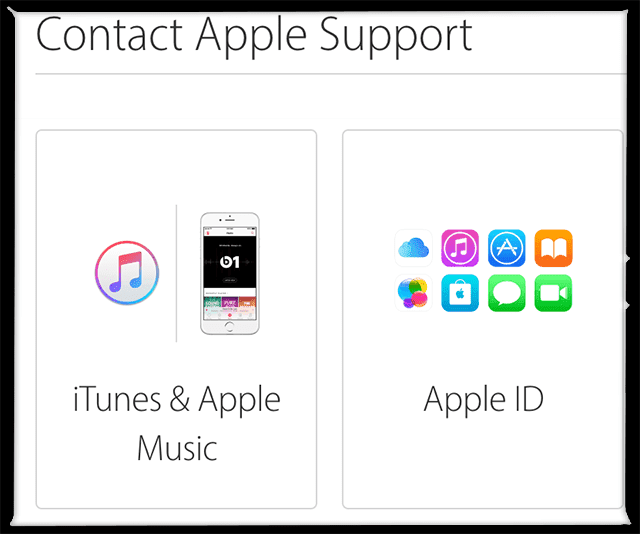 Step by Step to Resolve Apple ID Disabled Alerts
From any browser, go to Apple Support
From the product, menu choose iTunes & Apple Music or Apple ID

For iTunes & Apple Music

Click iTunes Store
Select Account Management
Click "Apple ID has been disabled for security reasons" alert

For Apple ID

Disabled Apple ID

When you see How would you like to get help?" click Talk to Apple Support Now or Schedule a Call
Enter your name, email, phone number, and Apple ID (if known) and click Continue

If you again see Talk to Apple Support Now on screen, click it
Provide your phone number, and Apple Support calls you
When you speak to Apple, ask them to transfer you to the iTunes Account Security team as your account is disabled.  You need to answer your security questions, and then Apple Support Team Member should submit a ticket to the iTunes Support to fix it.
If You Do NOT Know or Forgot Your Apple ID
Check and see if you are signed into your account on one of your iDevices
iPhones, iPads, and iDevices use Apple IDs for these services
Tap Settings > App & iTunes Store
Go to Settings > Apple ID Profile > iCloud
Tap Settings > Messages > Send & Receive
Go to Settings > FaceTime
Tap Settings > Accounts & Passwords > iCloud
Check and see if you are signed into your account from your Mac computer
Macs use Apple IDs for these services
Select Apple menu > System Preferences > iCloud
Open Mail, then select Mail > Preferences > Accounts
Select Calendar, then select Calendar > Preferences > Accounts
Open FaceTime, then select FaceTime > Preferences > Settings
Choose Messages, then select Messages > Preferences > Accounts
Check iTunes
See if you previously bought something in the iTunes Store. If so, check which account was used to purchase it.
To Check Apple ID via iTunes
Open iTunes
Click one of your purchases. Find your purchases under My Music or Playlists
Choose Edit > Get Info
Click the File tab
The 'purchased by' shows the Apple ID that was used to buy the item
Conclusions
It's amazing how much our Macs and iDevices depend on our Apple IDs.  It's not until we receive an alert warning us that our Apple ID has been disabled that we realize how important and integral it is. Hopefully, one of the tips listed got your Apple ID back enabled and worked as normal on your iDevice or Mac.
Remember that after you change your password, you need to update that password in your iCloud settings and in any Apple apps and services that you sign into with your Apple ID.  This includes things like iTunes, App Store, FaceTime, iMessage, Photos, iCloud Drive, Mail, and others.
If these steps didn't help you change your password or if your security questions do not work and you do not have a verified rescue email set up, that's different from your locked iCloud email account, contact Apple Support. You cannot prove your identity using the web interface, and you need to contact Apple support directly, to get help with unlocking the account. Once on this site, select Apple ID, and choose Disabled Apple ID.  Now set up a call with an Apple employee, start an online chat session, or email Apple support–whatever works best for you and your schedule.
Obsessed with tech since the early arrival of A/UX on Apple, Sudz (SK) is responsible for the editorial direction of AppleToolBox. He is based out of Los Angeles, CA.
Sudz specializes in covering all things macOS, having reviewed dozens of OS X and macOS developments over the years.
In a former life, Sudz worked helping Fortune 100 companies with their technology and business transformation aspirations.