Do you have multiple Apple ID accounts and want to delete the extra accounts? Or need to remove an old account that you no longer use, can't remember the password for, or are unable to reset the security questions? The good news is that you can, with AppleCare's help, delete those Apple ID accounts. The bad news is that it often takes a lot of your time to entirely remove an Apple ID account because you need to contact AppleCare directly and go through a series of steps. So yeah, officially deleting an Apple ID is a pain. 
However, for most of us going through official channels is overkill. Rather than contacting Apple Support and spending (wasting) a lot of time trying to confirm those Apple IDs, it's easier to simply choose one Apple ID, sign up for a new Apple ID, or even change your Apple ID and then abandon using all those others.
Remember, however, that any purchases made with an Apple ID you no longer use do not transfer to a new or different Apple ID! Every purchase you make from Apple links to that particular Apple ID and removing that Apple ID means that you lose those purchases. So be mindful!
Related Articles
Apple ID Background
Apple ID is the main connection between a user and all the Apple services. Without it any Apple device is as good as dead (okay, that's an exaggeration!) But let's remember that you have to have an Apple ID if you want to use services like Facetime, App Store, iCloud, iTunes Store, iMessage and many others. It is like a personal account that gives user access to the "i-world" (Please don't google i-world). 
Creating an Apple ID
Making an Apple ID is simple, it's just like creating an e-mail account with some extra information. You need to give your email address, choose a password (for sign-in) along with other information like security, contact and payment details. One Apple ID is enough to use on all your Apple devices. It helps the information and purchases synced across all your devices.
You need your unique Apple ID every time you buy an item or set up a new device. The best part about this system from Apple is synchronization, giving you the freedom to access all your information from any Apple device with your ID signed in on it.
A small piece of advice here would be not to share your Apple ID with anyone. Your ID contains all the personal information along with backups of photos, email, and messages.
Yes, Your Device Works Without an Apple ID!
One question we hear a lot is will my device work if I don't have an Apple ID and am not signed into iCloud? And the answer is an absolute yes! You do not need an Apple ID to use any Apple device. Your Mac, iPhone, iPad and all your Apple devices continue to work, even without an Apple ID!
However, when you don't have an Apple ID, you cannot purchase and download any additional apps from the iOS or Mac App Stores or anything from the iTunes Store, including music and videos.
For Mac users, you can still download, install, and run software, apps, and programs in macOS that you download outside of the Mac App Store.
How to Delete Apple ID
Some users (don't know why) are not happy with their ID and want to get rid of it. Most of them want to create a new one. This is where it gets a little tricky as Apple doesn't have a simple procedure that lets you delete your Apple ID, but it does allow you to change your email associated with it. You cannot remove your Apple ID unless you make a strong case with their customer representative on the phone. And even then it is really difficult for them to accommodate your request.
While you can't delete the old one, you can remove all of your information from the old Apple ID and create an alias or alternate ID. So, if you use the new ID and never use the old one, for all intents and purposes, the old one is deleted. Ignore the old one…it's like an old AOL address…gone and forgotten. 
Sign into the My Apple ID portal and change the primary email address that it is associated with your Apple ID account. This technically won't delete your account, but your primary email address won't be associated with it anymore.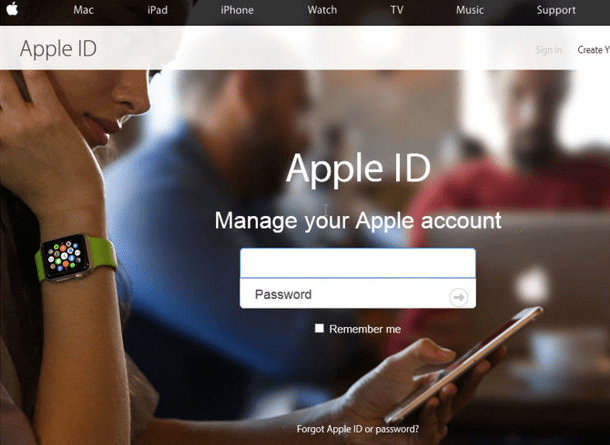 Changing the email
The process is simple, just follow the steps below.
1- Sign out of iCloud from all your Apple devices
2- Sign in using your current Apple ID on this page
3- Click "Edit" in the "Accounts"
4- Click "Change Email Address"
5- Enter the new email address and press "Continue." Make sure you type it right as you will be receiving the verification code to this email address
6- Fetch the email code and enter it in the required field
It's done! Remember that after you have updated the email, you need to sign in again to every Apple service & device. Similarly, you can also change your payment info, password, etc.
If you have accidentally forgotten your Apple-ID, please follow the following directions from Apple to get access to your id.
Remove your Apple ID from iTunes on your computer
Before securing your ID, you'll want to make sure you've removed it from iTunes completely
Click the Store menu in iTunes, and select Store > View Account or for older macOS or Mac OS X versions select View My Apple ID

Tap Manage Devices under iTunes in the Cloud and click Remove next to each device associated with your account. When finished, press Done

For older macOS and OS X versions, click the Deauthorize All button. This removes your Apple ID from any device that it is signed into. Then, c

lick the Manage Devices button and remove all of your devices. This stops automatic downloads

Choose Store > Deauthorize This Computer
Remove your Apple ID from iOS Devices
Tap Settings > Apple ID Profile
Scroll down to see the list of all the devices associated with your Apple ID account

You need to follow these steps for each Apple iDevice using your Apple ID

Continue scrolling down and locate Sign Out
Tap Sign Out and enter your Apple ID password to confirm turning off Find My iPhone (iPad etc.)
Tap Settings >Apple ID Profile > iTunes & App Store
Select Apple ID and Sign Out
Tap Settings > Music
Scroll to the bottom and tap the Apple ID under Home Sharing. Tap Sign Out
Tap Settings > Accounts & Passwords
Select your iCloud account under Accounts and Sign Out
Tap Settings > Messages > Send & Recieve. Tap the Apple ID and Sign Out
Return to the Settings > Game Center. Choose Apple ID and Sign Out
Tap Settings > Facetime. Tap Apple ID and Sign Out
Again, repeat these steps for each and every device!
Deleting Your Apple ID
While there are no official ways you can get rid of your Apple ID, here is what you can try.
Try calling Apple (1-800-MY-APPLE) and ask them to delete your ID from their system. This procedure has worked for some, but we can't guarantee that you will hear a positive reply from the representative. You can use this link to contact Apple Support as well.
You should also keep in mind that if you happen to succeed in deleting your ID, you should be ready to let go of all your purchases too. Every purchase you make from Apple is linked to your Apple ID and deleting it would mean losing all your purchases.
Want to Delete an Alias You Set-Up For Your Apple ID?
Log in at iCloud's website
Sign in and click on the Mail app
Tap the Gear icon at the bottom left of your screen
Choose Preferences
Select the Accounts Tab
Tap the Alias you want to delete
Click the red delete button
Apple currently allows users up to 3 aliases for their Apple ID and iCloud email accounts.