Just like your other Apple devices, your Apple TV uses storage for apps, games, and other items. Over time, these things can pile up and before you know it, you're out of space.
Before you hit your limit, spend a little quality time getting to know your Apple TV's storage details. If you do this up front, then you won't get stuck unable to download something you need at an inopportune time.
To help you out, we'll show you how to view your storage limit, see how much is still available, and how to get rid of unused items to free up space.
Related:
Check your Apple TV storage capacity
If you can't recall whether you got a 32GB or 64GB version of your Apple TV, you can check this easily.
Open the Settings app on Apple TV.
Click General > About.
You'll see the storage version of your Apple TV along with the Model right below the Name.
See how much space is being used
Believe it or not, Apple TV does not currently give you an easy way to see how much storage you've used. So, unlike iPhone, iPad, and Mac, you don't have a quick way to find out how much space you have left with tvOS.
Luckily, there are a couple of ways for you to view how much space you've used.
View app sizes on Apple TV
You can see how much space individual apps are using. These are sorted by largest to smallest. Plus, you have a fast way to delete apps that you no longer want that might be taking up too much space.
Open the Settings app on Apple TV.
Click General > Manage Storage.
Here you can review each app's size and click the trash can to delete one if you like. If you do choose to delete an app, you'll be asked to confirm that action on the next screen.
This list of apps and their sizes is helpful, but it still doesn't show you the total of how much space is used and remaining. Fortunately, there are several free and paid apps on the App Store that can help.
Storage space apps for Apple TV
Here are a couple of free apps that you can check out to view your available and used space on Apple TV.
Space Left
Space Left is a super easy app that's available for free with no in-app purchases on the Apple TV App Store. Once you download and open it, you'll get a simple-to-read pie chart showing you your Free and Used Apple TV storage space.
Download Space Left for Apple TV
TV Info
TV Info is similar to Space Left, but gives you a little extra information about your Apple TV. The top left of the app shows your Disk Space, free and in use. Below that you can view memory usage and CPU usage. TV Info is also free but contains in-app purchase to view all details.
Download TV Info for Apple TV
Tips for regaining storage space on Apple TV
If you're looking for ways to free up space on your Apple TV, we have a few suggestions.
Delete unused apps and games
Along with the above method for deleting apps in the Manage Storage area of your Settings, you can delete apps from your Home screen.
Click and hold the app with your remote touchpad. The app will jiggle.
Click the Play/Pause button on the remote.
Select Delete from the list of actions in the menu.
Confirm that you want to remove the app by clicking Delete on the next screen.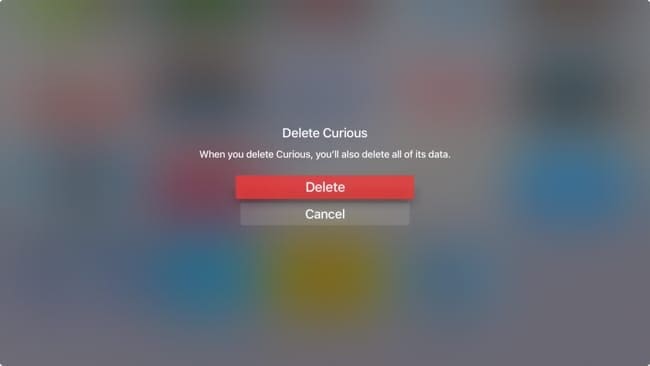 Once you delete an app, it along with its data will be removed from your Apple TV, just like when you delete an app on your iPhone or iPad.
Remove shows and movies you've watched
There are some great apps for transferring videos between devices, like VLC. But some videos can be quite large. So, if you prefer to download a movie or television show rather than stream it, be cautious of those video sizes.
If you do download a movie or show with VLC, you can easily remove it once you view it to save storage space.
Click Remote Playback.
Select the video and hold the touchpad on your remote until it jiggles.
Press the Play/Pause button and choose Delete.
Stop aerial screen saver downloads
While the aerial screen savers offered by Apple for Apple TV are gorgeous, they are also storage hogs. Each video can be up to 950MB. If you are currently downloading new aerial videos, disabling this setting can help you save some space.
Open the Settings app on Apple TV.
Click General > Screensaver.
Choose Download New Video and click Never.
You won't be receiving any new aerial screensavers after doing this, but if it's storage space that you're really worried about, then this will help.
Unfortunately, the aerial screensavers you've already downloaded are buried somewhere in the tvOS system. So, there is no easy way to remove those you've already received.
Save space for what you really want on Apple TV
There are times when we download apps and don't think about how much space they take up.
But then one day when there's an app we want or need, we find out we can't have it because we're out of the room. Then, it becomes a scramble to regain storage space. Don't let that happen to you!
Pay attention to the storage space on your Apple TV and get rid of apps or games you download and never use. You'll be happy you did.
Are you going to take the time to check out your Apple TV storage and manage it better? Let us know in the comments below.
Sandy worked for many years in the IT industry as a project manager, department manager, and PMO Lead. She then decided to follow her dream and now writes about technology full-time. Sandy holds a Bachelors of Science in Information Technology.
She loves technology– specifically – terrific games and apps for iOS, software that makes your life easier, and productivity tools that you can use every day, in both work and home environments.
Her articles have regularly been featured at MakeUseOf, iDownloadBlog and many other leading tech publications.