Welcome to the world of seamless connectivity, where your MacBook is the gateway to a universe of information, entertainment, and communication. However, what happens when your trusted device connects to Wi-Fi but, paradoxically, leaves you stranded without internet access? It's a frustrating scenario many MacBook users encounter, leading to a roadblock in productivity and digital exploration.
Related:
In this article, we delve into the heart of this conundrum, offering clear, practical solutions to restore your MacBook's connection to the online world. Whether you're facing this issue for the first time or have encountered it before, our guide is designed to demystify the problem and provide easy-to-follow steps to get you back online.
Why Is my MacBook Connecting to Wi-Fi but Not to the Internet?
When your MacBook connects to Wi-Fi but doesn't access the internet, it can be both perplexing and frustrating. There are several reasons why this might happen. Understanding these can help you troubleshoot the issue effectively.
Sometimes, the problem lies with the Wi-Fi network itself. The router might be connected to the modem but not to the internet, or there could be a service outage from your internet service provider.
Your MacBook might have incorrect or corrupted network settings that prevent it from accessing the internet, even though it's connected to the Wi-Fi network. Temporary software glitches in macOS can sometimes affect internet connectivity.
How Can my Mac Have Wi-Fi but no Internet?
It's a common misconception to equate Wi-Fi with the internet, but they are distinct entities. Wi-Fi provides a wireless connection to a local network. Generally, this local network is what connects you to the broader Internet.
Consider your router, which likely has an ethernet cable plugged into its back. Disconnecting this cable would cut off your access to the internet. However, your ability to connect to the Wi-Fi network would remain unaffected. You'd still be linked to the local network, but without internet access.
How Do I Fix When There's no Internet Connection on my Macbook?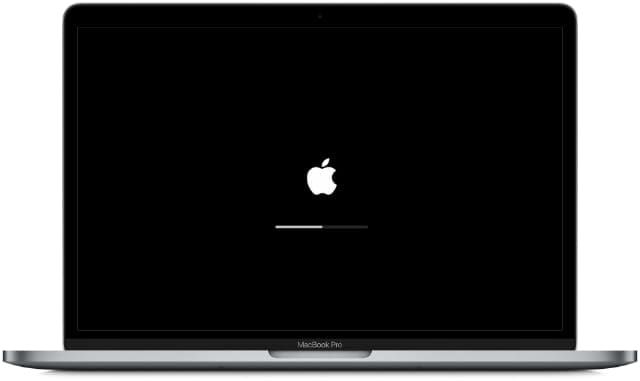 The first thing to do is to restart your MacBook and your wireless router. You should restart your router even if other devices can connect to the Internet.
If you haven't already, try connecting your MacBook to a different Wi-Fi network. Go to school, work, the library, or a friend's house and see if you can get online there.
If you can, the problem is with your personal network. Contact your Internet service provider for help on how to fix it. 
Otherwise, follow our steps below to troubleshoot problems with your MacBook.
Forget Your Wi-Fi Network Then Reconnect
At times, your Wi-Fi network may not function as expected, leading to problems like intermittent connections, slow speeds, or inability to connect at all. One effective approach to address these issues is to make your device 'forget' the Wi-Fi network and then reconnect to it as if for the first time. This process clears any stored settings or configurations that might be causing the problem, providing a clean slate for establishing a more stable and efficient connection.
Open the System Settings app on your Mac.
In the sidebar on the left, click Wi-Fi.
Locate the name of your network under the Wi-Fi section.
Click the Details… button to the right of the network name.
At the bottom of the window, click the Forgett This Network… button.
When prompted, click the Remove button to confirm.
Wait a few moments to ensure that the connection has been removed.
Under the Other Networks section, locate and select the Wi-Fi network you want to connect to.
Enter the Wi-Fi password.
Restart Your Mac
Restarting your Mac is a deceptively simple action, but its impact on resolving various system issues can be profound. From addressing minor glitches to resolving more persistent software conflicts, a restart can often serve as the first line of defense in troubleshooting.
Save anything that you are working on.
Close any apps that are open on your Mac.
In the top left corner of your Mac's Menu Bar, click the Apple logo.
From the drop-down menu that appears, highlight and select Restart…
If prompted, close any other apps that might still be open and preventing your Mac from restarting.
Turn Your Router On and Off
Experiencing network issues on your Mac can be frustrating, especially when the cause is elusive. A simple yet often effective solution to many common network problems is the classic "turn it off and on again" method applied to your router.
Before resetting your router, ensure any important activities or downloads on your network are completed or paused. Resetting will temporarily disconnect all devices from the internet.
Locate the power button on your router or simply unplug it from the power source.
Wait for at least 30 seconds to a minute before turning it back on.
After waiting, turn the router back on by pressing the power button again or plugging it back into the power source. Wait for a few minutes to allow the router to boot up completely.
Once your router is turned back on, click the Wi-Fi button in your Mac's Menu Bar.
Select your Wi-Fi network from the list of options.
After reconnecting, test your internet connection by opening a web browser and navigating to a website.
If network problems persist even after resetting the router, the issue may lie elsewhere. Consider checking your Mac's network settings, inspecting for any software updates, or consulting with your ISP for further assistance.
Test the Network Using a Guest Account
Often, network problems can be elusive and difficult to pinpoint, particularly when they might be tied to specific user settings or applications. By using a guest account to test your network, you can isolate the issue, determining whether it's a system-wide problem or something specific to your primary user account. This approach provides a clean slate, free from the complexities of personalized settings, applications, and configurations that might be influencing your network's performance.
Open the System Settings app on your Mac.
In the sidebar on the left, scroll down and click Users & Groups.
Click the Information button next to Guest User.
If necessary, change the User Name.
Enable or disable the following options:

Allow guests to log in to this computer

Enable the guest user so that friends can temporarily log in to your computer. Logging in to the guest account does not require a password. Users cannot log in to the guest account remotely. If FileVault is turned on, guest users can only access Safari.

Allow guest users to connect to shared folders

Click the OK button in the bottom right corner of the window.
Once added, you can switch to the Guest account and then try to see if you have the same problems connecting to the Wi-Fi network.
Check the Time and Date
macOS provides several straightforward ways to check the time and date, ensuring that you stay on schedule and never miss an important appointment or deadline. But if the Date and Time are not correct on your Mac, it can lead to a plethora of frustrating issues.

Open the System Settings app on your Mac.
In the sidebar on the left, click General.
On the right side of the window, click Date & Time.
In the second section, make sure that the time and date are correct.
If not, click the toggle at the top of the window next to Set time and date automatically.
In the event that your Mac is not selecting the right location, click Privacy & Security in the sidebar.
Click Location Services at the top of the window.
Make sure that the toggle next to Location Services is enabled, if not, click the toggle to turn it on.
Use Your Hotspot to Update macOS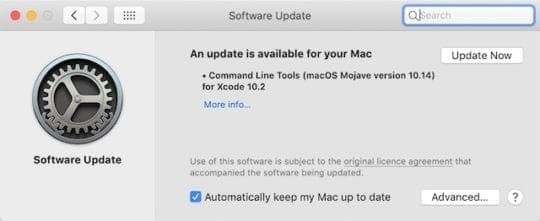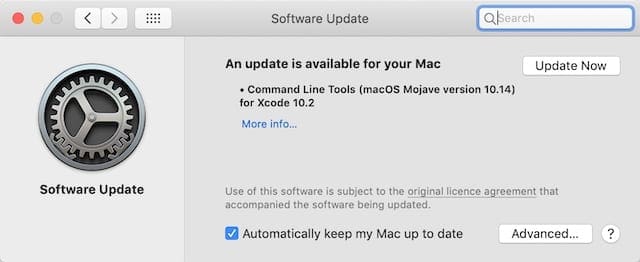 Updating your macOS is crucial for ensuring you have the latest features, security updates, and optimal performance. However, there may be situations where you don't have access to a traditional Wi-Fi network and need to rely on a mobile hotspot for your internet connection. Using your mobile hotspot to update macOS is a practical solution, especially when traveling or in areas with limited internet access.
Open the Settings app on your Iphone.
Tap Personal Hotspot.
At the top of the page, tap the toggle next to Allow Others to Join.
From your Mac, click the Wi-Fi icon in the top right corner of the Menu Bar.
Under the Personal Hotspot section, tap the name of your iPhone.
Once connected, open the System Settings app on your Mac.
In the sidebar on the left, click General.
Click Software Update.
Wait a few moments for your Mac to check for any updates.
If an update is available, click the Update Now button.
Keep an eye on the download progress. Depending on your hotspot's speed and the size of the update, this process could take a while. To avoid interruptions, stay within a good range of your mobile device and ensure it has a stable connection to the cellular network.
Once the download is complete, your Mac will prompt you to start the installation process. Follow the on-screen instructions to install the update. Your Mac might need to restart several times during the installation, so it's important to not interrupt this process.
Set the Correct Network Order
When your device is connected to multiple networks, such as Ethernet, Wi-Fi, and Bluetooth, the order in which these networks are prioritized can significantly impact your online experience. This network order determines which connection your Mac uses primarily for internet access and data transfer. If not configured correctly, you might face slower internet speeds, connectivity issues, or problems in accessing certain network resources.
Open the System Settings app on your Mac.
In the sidebar on the left, click Network.
Click the button with the three horizontal dots in the bottom right corner.
From the drop-down menu that appears, highlight and select Set Service Order.
Locate the Wi-Fi network that you are having problems with.
Drag the network to the top of the list.
Once completed, click the OK button.
Adjusting the network order is a key step in optimizing your Mac's connectivity and ensuring that it uses the most efficient and reliable network available.
Are You Using a VPN?
VPNs are widely used for enhancing privacy and security online, or for accessing region-restricted content. However, there may come a time when you no longer need a particular VPN service, whether it's due to a change in your security needs, a switch to a different VPN provider, or troubleshooting network issues. Removing a VPN from your Mac is a process that involves more than just uninstalling an app; it requires a careful approach to ensure that all associated settings and configurations are properly cleared.
Open the System Settings app on your Mac.
In the left sidebar, scroll down and select VPN.
Locate the VPN service that you are currently connected.
Click the Information button to the right of the name of the VPN.
Click the Remove Configuration button.
When prompted, click the Remove button to confirm.
4. Change your Mac's Domain Name System (DNS)
DNS is a fundamental internet service that translates domain names into IP addresses, allowing your computer to access websites. The default DNS settings on your Mac are typically set by your internet service provider, but there are instances where changing these settings can yield significant benefits.
This could include enhanced browsing speed, improved security, or bypassing certain network restrictions. Adjusting your Mac's DNS settings is a straightforward process and can often lead to a more optimized and efficient internet experience.
Close any web browser that might be open on your Mac. This includes Safari, Chrome, Edge, or Firefox.
Open the System Settings app.
In the sidebar on the left, click Wi-Fi.
Locate the name of your network under the Wi-Fi section.
Click the Details… button to the right of the network name.
On the left side of the window that appears, click DNS.
Under the DNS Servers section, click the + button.
Enter the IPv4 or IPv6 DNS Servers that you want to use.
Once added, click the OK button.
If you're unsure about what values to use to change your DNS settings, here are some of the most popular ones that you can try.
Google: 8.8.8.8 | 8.8.4.4
OpenDNS: 208.67.222.222 | 208.67.220.220
Cloudflare: 1.1.1.1 | 1.0.0.1
Quad9: 9.9.9.9 | 149.112.112.112
Comodo: 8.26.56.26 | 8.20.247.20
Cleanbrowsing: 185.228.168.9 | 185.228.169.9
Unplug and Disconnect Everything
When your MacBook connects to Wi-Fi but has no internet connection, the first step is to perform a simple yet effective maneuver: unplug and disconnect everything. This process involves power-cycling your networking equipment and re-establishing a fresh connection.
Begin by disconnecting from the Wi-Fi network on your MacBook. Locate your Wi-Fi router and unplug its power cord from the electrical outlet. Wait for at least 10-15 seconds to ensure that the router fully powers down. If you have a separate modem in addition to your router, repeat the same power-cycling process.
While you're at it, check the physical connections of all network cables (Ethernet and coaxial) to ensure they are securely connected to their respective devices. Unplugging and disconnecting everything may seem like a simple solution, but it often works wonders in resolving the "MacBook connects to Wi-Fi but has no internet connection" issue. It helps refresh your network connections and clear potential glitches. If the problem persists after trying this step, you may need to explore further troubleshooting options.
Run Wireless Diagnostics on your MacBook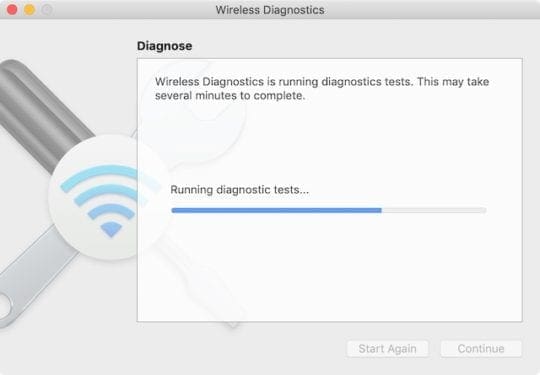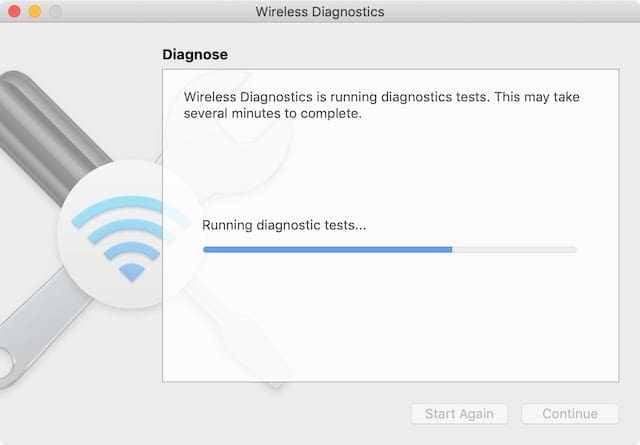 When you face persistent Wi-Fi issues, such as sporadic connectivity, slow speeds, or trouble connecting to networks, the built-in Wireless Diagnostics utility becomes a critical ally. This powerful feature in macOS is specifically designed to detect and analyze Wi-Fi problems, providing insights and potential solutions to enhance your wireless experience. Running Wireless Diagnostics can reveal underlying network issues, signal strength concerns, and other factors affecting your Wi-Fi performance.
Quit any and all open apps on your Mac.
Press and hold the Option key on your keyboard.
While holding the Option key, click the Wi-Fi button in the top right corner of the Menu Bar.
From the drop-down menu that appears, highlight and select Open Wireless Diagnostics.
Click the Continue button.
Wait until the Wireless Diagnostics test has been completed.
If there are any issues, follow the on-screen steps in order to get things back in working order.
Renew the DHCP Lease in Network Preferences
DHCP, or Dynamic Host Configuration Protocol, is a fundamental network protocol used by your Mac to automatically obtain necessary network configuration details, such as IP address, from your router. Over time, or due to certain network issues, the information provided by DHCP may become outdated or lead to connectivity problems.
Renewing the DHCP lease is a straightforward yet effective way to refresh these details, often resolving common network issues like IP conflicts or connectivity inconsistencies. This action essentially prompts your Mac to request fresh network configuration data from the router, helping to ensure a stable and efficient connection.
Open the System Settings app on your Mac.
In the sidebar on the left, click Wi-Fi.
Click the Details… button next to the name of the Wi-Fi network you are having problems with.
From the window that appears, click TCP/IP in the left sidebar.
Locate and click the Renew DHCP Lease button.
Wait for any changes to be made and saved.
Click the OK button in the bottom right corner.
Remove Any Installed Profiles
Profiles on a Mac are often used for managing settings, particularly in organizational or educational environments. These settings can include network configurations, restrictions, or custom preferences tailored for specific needs.
However, there are times when these profiles may need to be removed – perhaps because they're no longer necessary, they're causing conflicts with your system, or you're preparing the device for a different setup. Removing these profiles is an important step in ensuring that your Mac's settings are aligned with your current requirements and that it operates without any unnecessary restrictions or configurations.
Open the System Settings app on your Mac.
Click Privacy & Security in the sidebar on the left.
Scroll all the way to the bottom until you see the Other section.
Click Profiles.
Highlight any profiles that you have installed.
Click the – button in the bottom left corner.
If necessary, restart your Mac.
Create a New Network Location
The network location is usually set by your MacBook. But if something went wrong with this automatic selection, you can fix it yourself.
On your MacBook, go to System Preferences > Network.
Open the Location: drop-down menu at the top of the window.

Select Edit Locations… and use the Plus (+) button to add a new location.
Click Done, then Apply your new settings.
Reset Network Preferences
By resetting network preferences, you effectively return all network-related settings to their default state, clearing any custom configurations or accumulated glitches that may be impacting your internet experience. This step can often serve as a powerful remedy, especially when simpler troubleshooting methods fail to rectify your networking woes.
Open the Finder app on your Mac.
With the Finder app open, click the Go button in the Menu Bar.
From the drop-down menu, highlight and select Go To Folder…
Enter the following location:

Macintosh HD/Library/Preferences/System Configuration

Hit the Enter key on your keyboard.
From the folder that you navigate to, locate and delete the following files:

com.apple.airport.preferences.plist
com.apple.network.identification.plist
NetworkInterfaces.plist
preferences.plist
Settings.plist

Once deleted, empty your Trash Bin.
Restart your Mac.
Force Stop mDNSResonder from within Activity Monitor
The mDNSResponder process is a system-level service in macOS that handles network naming and resolution. It plays a pivotal role in managing how your Mac communicates with other devices on the network and accesses internet services. At times, this service may require a reset to resolve connectivity issues. Force stopping it through Activity Monitor is a powerful, direct method to reset its function and potentially fix lingering network problems.
Open the Activity Monitor app on your Mac.
In the top menu bar of the app, click the Network tab.
Locate and highlight the mDNSResponder entry from the list of processes.
Once highlighted, click the Stop button in the Activity Monitor menu bar.
After it has been successfully stopped, restart your Mac.

Conclusion
Navigating the complexities of Wi-Fi and internet connectivity can sometimes feel like a daunting task, but with the right approach, it can be simplified. Throughout this article, we've explored various strategies to resolve the perplexing issue of your MacBook connecting to Wi-Fi but not accessing the internet.
By methodically following the solutions provided, you should now be able to enjoy uninterrupted internet access, reestablishing your gateway to the digital world. Remember, technology is an extension of our capabilities, and when it falters, a systematic approach often leads to resolution. If the issue persists, seeking professional support from Apple or a network specialist is always a wise choice.