Traveling is great, but airport check-in is pretty far from stress-free. Like getting to the airport on time and making it through security with all bags intact. The ability to quickly access your boarding pass via Apple Wallet will save you a trip to the airport's check-in counter or self-serve kiosk.
Here's how to add your boarding pass to Apple Wallet to breeze through security.
Related articles:
Adding boarding passes to Apple Wallet
There are a handful of ways you can add a boarding pass to Apple Wallet. But, the simplest is to receive a boarding pass through your Mail or Messages app.
Alternatively, a more foolproof method is to download your airline's app. For the purposes of this article, we'll cover both.
How to add boarding pass from Mail or a browser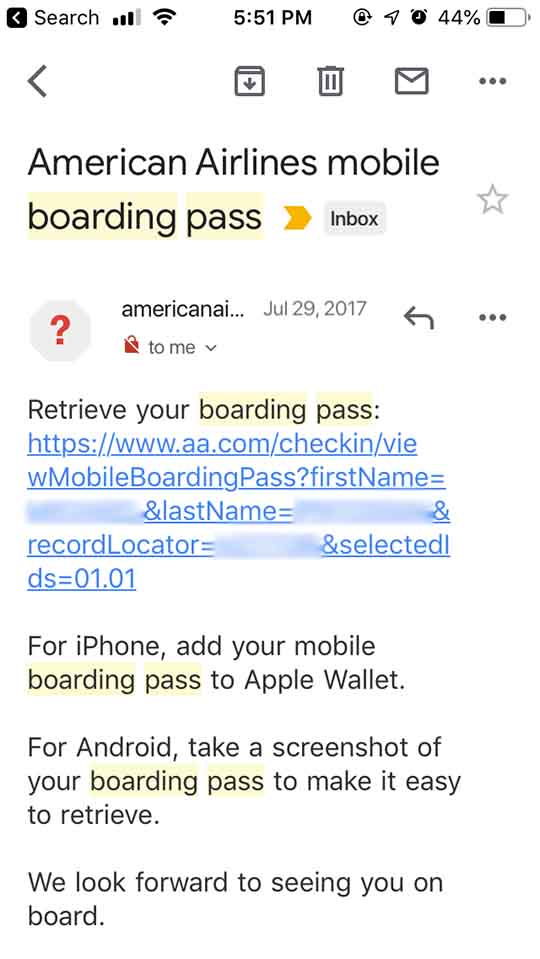 Generally, once you check-in to your flight, the airline can send you your boarding pass to print via email. In many cases, iOS will automatically detect the email (if you use Mail) and add it to your Wallet app.
In other cases, you'll probably be able to check in for your flight in a web browser like Safari or Chrome. We recommend Safari for the purposes of a boarding pass because of its tight integration with iOS. Like with Mail, there should be an easy option to add a boarding pass to Wallet if it doesn't do so automatically.
Don't just blindly rely on this method, however. Make sure you check to see whether the boarding pass is in the Wallet app before you leave for the airport. If it isn't, proceed to the next method.
How to add your boarding pass through an Airline app
Sometimes, iOS won't automatically detect a boarding pass. In these cases, the best option is to simply download the app for your respective airline and check in through there.
If you're logged into the app already, you may see your boarding pass (or the option to check in and receive it) appear automatically. Otherwise, you'll need to log in with your credentials. That may require resetting a forgotten password, so make sure you can log in before you head off to the airport.
Whether you're logged in or not, you'll need to input your confirmation code to check in and get your boarding pass. There should be a Check In option in the airline app itself.
In any case, you should see an option to add the boarding pass to Apple Wallet — the majority of U.S. airlines support Wallet. The exact method of adding a pass to Wallet differs, too. But across the board, the button or icon to do so should be pretty obvious. On the other hand, if you don't readily see a Wallet, contact your specific airline.
Using boarding passes in Apple Wallet
Once a pass is in your Wallet app, it's pretty simple to use them.
Some passes, including boarding passes, will appear automatically based on your device's specific location. When you arrive at the airport, your boarding pass may appear as a notification on your Lock screen.
Otherwise, you can pretty easily find it by simply opening the Wallet app and tapping on it.
Once you have your boarding pass open in Wallet, just present it to the TSA agent during security and the gate attendant at your terminal. This is pretty common, so they should be able to scan the pass without any problems.
Be mindful that not all international airports are equipped to handle mobile boarding passes. United Airlines has provided a list of international airports that do accept mobile boarding pass. Better to verify than make an assumption.
Removing boarding passes from iPhone Wallet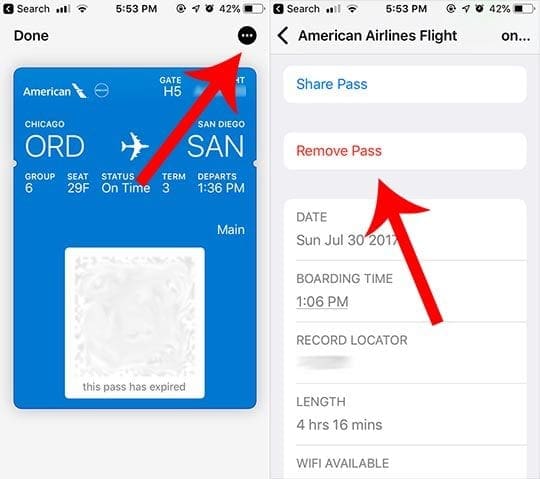 While using boarding passes in the Wallet app is handy, there's a weird quirk to the system. Namely, for some reason, boarding passes will hang around — even after you're done using them. Luckily, it's pretty easy to remove them.
In Wallet, just tap on a boarding pass.
Tap the three-dot icon.
Scroll down and select Remove Pass.
It's that simple!
We hope that you found these tips helpful. Please let us know in the comments below if you have any questions or would like to share a favorite travel related tip with the readers.
Mike is a freelance journalist from San Diego, California.
While he primarily covers Apple and consumer technology, he has past experience writing about public safety, local government, and education for a variety of publications.
He's worn quite a few hats in the journalism field, including writer, editor, and news designer.