Are your Apple Watch Facebook Messenger notifications not working for you? Like Apple's native Messages App, many of us use Facebook Messenger daily (even hourly) for real-time chatting and sharing updates. And using it on our Apple Watches, right on our right or left wrist, is even more convenient. But lately, when I try to open my FB Messenger app on my watch, all I see is a loading screen! And my FB Messenger messages never show up. It just seems to get stuck on that loading screen. So what gives? How do I get Facebook Messenger on Apple Watch to work???
High Hopes for Apple Watch
When Apple announced the Apple Watch, it was Apple's first new product category after the iPad and first to be credited to Tim Cook. Expectations were sky high but whether or not Apple has delivered with this category is still a question unanswered. Nobody knows the exact number when it comes to sales of the Apple Watch (all series) to date. So, we still have to wait to figure out if this new product is a success or not…
Having said that, people are still excited about Apple Watch, especially those buying it for the first time. And LTE support with the Apple Watch Series 3 just might be the game-changer Apple needs for the Apple Watch to be a breakout hit! The gadget is no doubt a cool one and the design, well – what do we expect from Apple? It is elegant! 
Related Articles
Notifications Rule on Apple Watch!
According to many wearers of the watch, what excites them is the ability to check notifications, use certain apps – all on the go! The idea of using your favorite app right from a cool-looking gadget on your wrist is a good one. Almost every app on Apple Watch works and syncs seamlessly but recently many users, including me, have complained about the Facebook messenger app misbehaving a little.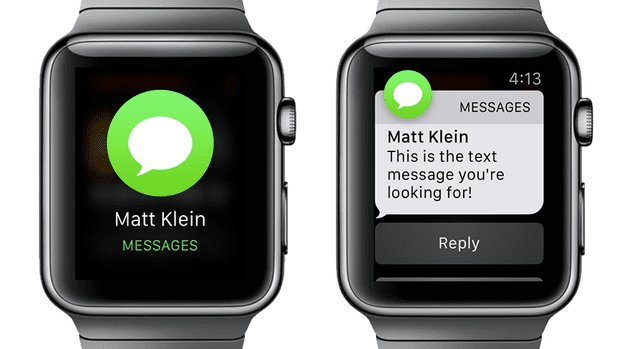 If your Facebook messenger app on Apple Watch is taking an eternity to load or just plain isn't working, then please follow the methods given below. It is also advised that you should follow them in order as the first one is comparatively simpler and takes hardly a minute…
Try an Update When Apple Watch can't open Facebook Messenger!
Oftentimes, updating your watchOS and your iOS fixes these types of problems so be sure to check if an update is out there. IF so, remember to always backup via iTunes or iCloud before you update your iPhone or Apple Watch (or both!)
We highly recommend updating your iPhone via iTunes if possible. iTunes updates tend to be a lot more stable than Over-The-Air updates done via Settings > General > Software Update.
And don't forget to check for a watch update! First, place your Apple Watch on its charger while you update–keep it on the charger throughout the updating process. Go to the Watch App on your paired iPhone and tap the My Watch tab. Then, select General > Software Update. Always update your iPhone BEFORE you update your Apple Watch!
If the update won't start, open the Apple Watch app on your iPhone, tap General > Usage > Software Update, then delete the update file. After you delete the file, try to download and install watchOS again.
Restart your Apple Watch 
Take your Apple Watch off the charger first

When your watch is charging, you can't restart it

Press and hold the side button until you see the Power Off slider
Drag the slider to turn off your device
After your watch turns off, press and hold the side button again until you see the Apple logo
Force Restart Your Watch 
If a regular restart didn't help, try a forced reboot
First, take your Apple Watch off the charger. Then, to force restart your Apple Watch, press and hold both the side button and Digital Crown for 10 seconds or more, when you see the Apple logo on your Apple Watch's screen, release the buttons
Try AirPlane Mode
Sometimes the simplest of things work! Try toggling AirPlane mode on from your Apple Watch. Wait 20-30 seconds, then toggle it off. Again, make sure you do this via your watch, not your paired iPhone!
Turn on Background App Refresh
Another quick tip is turning on background app refresh for Facebook and Facebook Messenger. Go to Settings > General > Background App Refresh and toggle it ON choosing the Wi-Fi & Cellular Data option. Then scroll down your list of apps and toggle both Facebook and Messenger on.

Change A Default Reply in Facebook Messenger
Try to open the messenger app on your watch. It probably shows loading and will not open normally
On your watch, open Facebook Messenger
On your iPhone, open the Facebook Messenger App
Tap your avatar (profile picture in left top corner) and select Apple Watch
Tap on one of the Default Replies and type a new reply
Next, tap on the upper-left

<Me

button to save your new default reply
Close Messenger by double tapping Home or swiping up the Home Gesture Bar and closing the Messenger App Preview (swipe it up, off the screen)
Return to your watch and see if Facebook Messenger works

If that didn't work, after step 5 (closing Messenger) delete that custom reply
If you are still having problems, proceed to the next method…
Uninstall and reinstall FB messenger on your iPhone
For some users, this did the trick! Delete the app by pressing and holding the FB Messenger app until it wiggles and tap the "x." Or for folks using iOS 11, go to Settings > General > iPhone Storage >Messenger and delete or offload the app that way.
Deleting the App removes all the documents and data while offloading preserves your Watches documents and data. We recommend trying offload first and if the problem persists, then delete the app.
After you reinstall FB Messenger App, on your iPhone go to Watch App and install Messenger app, if needed. Once installed, tap on Messenger and make sure Show App on Apple Watch is toggle on.
Uninstall the Watch App and then Reinstall
First, unpair your Apple Watch. The delete the Watch App by pressing and holding the app until it wiggles and tapping the "x." Or delete the app with our preferred method using your Settings app. Go to Settings > General > iPhone Storage > Watch and press either Delete App or Offload App (using iOS 11.)
Play a Song!
First, put your Apple Watch on the charger and plug into a wall outlet. Do the same for your paired iPhone. On your iPhone, open the Music app and play any song. While the song is playing, open the Watch app, choose the My Watch tab and tap on Facebook Messenger to open its settings. Then toggle off Show App on Apple Watch, wait 20-30 seconds, and toggle it back on.
Now check if FB Messenger works on your Watch.
Delete Music (Temporarily)
Some users report that deleting their music and then adding it back later fixed the issue for them. But this is a pretty extreme workaround
Backup your iPhone via iTunes if possible then delete all music from your iPhone (only do this if you are sure you can recover all your music)
On your iPhone, go to Settings > General > iPhone Storage > Music > Edit > Delete All Songs
Restart your Phone, then restart your Watch
See if your FB Messenger App works on both your Watch and Phone
Once it works, add your Music back
We are sure that following the steps above can stabilize many apps on your watch. Once you have solved the issue, you can always add back the music from the backup.
Factory Reset Your iPhone
No one wants to hear this, but quite a few readers report it fixed their Facebook Messenger on Apple Watch problems. Perform a factory reset on your paired iPhone using iTunes (if possible) and then restore your phone from a backup. If possible, use an older backup from a time when your Messenger app worked. If you don't know or if it never worked, use a recent backup or consider restoring as new.
Be patient! This process takes time–as long as 4-6 hours–so plan ahead. After restoring your iPhone, re-pair your Apple Watch and set it up as a new one in order to fix this FB Messenger issue. 
Reset Your Apple Watch and iPhone Back to Factory
Open iTunes on a Mac or Windows PC and connect your device
First, backup your iPhone using iTunes command Backup Now (do not use iCloud)
Next, select Restore iPhone and choose to Erase All Content and Settings

Your iPhone wipes out everything, installs the latest iOS, and starts a brand new setup

Perform the same Erase All Content and Settings on your Apple Watch

On the Watch:  Go to General > Settings >Reset > Erase All Content and Settings

Restore your iPhone from backup using iTunes. Do not use your iCloud backup!!!

Use an older backup if you know when the problem started

Pair your iPhone with your Apple Watch
Follow all the on-screen instructions on both your Apple Watch and your iPhone