When Apple announced the Apple Watch, it was Apple's first new product category after the iPad and first to be credited to Tim Cook. Expectations were sky high but whether or not Apple has delivered with this category is still a question unanswered. Nobody knows the exact number when it comes to sales of the Apple Watch (all series) to date. So, we still have to wait to figure out if this new product is a success or not… 
Having said that, people are still excited about Apple Watch, especially those buying it for the first time. And LTE support with the Apple Watch Series 3 just might be the game-changer Apple needs for the Apple Watch to be a breakout hit! The gadget is no doubt a cool one and the design, well – what do we expect from Apple? It is elegant! 
Notifications Rule on Apple Watch!
According to many wearers of the watch, what excites them is the ability to check notifications, use certain apps – all on the go! The idea of using your favorite app right from a cool-looking gadget on your wrist is a good one. Almost every app on Apple Watch works and syncs seamlessly but recently many users have complained about the Facebook messenger app misbehaving a little.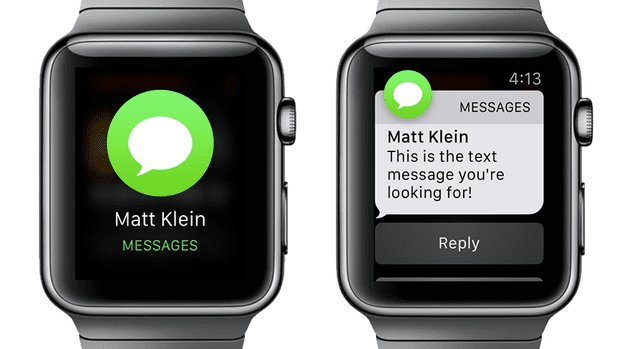 If your Facebook messenger app on Apple Watch is taking an eternity to load, then please follow the two methods given below. It is also advised that you should follow them in order as the first one is comparatively simpler and takes hardly a minute…
Method 1 for Facebook Messenger App Not Working with Apple Watch
Try to open the messenger app on your watch. If it is troubling you, only expect it to show as "loading" and will not open normally.
Right at this time (when the app is loading on your watch) open the messenger app on your phone (which should open normally) and go to Settings, then "Apple Watch". Change the text in "Quick Reply" options to anything you want and exit Settings.
Check the app on your Apple Watch. It should be now working fine.
If you are still having problems, proceed to the second method…
Method 2 for Facebook Messenger App Not Working with Apple Watch
Go to "Settings" in your iPhone
Browse through "General", then "Storage" or for older iOS "Storage and iCloud" and then "Manage Storage"
In the Storage Section, select "Music" and finally "Edit"
Choose to delete all songs here. Don't worry!
Make a backup of your phone to iCloud, at this point also make sure that you don't reset your phone.

It is now time to back your phone to iTunes. Remember to only backup and not sync your device. Select "Encrypt backup". Again, just back up your device and do not reset!
It is time to open the affected apps on your Apple Watch!
Method 3 for Facebook Messenger App Not Working with Apple Watch
An additional reader provided method to try
On your iPhone, open Messenger
Go to Settings and tap on Apple Watch
Change your default replies to something new and close the app
Return to Apple Watch Settings and delete that new reply
Close the app again
Open Facebook Messenger on your Apple Watch. Check and see if all your messages are there
We are sure that following the steps above can stabilize many apps on your watch. Once you have solved the issue, you can always add back the music from the backup.