Certain iOS apps track and store our usage footprints. Some of them automatically save your usage, while others are saved based on your preferences and settings. When we think of our online history, we primarily think in terms of browser history. There are however other apps that merit another look when it comes to clearing history. For this reason, it's important to periodically clear your search history on your iPhone and protect privacy. And don't forget your iPads and iPod Touches too! Do this process on all your devices routinely.
In this short article, we will look at some features that store your history or have access to your personal information and show you how you can effectively manage them.
Related Articles
Clear Your Search History on Your iPhone and Protect Privacy
1) How-To Clear Old Addresses from Apple Maps
When you open Apple Maps on your iPhone, you see street addresses below the Search bar. Some of the addresses could be the ones that you have used in the past or addresses that you happen to pass a few times.
Some users reported that they are unable to delete these old addresses from their Apple Maps. When they swipe left, they cannot find an option to delete the address. The only option available is the share option. Usually, when you swipe left, you find the 'Remove' option.
If you are facing this issue on your iPhone, there is a quick and easy fix via Settings that will help you access the "Remove" feature. Deleting and Re-installing Apple Maps won't fix the issue.
Tap on Settings > Privacy > Location Services
Next, Tap on System Services (Last Option at the bottom of the screen) followed by Significant Locations and clear the history here.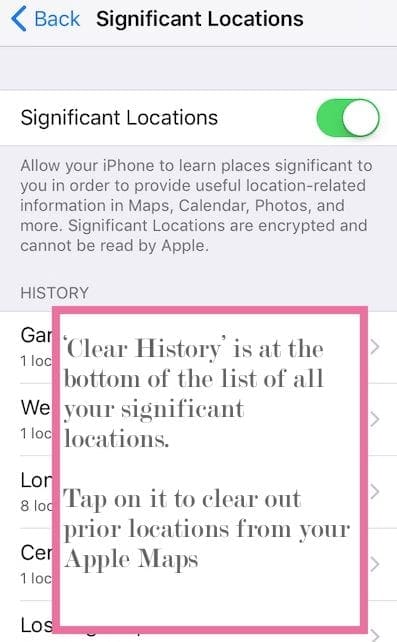 Launch your Apple Maps now and swipe on the address. This will show you the Remove option that you can use to delete the old address from Apple Maps.
2) How-To Clear Spotlight Search History
Many iFolks use the Spotlight function to search for stuff on their iPhone or iPad. From your home screen, when you swipe left, you can use the Spotlight function to search for documents, emails and web results. The feature tracks your usage so that it can provide better suggestions. The only way you can clear your search history and results is by disabling Siri Suggestions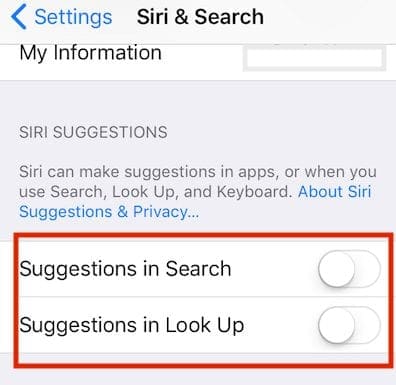 In order to do this tap on Settings > General > Siri & Search. To remove your history disable Siri Suggestions on this screen and restart your iPhone. This will clear your search history from your device. You can periodically do this action or retain the results for better Siri suggestions.
3) Clearing Safari History on Your iPhone
When it comes to Safari, the options to protect your privacy are easily available via Settings. If you don't want your Safari information to appear in search, lookup or keyboard, you can switch off this setting.
Tap on Settings > Safari >Siri & Search . Switch off the Search and Siri Suggestions on this screen.
On the Safari Settings screen, scroll down to the bottom. Here you can tap on "Clear History and Website Data" to remove all the history and website data.
If you want to selectively delete website data, a better option is to use Settings > Safari > Advanced > Website Data.
Here you can search for specific website data or delete the entire set by choosing "Remove All Website Data" at the very bottom of the screen.
Several folks have complained that clearing history doesn't clear everything. Sometimes there are cookies that are left in the history showing 0 kb. This has been a bug in Safari for some time now. If you are experiencing this issue, your best bet is to open the site that the cookie is for. Once you have the site opened in Safari, then try to clear the history and data via Safari Settings. This has worked for several ifolks. We do not think that there is any risk if the history item only shows 0 kb.
4) Revisiting Access to Third Party Apps on Your iPhone
Lastly, it is always a good idea to revisit the general privacy settings on your iPhone. During our busy schedule, we tend to download many third-party apps and provide them access to our content very easily. I'm sure there are many apps that you have downloaded in the past that you probably no longer use.
Tap on Settings > Privacy. Review all the third-party apps that you have provided access to your "location" if you have Location services switched on your device.
The same holds true for your photos as well. Tap on Photos and make sure you are actually using the third party apps that are listed in this section. You can always change the access for the App to "Never" instead of "Read and Write" if you are not sure of sharing your information.
We hope that you found these short tips helpful. Please feel free to share them with your favorite iFolks and let us know in the comments below if you have additional questions.