iOS 13 is a major update to Apple's mobile operating system that comes packed with a variety of awesome features. Because of that, you probably want to download it as soon as possible. But is iOS 13 good for your device's battery life? Are there any settings that need tweaking to enhance your iPhone's Battery life?
Related:
We haven't heard any widespread reports of iOS 13 causing battery life problems, but that doesn't mean it can't happen. Similarly, you may just have an older device and want to extend its battery life. No matter what the case here, here are some key tips to boosting your battery life in iOS 13.
9. Give it a few days
If you notice that your iPhone has subpar battery life after you've updated to iOS 13, give it a few days. After a major iOS update, your iPhone will spend some time setting up the system properly in the background. From indexing your files to analyzing your photos, all of this can take a toll on your battery life.
Luckily, battery life performance should increase after the iOS 13 update "settles down." All of this is to say that patience may be the best troubleshooting method immediately after an update. Also note that iOS betas are still in their testing phase and could have worse battery life than the final version of any OS update.
8. Turn off Optimized Battery Charging
Speaking of iOS betas, there's a clever new feature in iOS 13 that could extend your battery's overall longevity in the long term. It's called Optimized Battery Charging and it works by keeping a battery at an optimal charge level overnight by analyzing you're charging pattens. It's pretty cool.
Unfortunately, there appears to be a problem with Optimized Battery Charging in the iOS 13 beta. On older devices, it may cause overheating and rapid battery drain. If you're running an iOS 13 beta and are experiencing poor battery life, we recommend switching it off to see if it helps. You can disable it by going to Settings —> Battery —> Battery Health and hitting the toggle next to Optimized Battery Charging. Now that the final iOS 13 is available, this may or may not be an issue but its worth trying it out.
7. Turn on Dark Mode
One of the most prominent features of iOS 13 is the addition of a systemwide Dark Mode which paints the Apple mobile operating system in attractive darker shades. But it's not just an aesthetic feature — it could also save you some battery life.
OLED panels display black pixels differently than LCD screens. To display a black pixel, an OLED display simply turns that pixel off. The end result is that a dark background or a dark theme with plenty of black pixels will allow your iPhone to use up less power. You can enable Dark Mode by going to Settings —> Display & Brightness.
6. Keep your iPhone face down
One of the most hidden but useful features of iOS is a "face-down mode." It's not particularly well-known because Apple hasn't really advertised it — but it's there and it could help maximize how much battery life you get out of your iPhone.
Basically, when you place your iPhone face down on a surface, it will automatically stop turning on your display when a notification rolls in. Depending on how much notifications you get in a given hour, this could save you some serious battery life over the course of a day. Try it out for yourself and see if it makes a major difference. (If it does, consider pruning how many apps can send you notifications.)
5. Double-check & update your apps
Sometimes, apps can eat up your battery life. From Facebook to YouTube, there are some notorious battery drainers out there. If you'd like to figure out which apps are draining your charge, you can go to Settings —> Battery. This will allow you to pin down those apps that are taking up too much juice.
This is especially true if you're an early iOS 13 adopter. Many developers likely haven't updated their platform for optimal performance with the new update. Just keep an eye on the App Store's Update tabs and update the app as soon as one is available. If an app is up-to-date and is still putting strain on your battery, consider deleting it.
4. Enable Wi-Fi Assist
Using Wi-Fi saves quite a bit of energy compared to using cellular data. Because of that, it's usually recommended that you try to browse the internet when you're on a local, secure Wi-Fi network as much as possible. But Wi-Fi can actually drain your battery in specific circumstances.
For example, when a Wi-Fi network is just out of range, it won't deliver stable performance. Attempting to connect to that network can also reduce your battery life. Luckily, iOS has a feature called Wi-Fi Assist that compensates by substituting a Wi-Fi signal with cellular data. It can be accessed in Settings —> Cellular — Wi-Fi Assist.
Be warned that his will eat up your data plan if you frequently use poor Wi-Fi networks.
4. Check your app settings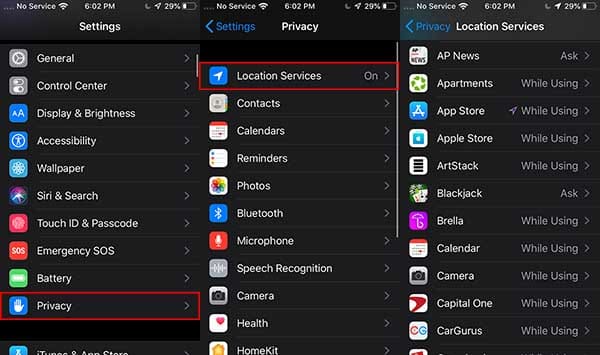 Many apps rely on Background App Refresh and Location Services to stay up-to-date. The former feature allows apps to refresh their timelines even if they aren't open. The latter feature allows an app to know you exact location using Bluetooth and Wi-Fi — whether for directions or location-contextual notifications and features.
These two settings, of course, can eat up processing power. Which, in turn, can drain your battery. We recommend going through and disabling both features for most of your apps. As far as Location Services, you may want to leave it enabled for navigation-based apps or other apps that need your location.
3. Get your display in check
An iPhone with its display powered off will use up a lot less battery than an iPhone with its display on. That's kind of obvious. What's slightly less obvious is that there are a pair of settings on your iPhone that could be draining your battery faster than it should be. They're called Auto-Lock and Display Brightness.
Display Brightness is kind of obvious. Keeping your display at a reasonable brightness will save battery life. But go to Settings —> Display & Brightness —> Auto-Lock and you'll find the other important battery-saving feature. Try to keep it as low as possible so your iPhone's display will shut off automatically when you aren't using it.
2. Turn on Low Power Mode
If all else fails and you just need to get as much battery life out of your iPhone as possible, just manually enable Low Power Mode. This is a scorched-earth feature that disables Background App Refresh, automatic downloads, mailing fetching and other background processes.
It may not be the most convenient to run at all times, but it works. In fact, you can expect to get at least a few extra hours of battery life without those extraneous processes draining it. Normally, Low Power Mode tries to kick in when you battery reaches 20 percent. But you can enable it manually by going to the Control Center and hitting the battery icon.
1. Get a battery swap
Batteries naturally degrade as they get older. This can affect performance, but it also significantly affects your battery life. You've probably noticed this yourself. Your devices with older batteries just won't last as long as newer devices with fresh ones. It's an unfortunate fact, but there's not really a way to prevent it.
On the other hand, there is a simple way to fix it. Just get a new battery installed. Once you do, you'll notice a drastic boost to your battery life (and like your performance as well). We recommend only getting your battery replaced at an Apple Store or Authorized Service Provider — other repair stores may offer subpar or dangerous batteries. You can set up a battery swap appointment here.
If your settings are all kosher and you have a fairly new battery and still experience battery drainage issues with iOS 13, your best bet is to restore your iPhone using iTunes or Finder on macOS Catalina and check if that mitigates the battery drainage issue.
We hope that you found these tips super helpful! Please let us know in the comments below if you have any questions or concerns.
Mike is a freelance journalist from San Diego, California.
While he primarily covers Apple and consumer technology, he has past experience writing about public safety, local government, and education for a variety of publications.
He's worn quite a few hats in the journalism field, including writer, editor, and news designer.